CPEC will play an important role for eliminating terrorism and extremism and poverty alleviation in the region.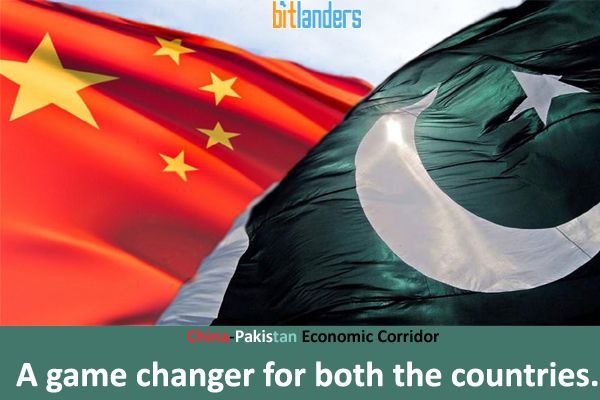 Image credits: Edited by me.
Hello, my today's blog is about China-Pakistan Economic Corridor, which has got importance in both the countries. As we all know, Pakistan got geographical importance in the region, especially in South-Asia. Among the neighbors of Pakistan are China, Iran, India, and Afghanistan. As China lies in the north-east of Pakistan, both the countries have friendly relations with each other. And as of now, both the countries have bounded in a solid strategically plan which will prove a game changer for them in the future which is known as the China-Pakistan Economic Corridor.
Image credits: Google
Pakistan and China have shared brotherly relatoins with each other for more than 65 years.
What could be more valuable than a superpower country like China join hands with you and show interest in mutual trade and investments? But why was it Pakistan only? Why not other in the region? Probably, these questions may arise in your mind. To respond these question, I already mentioned that Pakistan got geographical importance in the region. China wanted a feasible route which makes their access easy to the Middle East and Other Western Countries. So they showed their keen interest in Pakistan's deep-water harbor situated in Gwadar known as "Gwadar Port" in 1998 and rekindled in 2002 after which China started construction at Gwadar Port which was completed in 2006 with the further plan of expansion. However, the expansion of Gwadar Port ceased due to the political instability in Pakistan and rise of Taliban militants.
Image credits: Google
The importance of the Gwadar Port.
The Making of CPEC
In contrary of the Strait of the Malacca, China came up with a huge mega project One Belt, One Road (OBOR) initiative which worth about $900 billion. OBOR is a regional connectivity which compromisses 65 countries and six economic corridors. The China-Pakistan Economic Corridor is also one of the six Economic Corridor that proposed under OBOR and it is the most convenient, shortest corridor, among them all.
Video credits: youtube
A brief documentary on the plan of One Belt One Road initiative.
The CPEC was first proposed by the former President of Pakistan Mr. Asif Zardari at President House when Chinese Premier Li Keqiang was on the visit to Islamabad in 2013, where both have agreed to build an Economic Corridor between two countries. A signing of documents ceremony was also held between foreign secretaries and ministers aimed at the long-term plan for the CPEC and cooperation between the two countries in multiple areas.
Video credits: youtube.com/National Geographic
National Geographic documentary on CPEC and OBOR.
Pakistan is the first South Asian country to sign a free trade agreement and currency swap agreement with China.
- Li Keqiang
The project was formally inaugurated when Xi Jinping visited Pakistan in April 2015 during his state visit, where he laid the foundation of this project by signing the agreement of $46 Billion between two countries. In addition, there were approximately 51 projects were also signed as well. In these projects, priority was given to power projects that amounted around $33 Billion. However, some of them have been completed and started adding power to the national grid.
CPEC Fruits:
Image credits: google.com
Children wellcome Xi Jinping on his visit to Pakistan.
Gwadar Port and City:
The multi-billion dollar trade route which is called the China-Pakistan Economic Corridor links China's province Xinjiang province with Gwadar in Pakistan's Baluchistan province. This economic route passes through the land of beauty Gilgit-Baltistan Province which is situated in the north of the country which connects Kashgar of China's province Sinkiang to the rest of the World through the port of Gwadar. The Gwadar Port was handed over to the China Overseas Port Holding Company with an agreement of a 43-year lease. Under the CPEC project, the Gwadar Port will be expanded and upgraded made ready for docking for larger ships. It also includes the construction of a floating liquefied natural gas facility that will overcome the gas load shedding problem of Gwadar Residents.
Image credits: google.com
Gwadar Port.
Furthermore, the Gwadar expanded port is located near 2,282 acre-feet trade area which is being modeled on the lines of the Special Economic Zones of China. This zone includes logistics, warehouses, and display centers and more than anything, the business located in this zone will be free from every custom duties, income, sales and federal taxes for 23 years. The company had also planned to spend $4.5 billion on roads, power, hotels, infrastructure for the industrial zone and other projects in the Gwadar City.
China also constructing a new International Airport in Gwadar which will be operational by the end of December 2017 worth of $230 million. A 300MW Coal Power Plant is also being constructed in the city of Gwadar with a desalinization plant and a 300-bed hospital as well. More plans for Gwadar includes East Expressway a 19-kilometer road that will connect Gwadar port to the Makran Coastal Highway.
Image credits: google.com
Gwadar International Airport.
Transportation sector:
China is investing $11.19 billion in transport sector which includes 1,240 Karachi-Lahore motorway on a six lane high-speed corridor. Upgrading the public transport to Metro Bus service and Orange trains. Modernizing the Karakoram Highway which connects the ancient Silk Road crossing in Sinkiang, all the way into the Pakistan's biggest province Punjab.
Image credits: google.com
Highway Network Map of CPEC.
The CPEC Project also includes the upgrading of Pakistan's outdated Railway System. The Main Line 1 is the only single railway line which currently handles the 70% of Pakistan Railway Traffic. The rebuilding phase of Main Line 1 includes railway between Karachi and Peshawar which is a plan to be completed by 2020. Further, it includes the expansion of Main Line 2 and Main Line 3 Railway. The plan also includes the completion of railway link over the 4,693 meters high Khunjarab Pass as this Railway will give easy access to Chinese and East Asian goods to Pakistani Sea ports at Karachi and Gwadar by 2030.
Image credits: google.com
Railway Network Map of CPEC
Energy and Power Projects:
Pakistan's current energy shortfall is over 4,500 Mega Watts which makes a cut of around 2-2.5% to its annual GDP. Pakistan aims to produce 30% of its electricity from renewable energy resources by 2030. Also, a Chinese Company has completed the construction of the 6,500 acre Quaid-e-Azam Solar Park near Bahawalpur which is the World's largest solar power plant with the capacity of generating 10000MW. Plans for generating electricity through coal power plants worth $5.8 billion have also been made which expected to be completed at the start of 2019.
Image credits: google.com
CPEC Energy Projects table.
As I mentioned before in this blog, priority was given to the power and energy projects in the CPEC. However, yet the details of this plan are opaque. Plus they have also agreed to co-operate in the field of space research.
In December 2015, both the countries have signed an agreement to set up an Information and Technology Park as a part of the CPEC. While in 2016, on he visit of Xinjiang's Communist Party Chief Zhang Chunxian, further signed the $2 billion agreements on the infrastructure, logistics, solar power projects and others etc.
Image credits: google.com
Indeed CPEC is crucial and important for both the countries, but nevertheless, it's a game changer for both the countries. The major evidence of this statement is that the CPEC will directly or indirectly create two million jobs. As it will increase the growth of Pakistan by 2%. In the beginning, Chinese workforce will be hired in Pakistan, but gradually after a few time, they will be replaced by Pakistani workforce after complete training.
With the help of Chinese Industry, we will reduce our imports and enhance our exports to increase our productivity. And these are all the planning which leads on the way to become a prosperous country. The CPEC project success signs alarming that Pakistan's economy is ready to boost up on an unprecedented scale.
CPEC lifts Pakistan up in World Competitveness Rankings. - FORBES
I wish Pakistan and China friendship will remain to continue forever and both the countries get as much as strong strategic ties as they have today.
Thanks!