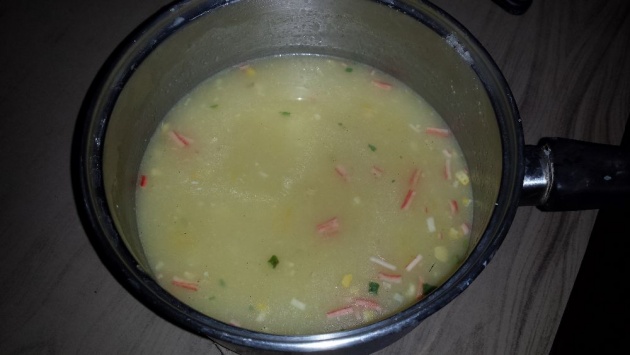 This dish/soup is my fathers favorite and I wanna share it you on how to make it.
Ingredient:
1 cup half Corn kernel yellow corn
200 grams crab stick or crab meat
1/4 cup Onion stalk minced
4 cloves Garlic minced
1 white medium Onion minced
1/2 cup Slurry-1 tsp White Corn starch-3 tbsp Water
4 cups Water
Salt or Fish sauce depend on your taste
Powdered pepper
2 slice Butter or3 tbsp Cooking Oil
Procedure:
Saute onion and garlic until slightly brown then add the crab stick/meat
Add water yellow corn, salt and pepper. Simmer till it boils for about 5 minutes.
Add Onion stalk and the slurry, stir till it becomes slightly thick.
Serve hot,best paired with plain or fried rice and other fry dishes.
You can use white corn kernels as optional and shrimp if the crab is not available and if your too lazy too prepare an instant Knorr Crab and Corn soup is available on market /groceries.