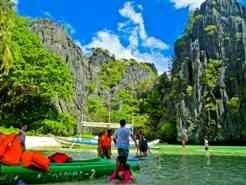 Are you planning to go to Palawan for the summer vacation? If you are planning to enjoy the beach and the wildlife, you better go to El Nido. This island promises a lot of adventures and sites for every visitor. Below are some of the most sought-after attractions in El Nido that you should include in your itinerary.

First in the list is Bacuit Bay. If you want to enjoy diving and snorkelling at their best, this island is perfect for you. It is filled with rich marine life and you will be able to swim with the dugongs, the turtles and even with the whale sharks if you are lucky enough. You will also be able to see a lot of tropical fishes and coral reefs.

Second in the list is Cadlao Island. This is regarded as the largest island that people have ever visited in El Nido. It is very close to the main island therefore it is easy to reach it. The beaches are composed with white sand and there are a lot of nature trails that you can try. You will definitely have a good trekking experience when you visit here. You can enjoy mangroves and lagoons as you explore the trails.

Third in the list is the Dilumacad Island. This is most popularly known as the Helicopter Island because of its shape. It is mainly composed of limestone and if you look at it from afar, it resembles a helicopter. This place is not only popular for its white sand beach but also for picnics. If you want to be more adventurous, you can pass by the underwater tunnels to see more amazing views of the sea.

Fourth in the list is the Miniloc Island. This is one of the earliest islands to be discovered and to be made a tourist spot in the area. This is where you will find the so-called Big and Small Lagoons. These lagoons are believed to be caves which have sunk and collided with each other in the past.

Fifth in the list is the Lagen Island. This island is most popular for its historical presence. It is where the Leta-Leta Cave is located. In 1965, Dr. Fox has discovered a lot of historical artefacts in the area which includes axes, beads and stones.

Sixth in the list is the Pangalusian Island. This island is most popular for its white sand that is almost like power. A lot of people enjoy sunbathing here because the sand has a really good feel to the skin. It is also popular for snorkelling and diving because of the diverse coral reefs that reside here.

El Nido has a lot more islands to explore such as the Snake Island and the Vigan Island. If you really want to make the most out of your vacation, allot time to go to all the islands and hidden wonders of the place.