The Others, which aired in the year 2000 on the NBC network, is an intriguing and mostly forgotten horror/supernatural show. Lasting only 13 episodes, the show is an interesting attempt at making a truly scary show for network TV (this was before cable hit it big with such shows as American Horror Story and True Blood).
The premise of the show: a group of psychics, led by a powerful yet aging "sensitive", meet weekly to discuss their powers, their struggles, and the occasional case that requires their special talents. Throughout the show, they deal with ghosts, lost spirits, kidnappers, demons, and "The Unnamed"/"The Ones That Lie In Wait", a major demonic force that might be the Devil himself.
Although the show has some major flaws – an uneven tone, an annoying focus on the sentimental, and characters that lack polish, it also has a few things going for it; mainly, an appealing cast (especially Bill Cobb and Julianne Nicholson), a strong selection of directors, including Tobe Hooper (The Texas Chainsaw Massacre), Mick Garris (Sleepwalkers), Bill Condon (Chicago), Thomas J. Wright (The X-Files, Millennium), William Malone (The House on Haunted Hill), and an unnerving atmosphere.
But what really sells the show, makes it worth re-visiting, is that when the show gets scary, it's really scary. Some of the sequences featured in these 13 episodes are some of the most visually disturbing scenes ever aired on TV. Highlights include The Mick Garris-directed Pilot and Luciferous; Eyes, directed by William Malone; and The Ones That Lie in Wait, directed by Thomas J. Wright.
Despite a dip in quality near the end of the series (reportedly due to budget cuts and behind-the-scenes turmoil), and a finale that leaves the series and the characters figuratively in limbo (and which, for some reason, aired before the penultimate episode), The Others is worth a watch, and is a hidden gem for fans of horror/supernatural shows.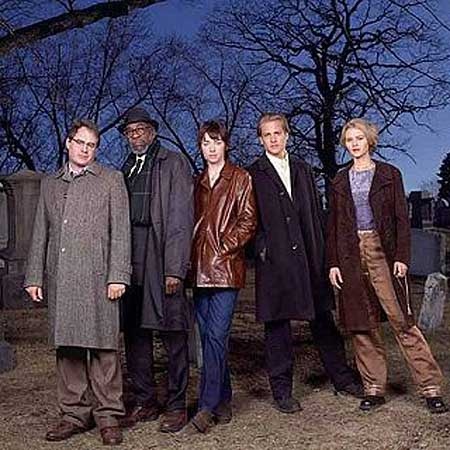 About The Author: Ahmed Khalifa is a filmmaker and writer. He is the author ofBeware The Stranger, a horror novel, and Egyptian Gothic: Stories. Both books are available on Amazon here. He is also the director of The Weapon, Egypt's first action/supernatural Web Series, which centers on a vigilante called "The Hunter". You can watch the complete first season, for free, here.