Captain Edward Zellem is a wise man. He has identified the charismatic and everlasting aspects of the Afghan culture, published in his book Zarbul Masalha, 151 Dari proverbs. Captain Zellem delivered a new image of Afghanistan and its cultural background, a cradle of cultural and economic opportunities. In my relationships with the people of Afghanistan, I have learned that the Afghan culture has a strong sense of respect and, because of its diversity, a strong sense of equality.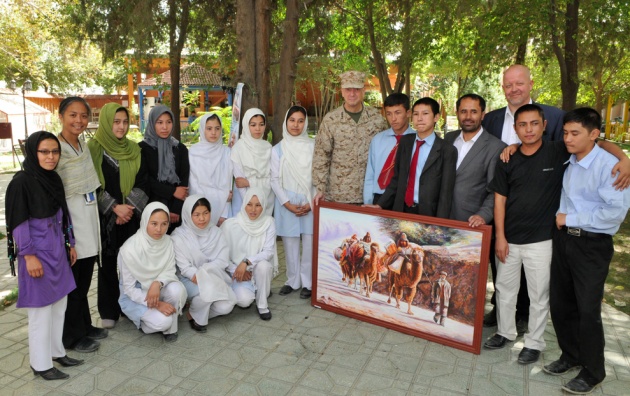 Captain Edward Zellem and ISAF Commander General John R. Allen with art students from Marefat High School after selecting a painting for display at ISAF HQ.
Below are two great proverbs listed in Captain Edward Zellem's book Zarbul Masalha:
The first proverb is a great lesson for me:
Baa har-cheez baazi, baa reesh-e baa-baa ham baazi.
Joking about everything, even grandfather's beard.
This proverb suggests being careful and avoiding joking too much, or it might turn into an issue. This is a great advise for me. With my Florentine humor, I am learning it's best to avoid jokes and maintain a more reserved approach. I am doing my best to keep my humor in its place.
Hama-raa ba yak chashm negaah kuneed.
Everyone should be looked at with the same eye.
This is a universal message which reminds me of Martin Luther King Jr.'s message in his historical speech delivered on August 23rd 1963, "I have a dream". This video is assigned to my personal profile on Film Annex, for the same reasons listed in the proverb above.
Those proverbs can make the world a very different place. Respect and equality are two very important factors of Afghanistan's culture and we can all learn from those proverbs. I will ask Captain Edward Zellem if we can include his books in the Film Annex Social Media Curriculum and present them on the Examer Educational Software that we are implementing in 40 schools in the area of Herat, Afghanistan. 160,000 Afghan children will join the World Wide Web and share the wisdom of Afghanistan and its proverbs trough the essential guidance of these books. Captain Edward Zellem is a role model that the children of Afghanistan and other countries deserve to know.