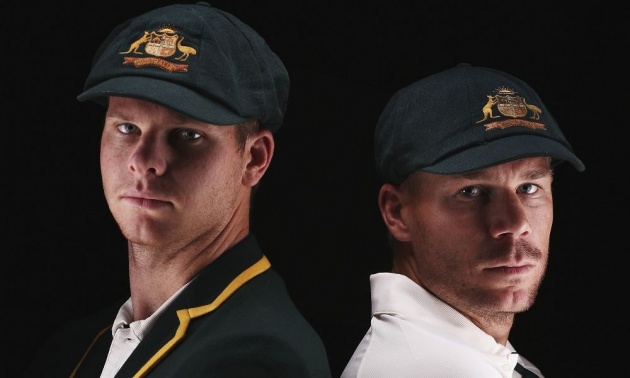 Warner on the warpath
For much of Australia's golden cricket age of the 1990s and 2000s, paceman Glenn McGrath could be relied upon for a certain metronomy not only at the bowling crease, but in his annual, specifically targeted, verbal warfare against whichever touring Test side had rolled up for the summer.
In recent times, his successor Mitchell Johnson just let his handlebar moustache and frightening bouncers do the trick and Mitchell Starc's goofy grin would require prosthetics to become truly intimidating, so these days it's opening batsman David Warner who takes it upon himself to act as Australia's antagonist-in-chief.
This time around it's "Mr Nice Guy" Brendon McCullum who has drawn Warner's ire, specifically for a newspaper column the New Zealand captain wrote during Australia's failed winter campaign in England, evoking the hoary old concept of the spirit of cricket. In essence, McCullum had said that Australian captain Steve Smith might one day rue his failure to call back England's Ben Stokes when the latter had been dismissed for obstructing the field. Stokes, you'll recall, had used his hand to stop a ball thrown back at the stumps by Australian bowler Starc.
"He should actually just watch the game and try and work out what they have to do to try and beat us instead of commenting on it," said a particularly abrasive Warner on Tuesday.
But when speaking to Guardian cricket writer Ali Martin in September, McCullum was at pains to point out that the story had been needlessly inflamed at the time. "I didn't criticise [Smith]," McCullum told Martin. "Headlines get pulled out but if you read it as an entire piece, I felt it was balanced. I have been through stuff in my career that, with the benefit of experience, I would have done differently."
"If the series [against Australia] is spicy or not because of it, that's fine. I cannot wait for that series. My whole take [on the Stokes dismissal] was that out or not out was irrelevant. And in time, Smith will look back and think he could have done it differently. That's cool but over time you learn there are things you may take back."
Like Warner, McCullum is rarely anything other than himself whether he's batting or talking, only in the New Zealander's case both of those things are generally a net positive for the game.
In some ways, Cricket Australia should be glad for Warner's flair for verbal combustion because it gives them consistent helpings of media airtime in an increasingly crowded sporting market, for which they've effectively rewarded him by handing the 43-Test batsman the vice-captaincy job. Warner's also hard to argue against as a measuring stick of Australia's best and worst in the past two years, a time in which the Test side has oscillated between gung-ho triumph and jaw-flapping misfire.
The ongoing problem is the precedent set; Warner's outbursts are fired off safe in the knowledge that he has the implied approval of his bosses and that some slate-cleaning innings is never far around the corner. Failing that, he can always fall back on another earnest mea culpa or vow of fatherly maturity.
Warner really can't lose and nobody knows it more than Cricket Australia, for whom he'll remain a highly sellable star for the foreseeable future. And let's be honest, the bar for what constitutes a sporting "character" has never been so low. Why try harder? Players like Warner will remain beneficiaries of market forces that demand nothing better from them and with the schedules they keep, we're getting to the point where it's almost laughable to expect anything else of them.
In this marketing-driven era of cricket, there's actually a misconception about the public image of players like Warner and how carefully they're maintained. In previous generations, the lower earning power of Australian cricketers meant that their own personal legacy and the esteem in which they were held by the public was of genuine consequence if they planned on superannuating themselves in post-playing administrative and officiating roles, or on the lucrative public speaking and commentary circuits.
The likes of Allan Border, Merv Hughes, David Boon, Ian Healy, Mark Taylor and many others of their era have in retirement encountered far more lucrative jobs than they held down as international players. But for the likes of Warner, the unprecedented levels of wealth and international fame already attained serve as insulation from such quaint concerns. There's actually never been so few incentives to hold the game dearly and above all else.
Knowingly and sometimes not, it's players like Brendon McCullum who remind us that cricket needn't always be so joyless and combative. Both he and Warner will probably swing for the rafters from ball one once the Brisbane Test is under way, but in other senses their paths needn't be so dissimilar.
The Dean graduates
There's quite literally no Sheffield Shield batting debut to compare with 23-year-old Victorian Travis Dean's dual-hundred bow last week, but his efforts certainly provide plenty of food for thought at the start of a summer in which there's no small amount of uncertainty about Australia's Test batting line-up.
Dean became the first player in Shield history to score twin centuries (an undefeated 154 in the first innings and 109 not out in the second) on debut and just the seventh worldwide to achieve the feat on first-class debut. Dean hails from the south-western Melbourne suburb of Werribee, an Aboriginal word meaning "backbone" or "spine", concepts that resonated well once the opening batsman had featured in every second of Victoria's four-day game against Queensland.
On one hand it's reassuring that a player jobbing along in Cricket Australia's Futures League scene could make the step from Melbourne club cricket with such aplomb, though you also sort of wonder why the team-mates who've been given limitless opportunities to keep him out of the team for so long haven't been consistently capable of batting for so long and with such apparent comfort.
The most amazing thing about Dean's efforts in this era of reduced cricketing attention spans is that they came from a player conditioned to the brevity and constricted rhythms of club cricket, where the opportunities to bat for days on end – and consecutive ones at that – are limited. The signs had been there when in the state's Futures League team he'd knocked out an undefeated 217 and 63 earlier in October.
"When you're playing club cricket you don't get too many opportunities to bat for endless periods," Dean said after the game, "so once you get in and the wicket's pretty flat...you've gotta make the most of what you've got because it's hard to get out from there."
There's perhaps a valuable lesson to be learned here too with regards to the messages state selectors should be sending to their senior players – in this instance Australian one-day opener Aaron Finch – that they need to be more ruthless and regularly excellent if they're to command an automatic place in their state's first-class XI. Rarely can as contentious a selection decision as this have spawned so many happy side effects; Dean's debut of dreams and for Finch, a kick in the pants that surely played some kind of role in his undefeated, 288-run brutalisation of the touring New Zealanders.
The Bushrangers, longtime and consistent contenders to the various state cricket crowns and a benchmark of sorts in the trophy-laden Greg Shipperd-era on whose heels Dean's debut hotly follows, have nevertheless proven as adept at producing home-grown Test batsmen in the past decade as they have supreme leaders of the Democratic People's Republic of Korea. So Dean's success represents the fulfillment of a goal that really should be the aim of all Australia's cricket states; to feed into first-class ranks an appropriate number of young, hungry and capable batsman who stand a realistic chance of achieving higher honours.
And that is a significant challenge for state coaches and associations; a mandate to produce both champion teams and teams of champions at the same time, rather easier said than done in a three-format sport that now demands too much of its players but asks them to do it in a fragmented and crowded schedule.
Now, with 263 first-class runs to his name and a baggy blue Victorian cap perched on his head for the immediate future, there's only one thing left that Dean doesn't have: a batting average.
AFL interest for Alex Keath
Speaking of Victorian cricket prodigies, one-time code wars coup Alex Keath's five-year Bushrangers stint came to an end at the conclusion of the 2014-15 season when he wasn't offered a contract for this summer, but after upping sticks to South Australia in an attempt to reignite his career he's also drawn the attention of one of the local AFL sides, Adelaide.
Crows head of football David Noble confirmed this week that the club has signed the former Gold Coast Suns prospect as a Category B rookie. "Alex has a strong background in football and he is someone we have tracked closely," Noble told SEN. "Obviously he has been out of the system for several years but he was an elite junior and that's a good starting point."