1. Great White Shark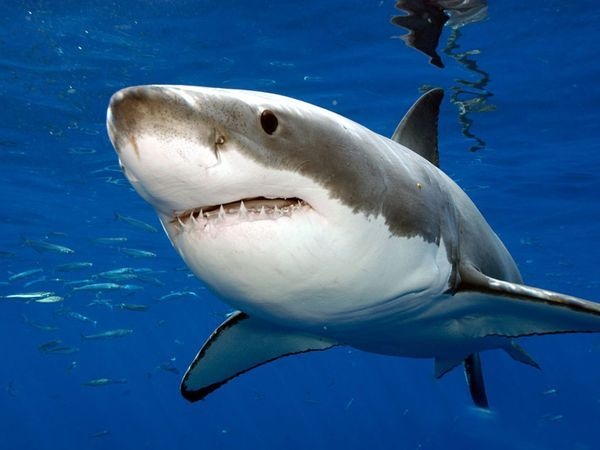 The Great White Shark (Carcharodon carcharias), also known as the great white, white pointer, white shark, or white death, is a species of large lamniform shark which can be found in the coastal surface waters of all the major oceans. The great white shark is mainly known for its size, with mature individuals growing up to 6.4 m (21 ft) in length (although reports have been published of great white sharks measuring over 8 m (26 ft), and 3,324 kg (7,328 lb) in weight). This shark reaches its maturity around 15 years of age and was previously believed to have a life span of over 30 years. The true lifespan of Great white sharks is far longer; now estimated to be as long as 70 years or more, making it one of the longest lived cartilaginous fish currently known. Great white sharks can accelerate to speeds that exceed 56 km/h (35 mph).
Of all shark species, the great white shark is responsible for by far the largest number of recorded shark attacks on humans, with 272 documented unprovoked attacks on humans in which the great white shark was identified as of 2012.
Great white sharks infrequently attack and sometimes even sink boats. Only five of the 108 authenticated unprovoked shark attacks reported from the Pacific Coast during the 20th century involved kayakers. In a few cases they have attacked boats up to 10 metres (33 ft) in length. They have bumped or knocked people overboard, usually attacking the boat from the stern.
2. Hippopotamus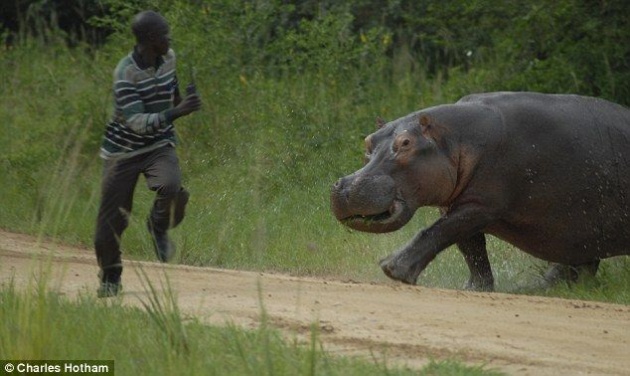 Hippopotamuses are among the largest living land mammals being only smaller than elephants and some rhinoceroses. Head-and-body length is from 2.8 to 4 m (9 ft 2 in to 13 ft 1 in), a tail of about 35 to 50 cm (14 to 20 in) and shoulder height averages about 1.4 to 1.5 m (4 ft 7 in to 4 ft 11 in). Mean adult weight is around 1,500 kg (3,300 lb) and 1,300 kg (2,900 lb) for males and females respectively, very large males can reach 2,000 kg (4,400 lb) and an exceptional male weighting almost 2,700 kg (6,000 lb) has been reported. Male hippos appear to continue growing throughout their lives while females reach maximum weight at around age 25.
The Hippopotamus is considered very aggressive and has frequently been reported as charging and attacking boats. Small boats can be capsized by hippos and and passengers can be injured or killed by the animals or drown. In one case in Niger, a boat was capsized by a hippo and 13 people were killed. As hippopotamuses will often engage in raiding nearby crops if the opportunity arises, humans may also come in conflict with them on these occasions, with potential for fatalities on both sides.
3. Killer Whale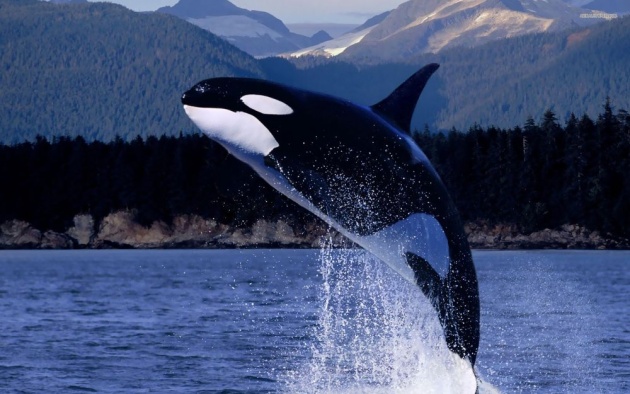 A typical Killer Whale distinctively bears a black back, white chest and sides, and a white patch above and behind the eye. Calves are born with a yellowish or orange tint, which fades to white. It has a heavy and robust body with a large dorsal fin up to 2 m (6.6 ft) tall. Behind the fin, it has a dark grey "saddle patch" across the back. Antarctic killer whales may have pale grey to nearly white backs. Adult killer whales are very distinctive and are not usually confused with any other sea creature. When seen from a distance, juveniles can be confused with other cetacean species, such as the false killer whale or Risso's dolphin. The killer whale's teeth are very strong and covered in enamel. Its jaws are a powerful gripping apparatus, as the upper teeth fall into the gaps between the lower teeth when the mouth is closed. The front teeth are inclined slightly forward and outward, thus allowing the killer whale to withstand powerful jerking movements from its prey while the middle and back teeth hold it firmly in place.
Of the very few confirmed attacks on humans by wild killer whales, none have been fatal. In one instance, killer whales tried to tip ice floes on which a dog team and photographer of the Terra Nova Expedition was standing. The sled dogs' barking is speculated to have sounded enough like seal calls to trigger the killer whale's hunting curiosity. In the 1970s, a surfer in California was bitten, and in 2005, a boy in Alaska who was splashing in a region frequented by harbor seals was bumped by a killer whale that apparently misidentified him as prey. Unlike wild killer whales, captive killer whales are reported to have made nearly two dozen attacks on humans since the 1970s, some of which have been fatal.