I forgot that I had to make a tarpaulin for our upcoming Alumni Homecoming this Saturday. I just remembered it when I woke up after our afternoon siesta with hubby. He is still deeply sleeping right now though so I had to grab this opportunity to use the laptop as he will be coding afterwards.

I immediately opened the Adobe Photoshop program and started working on it. I thought of just using the tshirt design template in that way, I can finish it all as soon as possible.

This is how I made it: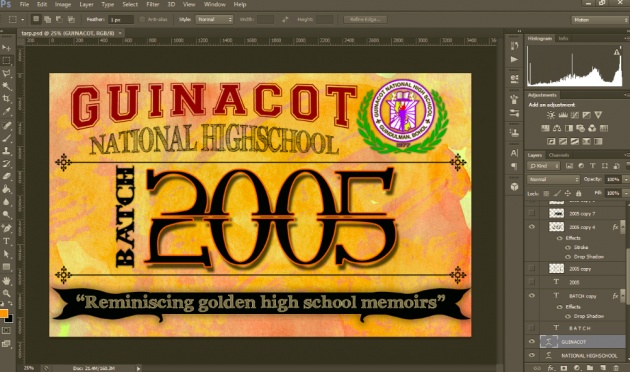 The school name at the top of course, used two different Fonts for that though, the Guinacot is Varsity Regular while the one under it is called FFF Tusj, weird name right? But I like the font style so I used it in here and also I played with the curving styles on both words. I also placed the school's logo in the top area just so I can leave the batch 2005 in the middle.

Used font style named Anderson Four Feathers Falls and the 2005 is Via-A-Vis with matching outer stroke and a dark 120 degree angled shadow distanced at 48 pixels. The banner shape was added so that the theme will be emphasized which states "Reminiscing golden high school memoirs", font used is Archistico.

That should be it and the size is 48 by 30 inches. Tarpaulin will be printed at 4x2.5 square feet. Made it in just 30 minutes since I already have the design from the tshirt. I just had to change the background which I had made myself with the use of Photoshop brushes, paint blotches and water colors. I have to use orange because that's our batch color as assigned by the Alumni group.