Discover bitMiles collect and exchange Rewards

What is ?

is also a site of

Management.

is associate degree innovation that boosts the return of brand on the investment by compensating their users, increasing their interest in the
campaign and let their user's reward move to the cause task. It is a platform to
unite brands or partnerships, users and causes. It is also available on the mobile App.


WEB LINK FOR

.


http://www.bit-miles.com/


Which Team is Behind
and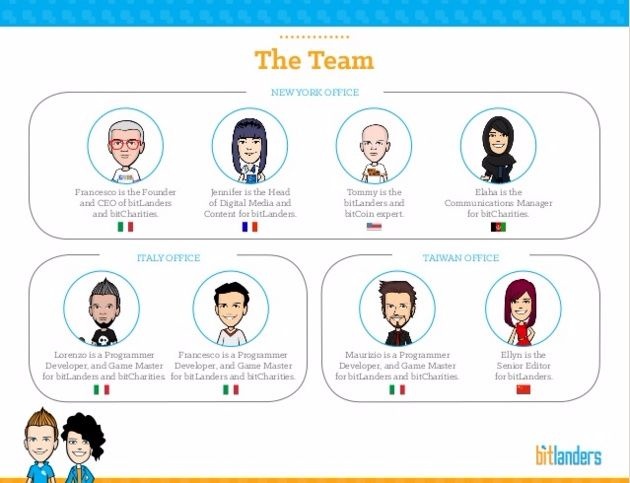 (Image Source: Francesco Rulli)

Concept
When an active user completed a task,

gives a Bitcoin as a reward.
How does work?



banners (logo on the top right) use on the Platform of

. This is a new feature from bitLanders that has been introduced a few months ago. When a user click on this banner they get rewards to them. The rewards available on video post on blog and gallery posts too.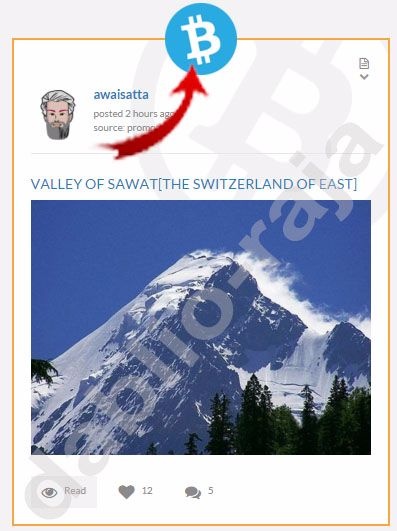 Buzz

Payment Proof Or Ranking
If you find post concerning bitLanders payment or rank on home page of any user, and you open this post and share that post in facebook, then you'll earn 5 satoshi. (you also try for google+ and twitter)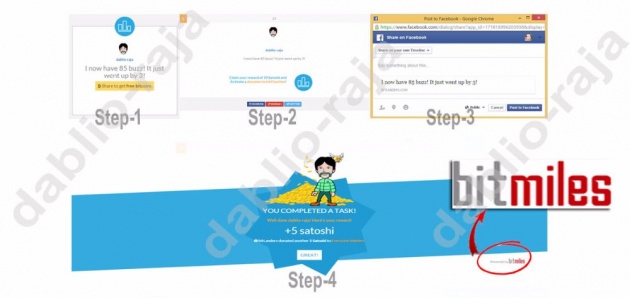 Or if you find post regarding donation of any user, and you open this post and hit on buzz that post, then you'll earn 5 satoshi and bitLanders will donate another 5 satoshi for charity.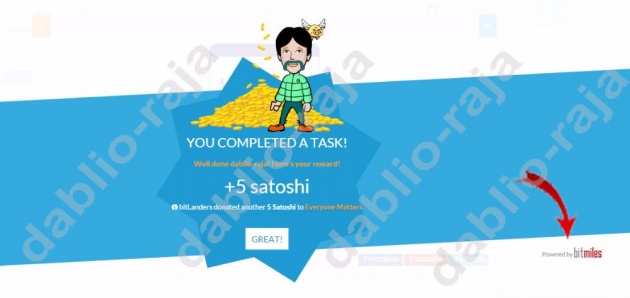 Watching Video and Get Reward
You'll get 100 Satoshi if you watch video (with bitMile logo) This reward, you will get with those video ads display before the original video. After the completion of ads, you will get 100 Satoshi and bitLanders will donate 20 Satoshi to charity. So you are able to View daily 5 Videos and 500 Satoshi reward.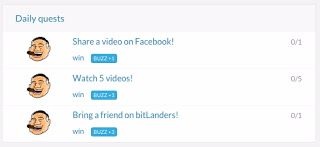 Effects to
After the Lunching of Bitmiles, User daily activity increased in Bitlanders.


"Thanks to bitMiles, time on the site grew from 2 to 16 minutes per session,"
says bitLanders CEO Francesco Rulli."


2 to 16 minutes time grew. Registered users grew of 90% to 100%. Unique users grew of 60% to 70%. 80% to 90% of active users engaged tasks on a daily basis. 200,000 to 250,000 tasks are fulfilled every day. 300,000 users activated 3.6 million charitable donations to 34 different charities.



is just good for sites like

with:
- 500,000 users, - 200,000 tasks completed daily. - 180 million friends/fans. - 100,000 daily buzz rewards, - 10,000 daily donations, - 150,000 daily interactions, according to them since it was implemented.

Why choosing ?
The simple answer for this
1-"BitMiles paying us lot of money-".
2-"BitMiles providing the platform to the companies-".
3-"BitMiles offering to promote your brand so easy-".
4-"BitMiles is very patent technology-".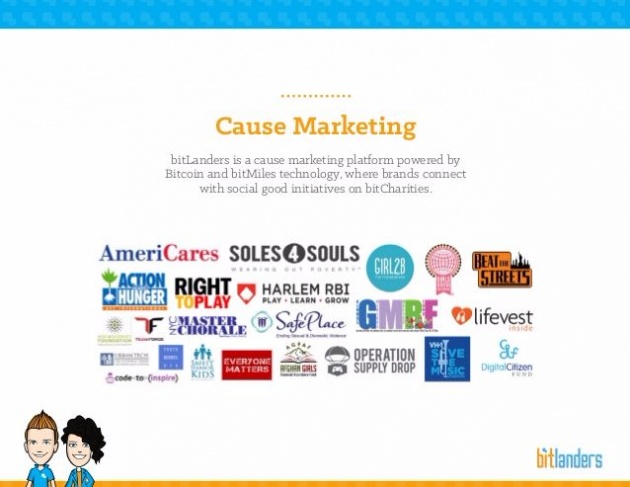 (image source : google)
Explore World Wide Account System
Bitmiles give us free world wide account system. To access to your bitMiles account go to its website This is the relevant particular address of the website http://www.bit-miles.com/. If you are bitLanders user, you don't need to create a new account. As BitMiles is owned by bitlanders, you don't need to create another account for BitMiles Simply click login now to go to login page. Puting your email and password same as your bitLanders account and click Login to go to your account page.
(WATCH INSTRUCTION VIDEO)
If you don't have a bitlanders account you can log-in with your Facebook ID
or
create new account.
with this link
http://www.bitlanders.com/register?c=gr234234__328171__0__0
Visit your account and start collecting rewards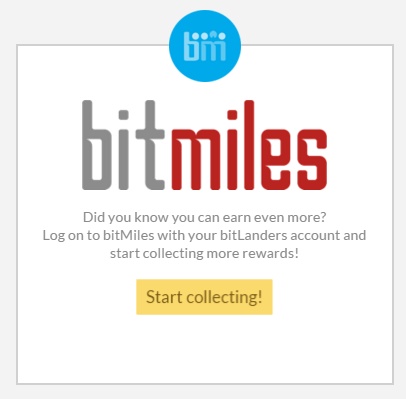 You are also Log-in your Bitmiles account through your mobile.
Use same log-in and password to your Bitmiles if you already have Bitlanders account.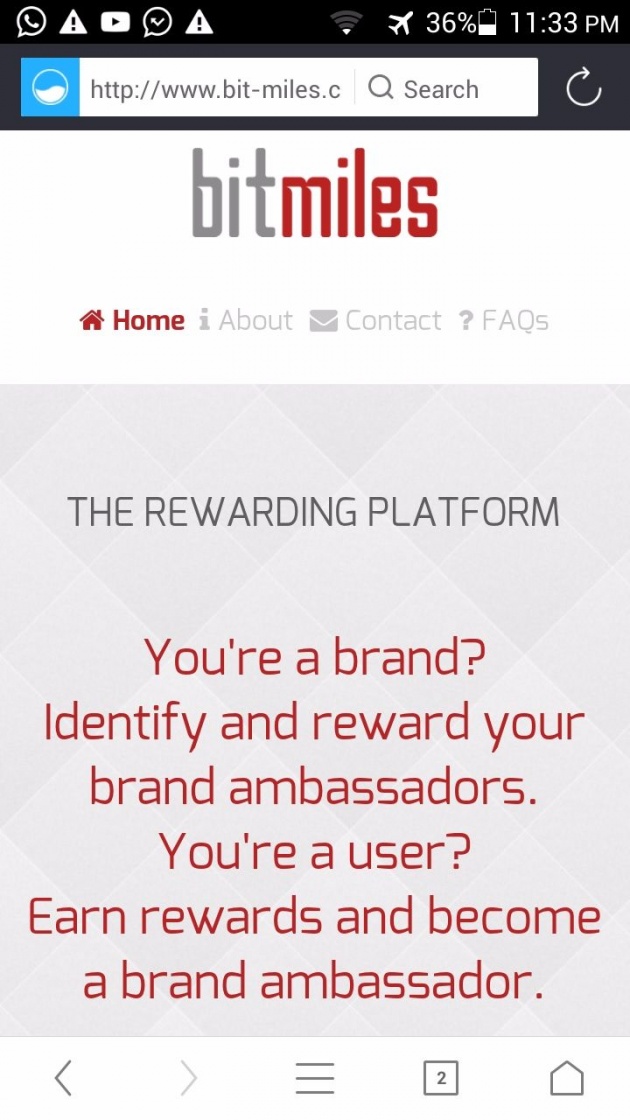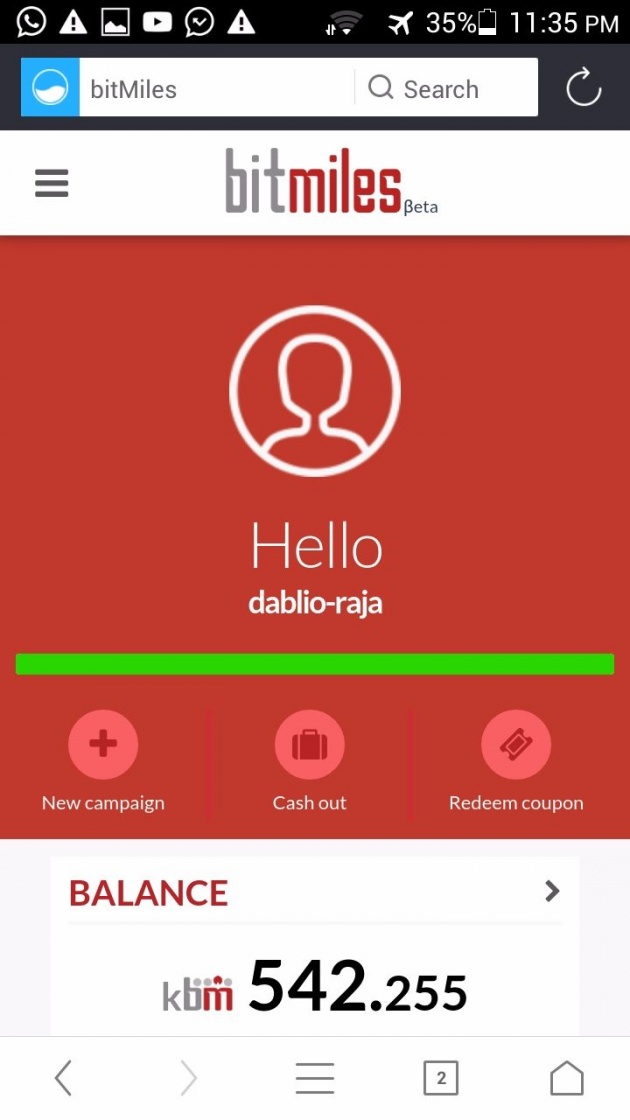 Interface
Dashboard
Dashboard is main page its first view of BitMiles, RECENT TASK, and you BALANCE show in this page. There's also some menu like New Campaign, Cash Out, Redeem Coupon, etc.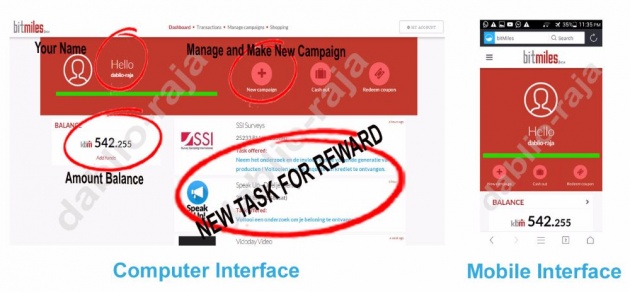 Choose any task you want to complete.
Click the task highlighted in Blue color to be redirected to the page in order to complete the task. Every task mention you what to do and how many bitMiles (BM) you'll earn after the task completed.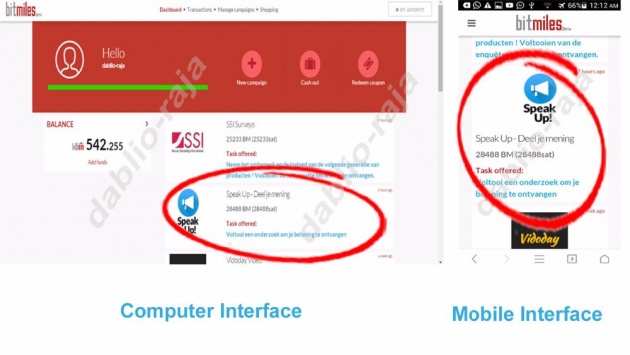 Simply click on the task you'd like to complete.
(WATCH INSTRUCTION VIDEO)
Daily 24 hours New and Latest quests associated rewards to the list so you can collect more bitMiles. you see in this video many task is available on dashboard.
How Can Add New Campaign ?
For creating the campaign you click on +NEW CAMPAIGN (If you don't have any app or campaign, you will need to create one). This app or campaign is used to reward your users or you can use it as a user too. If you are a user, click on new campaign and you'll be redirected to this page.
First of all you write the name of the brand that you want to promote while using Bitmiles then add the complete URL of a Site, In the left side inserting the Image of the site and adding a banner in bitmiles which show as a logo of the campaign.



(WATCH INSTRUCTION VIDEO)

All you have to do is to fill up all the
information which is important for the site to promote and sit back.
Transactions
After the Dashboard the next tab in the Main Menu is Transaction. In This tab containing information about the history of all the transactions, such as reward from daily quest, doing task, etc, and the bitcoin amount you spent on sale/purchase of the items, and the different moments in bitlanders like a bitfashinta avatar outfits, bitcharities Donation, and bitgoodies buying gems or stickers.



Every transaction can be seen and monitored in this tab.The balance which is in positive showing is the addition in the reward and the negative is showing the deduction from the real balance or it can be withdrawals or purchase of ant item.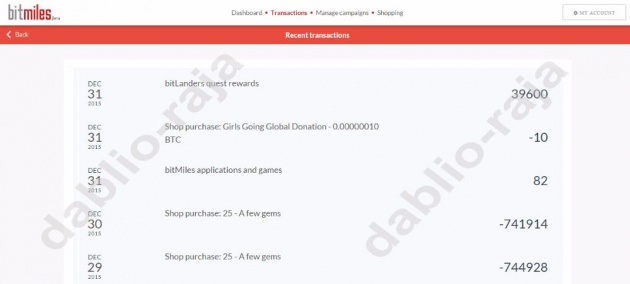 Manage Campaign
Next is the manage campaign page. Ignore this page if you didn't intend to create any campaign.
If you want to create new campaign just click 'Add Campaign' in right corner page.



Shopping
Last tab in the Main Menu is shopping in this option more 3 tab sub menu will be open
1- Funding
2- Gift Card
3- Payout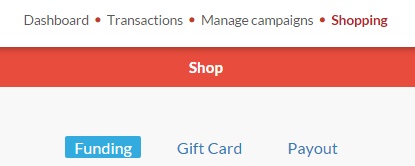 1- Funding
Through this option you can add funds in your BitMiles account through your Paypal account. which you need funds to reward your visitors or users.

This is screen shot of Shoping >>> Funding option>>>>>>Gift Card>>>>>Payout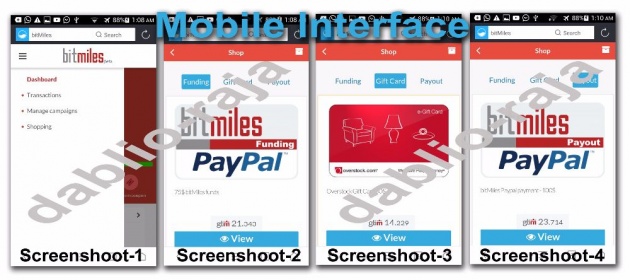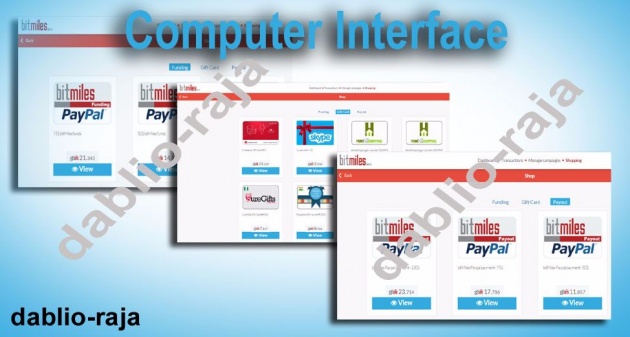 2- Gift Card
You can make effective use of. your rewards from BitMiles and bitlanders to purchase gift cards for your Skype account and different online shopping websites.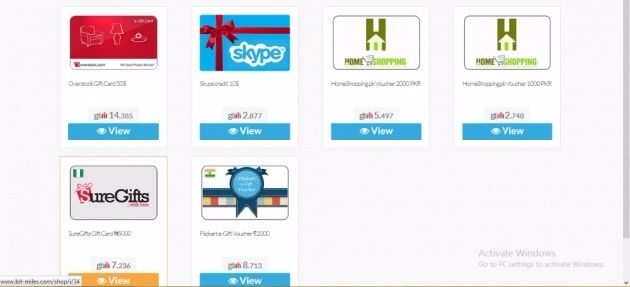 Pakistan's largest online retailer shopping website HomeShopping.pk added in this list. You can exchange your Rewards for HomeShopping.pk gift cards. Other wise Skype credit, Overstock gift cards, SureGifts gift cards and Flipkart e-vouchers also available.
Simply click on the gift card you're interested in after verifying you have enough bitMiles credits, and click on 'Buy'. These are the gift cards available in your Bitmiles' Shop.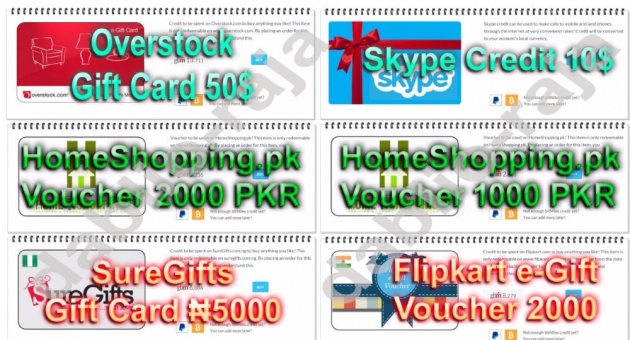 If you want to get these gift cards, but no enough Bitmiles credit yet, don't worry because you can pay your balance later.
3- Payout
Now three payment limits are available in BitMiles $50, $75, and $100 Amount in Paypall. This action also very easy, Just you select which limit you want to withdraw from bitlanders like this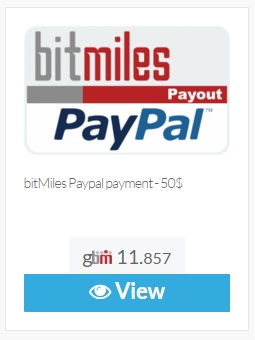 and then click on

button. after the clicking, you goes to next page which show like this,

In this page you click on

button.
If you have a Complete Withdraw amount, then Next Action is giving Paypal detail, other wise you face this type instructions,