Pinoys(Filipinos) were known celebrating Christmas season for almost half a year. You'll even start seeing Christmas decorations anywhere like in malls, streets, schools, hotels, churches and in houses when BER-months starts until Epiphany and decorations are still there before Valentines day or Chinese New Year for some. And some were not taking off their Christmas decorations for the whole year round.
Most of us are thrifty and would rather buy less expensive materials but believe me when Christmas day comes, there are many ways to celebrate it, rich or poor. We always save for this season just to make our Christmas merry and full of fun holiday. We just love to cook and serve as many yummy foods as we can together with our family during Christmas eve.
Now Yuletide season is fast approaching. For those who didn't put decorations yet, we still have a month before Christmas and it's time to decorate our home to feel more the joyous holiday spirit. But because with the expenses we spent every Christmas piling up in having Christmas parties, Christmas Shopping and on Christmas Eve's Noche Buena, one cool idea to save money is to Re-use and Recycle materials we see in our house and making DIY Christmas decorations instead.
Reduce.Reuse.Recycle
Recycling
-It is a practice of REUSING materials.
-It is a process of converting an item into another reusable thing.
-Collecting and processing things that should be thrown as a trash but turning them into new products.
Benefits
-Reduces energy usage.
-Reducing the need to collect new materials
-Reduces pollution.
-Reduces greenhouse gas emissions (contribute to global climate change)
-Creates well-paying jobs by Manufacturing Industries in United states.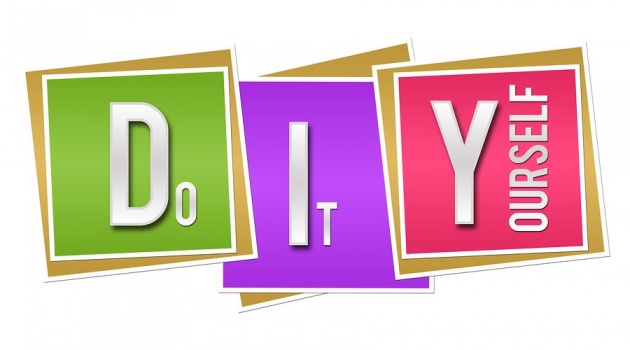 (Image Source : Mccarthyandking)
What is DIY?
-DIY stands for Do-It-Yourself
-Building things yourself.
-Method of repairing, building or modifying things without professionals' or experts' aid.
-Hands-on Activity
-Cost - saving or Creative-recreational activity.
-Developing your skills for personalization / creation / customization
-Related to Arts and crafts movement.
In 1912, Do it Yourself is associated with the consumers in the field of home improvement and maintenance activities.
In 1950's, the phrase Do it Yourself has been commonly used referring to people having construction projects, crafts and home improvement as cost -saving activity.
DIY as a behavior (Accdg. to Academic Research)
- wherein a certain individual undertakes raw and semi-raw materials to create, reconstruct or transform material possessions. It includes landscaping.
- It is provoked by marketplace motivations due to lack of product availability and product needs customization or triggered as identity enhancement like uniqueness.
This time, I want to share these DIY eco-friendly and thrifty recycled Christmas projects and crafts collected online. Let's work out our creative imaginations for the mean time. Try to look around your house and look for something that you seldom use or won't use anymore. And let's see what we can do turning that thing as a Christmas decor. This can be a good family bonding too aside from saving money.
DIY-Recycled Christmas Decorations
DIY-Recycled Christmas Tree
Christmas Tree - For centuries, Christmas is not complete without this thing, isn't it? We love to bling it with all the shiny, round and colorful decorations to make it more attractive. You don't need to buy Christmas trees but you can create a different style of it out of something like bottled Christmas tree, wall Christmas tree, table top Christmas tree, etc.
Images below are From Pinterest
How to make Table Top Christmas Tree
(A DIY project of Aira Tran)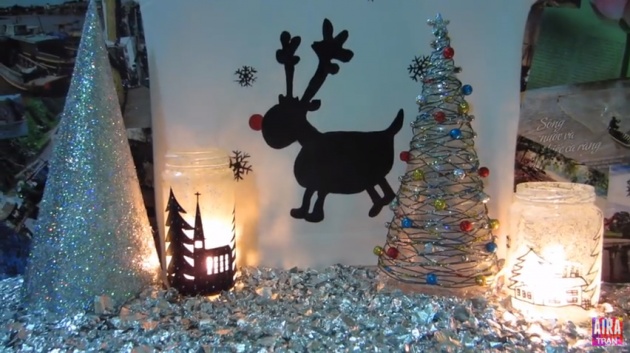 (Screenshot From DIY project of Aira Tran)
Materials:
Cardstock
String
Beads & Glitters
Mod Podge
Steps:
Make a cone out of card stock. Check and Measure the height of your cones for your table top Christmas trees.
Wrap the cone with plastic wrap.
Dip string in mod podge. (Create your Home made mod podge)
Wrap it around the cone.
Brush more with Mod podge just to make sure the things are glued together. Let it dry overnight,
If the cone is now dry, add another coat of mod podge.
Then, Sprinkle some glitters. Let dry.
Get some beads or any small round objects that serves as ornaments for the tree. Coat them with Mod podge. Then sprinkle glitters into it. You can coat them with different colors of glitters you like.
Attach the ornaments to the tree with your glue gun.
Remove the cone from your card stock carefully.
Bling it with star on top of your cute Christmas tree.
And you're done.
***Don't Throw Your Card stock Cone***
You can use it as another table top Christmas tree decoration.
Steps:
Coat your card stock cone with Mod podge.
Then, sprinkle Glitters.
Let dry for an Hour. And you're done.
Here are other DIY Christmas Trees that you can do.
Wall Christmas Tree
If you have a Christmas Tree, you can turn them upside down in your ceiling (maiba lang).
Image Source : The Intolerant Chef
DIY-Recycled Christmas Lantern
Parol or Christmas Lantern - This is present to every Filipino's houses every Christmas season. If you live in Philippines,there's no doubt that you have done making this as your school project too. But this time, instead of making lantern out of cellophane, why don't we go extra mile and use materials available at home like plastic bottles, straw, plastic caps, magazines, newspaper, cans, etc.
Images from Google
Bottled Christmas Lantern
There were so many Coca-cola Christmas lanterns last year, hanged in different houses and stores here in Philippines with the participation of more than 400,000 women entrepreneurs. Coca-cola's Star ng Parol was a unique holiday campaign of Coca-cola for being the leading beverage brand.
(Image Source: Coca -Cola)
Steps:
Share Coca-Cola with your friends and love ones. And collect 5 empty bottles of it.
Get your Coca-Cola Star ng parol. (Red Center piece of the lantern)
Screw the 5 empty bottles of Coca-cola. You can put any colorful thing inside the empty bottle to make it more attractive.
Design your Parol. Be creative.
Hang your Coca-cola Lantern.
Another style of Bottled Lantern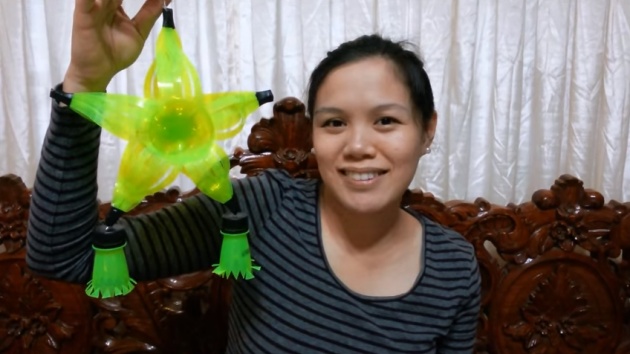 (Screenshot from queenmoonstone's Video)
Hanging CHristmas Decoration out of Straw
DIY - Recycled Christmas Ornaments
Christmas Ornaments - Be unique and creative! You can make ornaments using your photos. Start recycling your old CDs, light bulbs, bottle caps, card boards, felts, strings, etc. Bling your Christmas trees or walls or ceilings with your recycled ornaments.
Images from Pinteres
DIY String ornaments from Pinterest
Materials:
Strings
Mod Podge or Glue
Glitters
Balloon
Steps:
Prepare your materials.
Dip your strings in your Mod podge or Glue if there's no mod Podge available.
Inflate your small balloons and wrap your strings around it. See image below for reference.
Sprinkle with glitters.Let it dry.
Next, get a pen and press the balloon gently in all parts so that will not be attached in your string.
Then, pop your balloons and remove it gently from your newly made string ornament. And you're done.
(Image Source : Pinterest)
How to make String Ornaments
DIY Christmas Ornaments using your Photos
Emoji's Ornaments
A dose of creativity and internet are our friends when it comes to these projects. All we have to do is to research on things or ideas we want and start making them. I hope you also got some ideas from what I had shared. Have fun in creating, designing your Christmas decorations ! Enjoy!