Video Credits: Alana King via Youtube
When I was still studying, I always told myself that if I have a job, I will buy at least two (2) books every payday. But, even if I have a job right now and a part-time job which is blogging, I still can't buy whenever I finish reading a book or buy at least two every month. Adulting is hard, right? Now to feed my hungry bookworm soul, I just download an epub file on the internet.
With a small number of owned books, I was tempted to participate in the "Do I Have That Book Challenge" after reading Haraka's blog.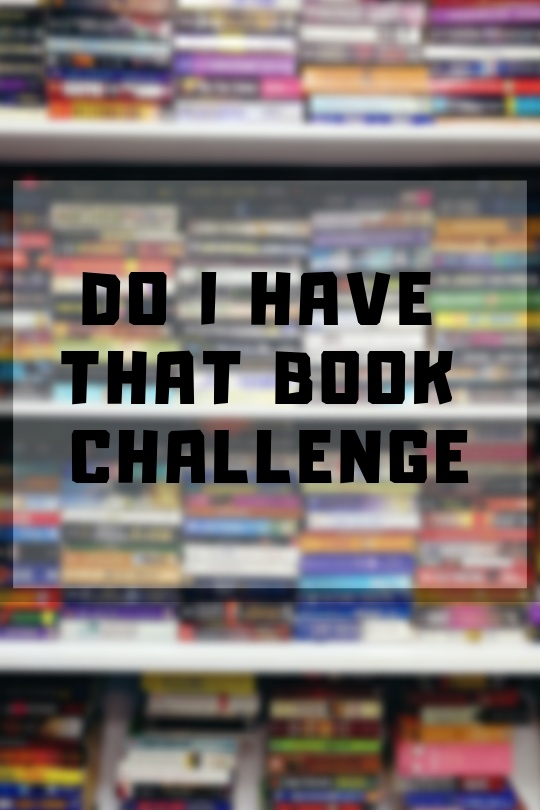 Image Credits: Caryl Keen edited via Canva
So here it goes...
1 Do you have a book with deckle edges?
Honestly, I don't know what's deckle edges. So I researched it and found out that it is a rough uncut edge of a sheet of paper. Then I immediately realized, I have none because I don't like that kind of paper. I always check the edges if it's clean and smooth. However, days after I've decided to participate in this challenge, I bought Norse Mythology by Neil Gailman. I checked all the display but, it was still the same. And yes, I just bought my first ever deckle edges book.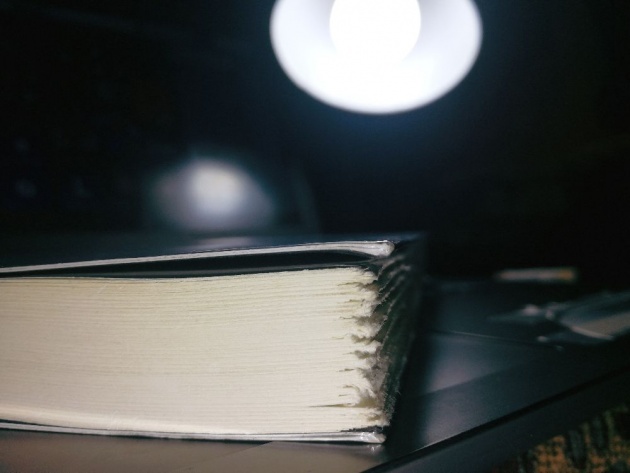 Image Credits: Caryl Keen
2 Do you have a book with three or more people on the cover?
It's very unusual for me to buy a book with a cover edition that is based on the film. But I convinced myself to buy the book, If I Stay by Gayle Forman, before the showing of the film. The cover shows Mia, her boyfriend, and her family. And as I was looking, I found four more books with more than three people on the cover. All of them are about WWII.
3 Do you have a book based on another fictional story?
Right after I read this question, I immediately remembered: "Fangirl by Rainbow Rowell". The female protagonist is an aspiring writer who uploads her fan fiction works. However, I don't have a book for this one, which means I got zero points for this question.
4 Do you have a book with a title 10 letters long?
I got so lucky to have found a 10-letter long title, and that is the Hollow City by Ransom Riggs. I bought this book last year but I still haven't read it yet.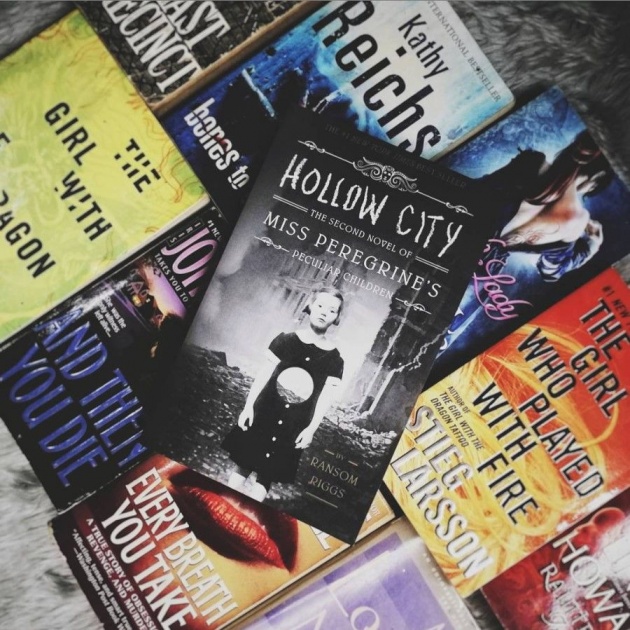 Image Credits: Caryl Keen
5 Do you have a book with a title that starts and ends with the same letter?
I got this book on our office Christmas Party last 2016. My friend asked me to help him look for a good book for the exchanging gifts. I kept on asking what's the genre but he didn't answer it. I just told him that whatever he wants to buy, he should buy it. On our Christmas Party, before you give your gift to the person, you need to describe that person. Before he could open her mouth, I know that the gift he's carrying was for me. I couldn't wait for the Christmas Eve so I decided to open it and I received Things We Know By Heart by Jessie Kirby.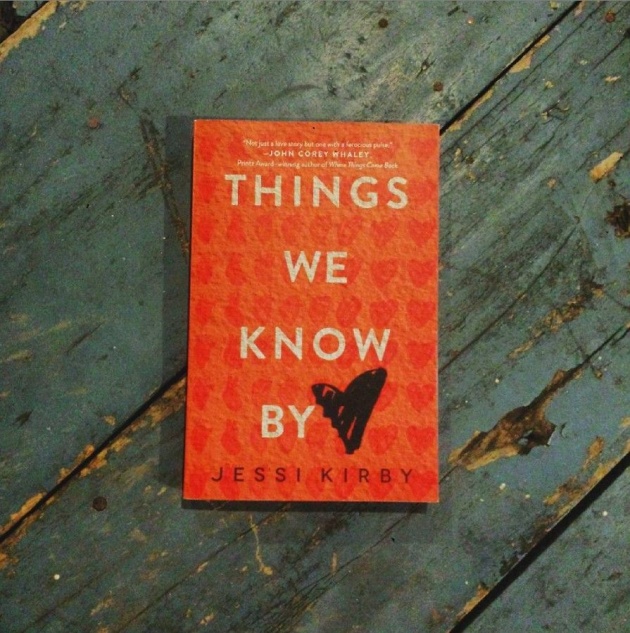 Image Credits: Caryl Keen
6 Do you have a Mass Market Paperback book?
I think 40%-50% of my book is a Mass Market Paperback book. It's because I can only afford to buy the paperback when I was studying. Also, in the city where I work, there's a bookstore that sells a cheaper book, both softbound and hardbound. One of the books I bought in there was "And Then You Die by Iris Johansen". I bought it for only Php 35 ($0.67) and the quality is still good.
7 Do you have a book written by an author using a pen name?
If you say pen name as I have in bitLanders, a totally different name, then I don't have one. But, if the author uses initials which can be considered as a pen name then I have 365 Days of Wonder: Mr. Browne's Book of Precepts by R. J. Palacio or when spell out, Raquel Jaramillo Palacio.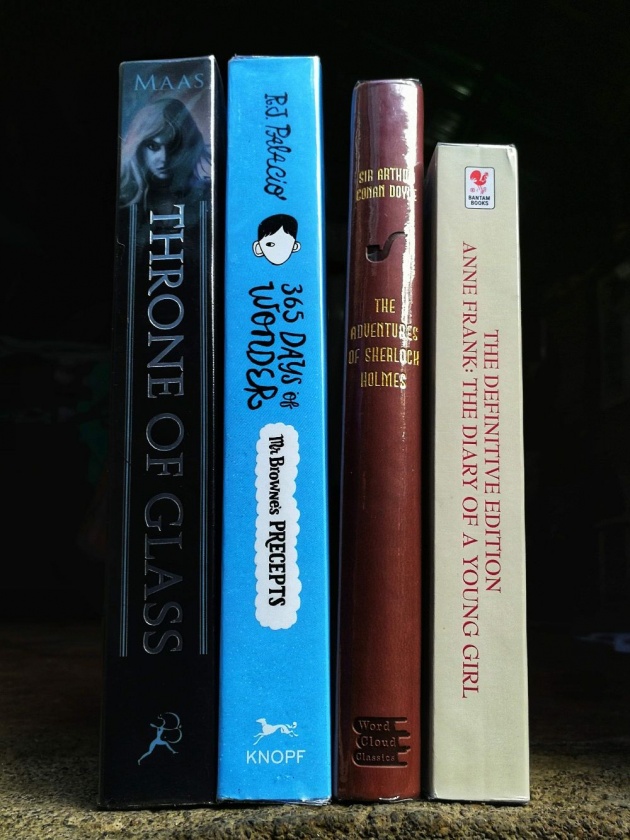 Image Credits: Caryl Keen
8 Do you have a book with a character's name in the title?
I was thinking of Anne Frank's Diary, then I realized the title of her book is not The Diary of Anne Frank, but rather "The Diary of A Young Girl" written by herself. But luckily I found one and it's "Miss Peregrine's Home for Peculiar Children by Ransom Riggs" wherein Miss Peregrine is the headmistress to a home board for the Peculiars, children who possess paranormal abilities.
9 Do you have a book with two maps in it?
Sadly, I don't have a book with two maps. If it's one map, then I have a book. Fantasy books have one or more maps in it, but I only have a small number of fantasy-book. I only started buying fantasy books last year, if I'm not mistaken since I am fascinated with mysteries and crime novel and the autobiographies about World War II or any book that is related to WWII.
10 Do you have a book that was turned into a TV show?
Who doesn't love Sherlock Holmes in the TV Series? His brain and witty humor fascinate me a lot and that is why I bought the book "The Adventures Of Sherlock Holmes by Sir Arthur Conan Doyle"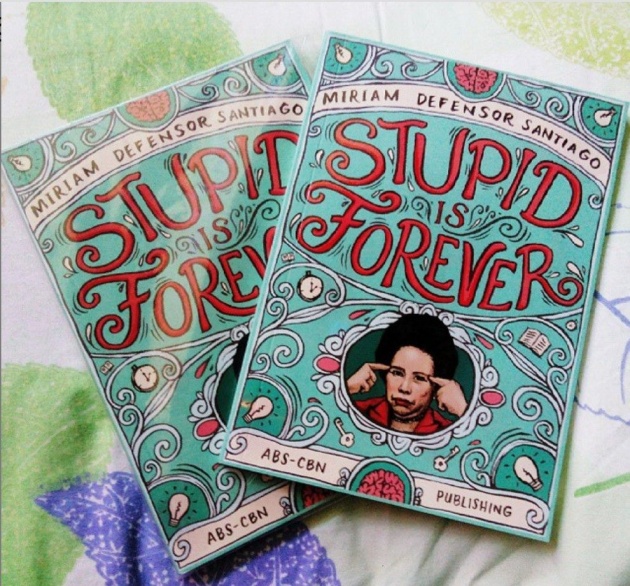 Image Credits: Caryl Keen
11 Do you have a book written by someone who is originally famous for
something else?
I have a book written by a well-known Senator in the Philippines. My forever favorite Senator, the late Miriam Defensor Santiago. She was really known for her wittiness, smart mouth and inspiring and brave content in every speech. She was the female senator that every corrupt people should be scared of. She published a book, Stupid is Forever, and it instantly became a best seller here in the Philippines. It was always sold-out and at that time I need to travel 3 hours just to buy a book. I even asked my HS classmate in Cebu to buy a book for me, luckily he was able to reserve one for me. In less than a year, due to public demand, she again published another book, Stupid is Forevermore.
12 Do you have a book with a clock on the cover?
This question is very specific and even without checking my books, I know I don't have one.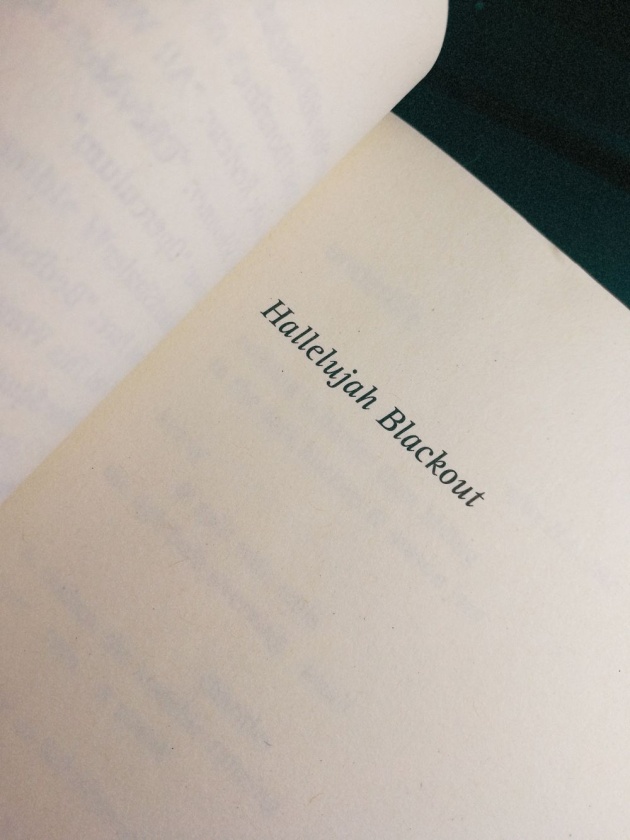 Image Credits: Caryl Keen
13 Do you have a poetry book?
I love poems. I read poetry books and sometimes I write too. My new favorite poet is Rupi Kaur and Michael E. Reid and of course, the legendary classic poets who will always be my all-time favorite. I do have a book of poem compilation from the different well-known classic poets like William Shakespeare, Edgar Allan Poe, Robert Frost and a lot more. Recently, I bought the Hallelujah Blackout by Alex Lemon.
14 Do you have a book with an award stamp on it?
I owned some books with an award stamp. I have this book, Wonderful Wonderful Times by Elfriede Jelinek that won the Nobel Prize for Literature in 2004. However, there's no stamp in the book cover although above the title it states, "Winner Of The Nobel Prize For Literature". But if a stamp is a must, then I have "Before We Were Free" by Julia Alvarez that won the Pura Belpré Award in 2004. It also won Americas Award for Children's and Young Adult Literature and a lot more.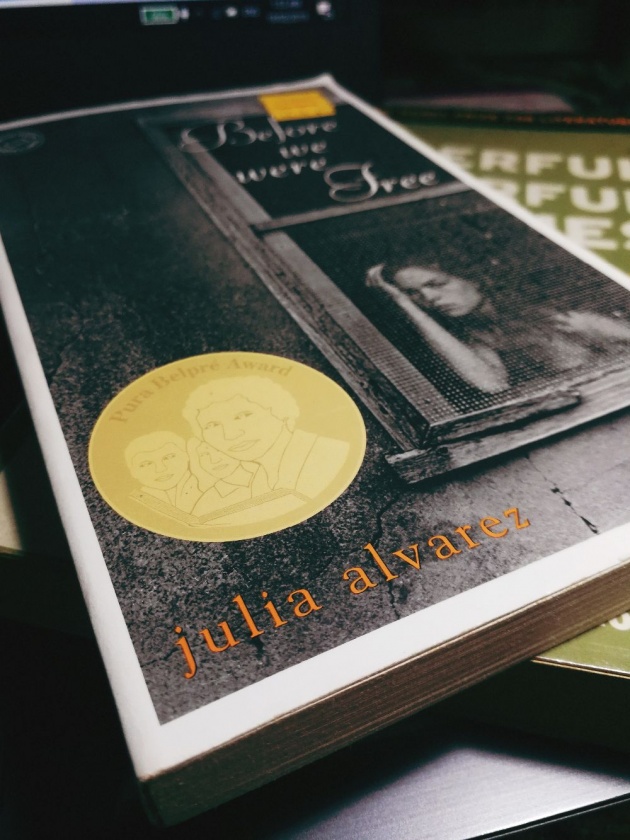 Image Credits: Caryl Keen
15 Do you have a book written by an author with the same initials as you?
My initials are C.K.O.E or if I omit my middle initials, then it's C.K.E, and I still can't find one.
16 Do you have a book of short stories?
Same as the poetry book, I also have a book with a compilation of short stories mostly from Edgar Allan Poe and the one I love the most is "The Cask of Amontillado". Although, I still own a book of short stories like the Snow White by The Brothers Grimm.
17 Do you have a book that is between 500-510 pages long?
This question frustrates me a lot. It made me scan my books one by one just to see if it's in between 500-510 pages. Most of them are 200 to 400 plus pages and 600 plus pages, however, I was able to found one, "Deja Dead by Kathy Reichs". I haven't read this one yet but already read her Bone to Ashes book which made me fall in love with her books.
Image Credits: The Dan Brown Wiki
18 Do you have a book that was turned into a movie?
I have many and I already mentioned them like the Peculiar Children and If I Stay. I don't want to repeat my answer and then I remember I have "Da Vinci Code by Dan Brown". It was the first work of Dan Brown that I've read and I instantly became a fan.
19 Do you have a graphic novel?
Image Credits: Immortallium
I know I have one graphic novel, to be specific, it's a manga. Unfortunately, I can't find it, I don't know if I lent it to my friends or I just misplaced it. I can't remember the title since it was not a well-known manga. It was the only manga that I bought and the rest, I just read it online.
20 Do you have a book written by 2 or more authors?
I had my hopes high since I have a compilation of books or war memoirs, but unfortunately, it was written by one author. With consistent searching for a book with at least 2 authors, I found one, "Embracing Your Big Fat Ass by Laura Banks and Janette Barber."

Image Credits: Caryl Keen
Summing Up
Even though I own less than a hundred books, I still manage to answer more than 50% of this challenge. It was fun and because of this challenge, I found some of the books that I haven't read yet. This made me realize that I should read them this year. Overall, it was fun participating in this book challenge.
☀☀☀
THANKS FOR DROPPING BY!
☀☀☀
CARYL KEEN
☀☀☀
2019, All Rights Reserved.