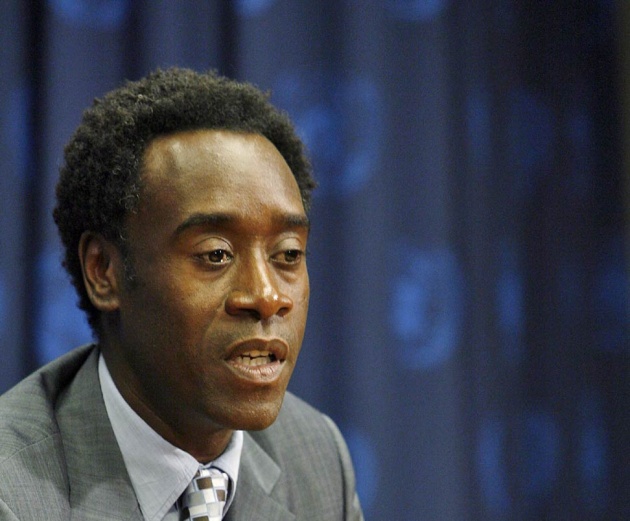 "When we are able to find personal stories that documentaries do very, very well; and illuminate for people the conditions [of] people who are dealing directly with this issue… there's ways that people come to this that really are effective and touch us when we hear their stories crafted through the careful eye of the documentarian," said actor and UN Environment Programme (UNEP) Goodwill Ambassador, Don Cheadle, in an interview for the UN News Centre. Cheadle was attending a conference focused on developing a "better global future through the power of storytelling and documentary film." The Conference, 'Envision 2012: Stories for a Sustainable Future,' amplified a call for filmmakers to help bring sustainability issues to life in a compelling manner.
Deputy Secretary-General Asha-Rose Migiro opened the forum on Monday, noting in her remarks that the forum's "documentaries and discussions have a crucial role to play in our effort to transform our economies and place our societies on more just and equitable footing. We at the United Nations believe in the power of film to raise awareness and mobilize the action we need to change the world." The Conference is a partnership between the Creative Community Outreach Initiative of the UN Department of Public Information (DPI), the Independent Filmmaker Project and the Ford Foundation. It was founded on the shared belief that storytelling and documentary film can be powerful tools in building a better future for all people.
Now in its fourth year, the gathering connected United Nations experts and non-governmental organizations with people working in filmmaking and new media, and enabled them to work together to find new and compelling ways to create momentum for social change. The acting head of DPI, Maher Nasser, said film has the capacity to encapsulate an issue and galvanize attention, whether through documentaries or fictional, citing the respective examples of An Inconvenient Truth, which brought attention to climate change, and Blood Diamond, which spotlighted the consequences of the real-life trade in diamonds sold to finance wars.
"But for all the memorable stories captured by the camera lens, many more remain untold – stories that deserve and need to be told. That's why it's important to bring together experts and the creative people behind the camera to find compelling ways to shine a light on these untold stories," according to Mr. Nasser.
We at Diplomatically Incorrect, now for the 3rd year, are employing articles and film for blogs to complement and more effectively convey stories ranging from diplomacy and human rights to sustainable development and empathy for all living creatures. This is a continuing evolution of a more committed multimedia approach through digital diplomacy to reach, empower and ultimately amplify the voice of the global citizen.
Ambassador Muhamed Sacirbey - FOLOW mo @MuhamedSacirbey

Facebook-Become a Fan at "Diplomatically Incorrect"







Twitter – Follow us @DiplomaticallyX







"Diplomat-Artist" Channel - http://diplomaticallyincorrect.org/c/diplomat-artist
UNEP Goodwill Ambassador Don Cheadle. UN Photo/Paulo Filgueiras