Recent findings from a national level representative survey by Glevum Associations conducted in all provinces of Afghanistan indicates presidential candidate 'Dr. Ashraf Ghani' as the leading most favorable candidate for the upcoming climacteric elections due to be held on 5th April 2014.
Around 2500 Afghans including people from every class of the society from all 34 provinces of the country were asked about their most favorable leader among the three leading candidates. '26.9 per cent' voted in Dr. Ashraf Ghani's favor while attracting '24.7 per cent', Dr. Abdullah Abdullah sits in the 2nd position, on last position with '7.5 per cent' votes is Dr. Zalmai Rasoul .
An ethnic Pashtun, from the influential 'Ahmadzai tribe', Dr Ashraf Ghani Ahmadzai is a household name in Afghanistan today. Placed as 2nd in World Thinkers poll by Prospect Magazine in 2013 and included in the annual list of the Top 100 Global Thinkers by Foreign Policy Magazine, this man needs no introduction, indeed he is the most respected personality in all the country.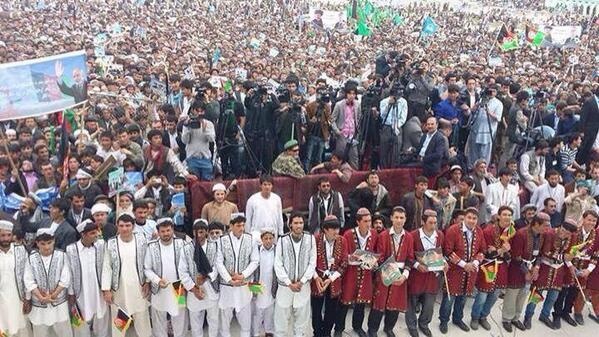 Actively sharing glimpses and key points particularly about his team's amazing campaign performance on Twitter, Ashraf Ghani is the people's choice.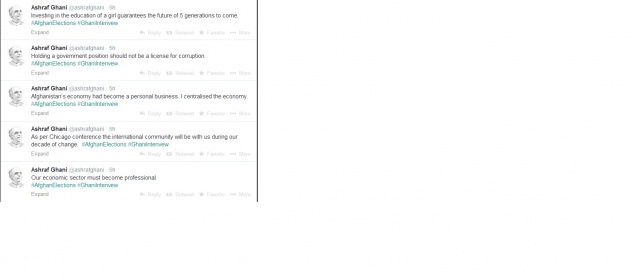 http://glevumassociates.com/doc/GlevumAfghanistanPresidentialElection2014WaveOneSurveyFindings%20.pdf
Note: The writer is not in favor of the upcoming elections.