In this blog I will explain about how to earn money from this site
What is Bitlanders
For all the new users who want to know that what is bitlanders and what are its basic terms and conditions? What basic knowledge should a new user have before starting work on this site is in my other blog whose title is given below.
When you click on this blue title given below, a new window will appear in front of you which covers all the basic knowledge for the new user that he or she must know. So I recommend all the new users who do not have basic knowledge about this site like daily's quest, first quest, gems, daily login reward etc must see this section first Complete and Detailed Guideline for the New Users of Bitlanders, Must Read!
Just click on the above blue title name as "Complete and Detailed Guideline for the New Users of Bitlanders, Must Read!" and read it
You can also watch this video which is specially created for the new users
Video Credits: Video Taken from Tauseeq_Magsi_Profile
Tricks and Tips To Earn Money
Image Credits: Image Taken From www.bitlanders.com, edited by Tauseeq_Magsi
Before starting I would like to tell you that


Your greatest asset is your earning ability. Your greatest resource is your time.
Credits: Brian Tracy
There are three major ways to earn money from bitlanders. People usually worry that where we can see our earnings? The answer to this question is that your earnings are in the form of bitmiles which can be seen at the top of the screen with the gems and buzz score. These bitmiles are converted into dollars which can be withdrawn.
The three major ways are listed below.
By writing quality blogs and submitting it for a review.
By uploading quality videos and submitting it for a review.
By uploading quality gallery images and submitting it for a review.
Writing Quality Blogs
The most best and suitable way to earn bitmiles is writing quality blogs. You can have complete details about bitmiles and its conversion by clicking on this ======> Micky-The-Slanted-Salerno
Image Credits: Image Taken from allthingsblogging.com
When you write a blog and submit it for a review then you will be awarded with stars. There are total 5 stars which you can get. To submit a blog for a review, it will cost you to pay 10 gems per review. But don't worry the gems are returned to you. The return criteria of gems is as follows:
5 Stars=10 gems return and 15 Buzz for 5 days
4 stars= 4 gems return 5 Buzz for 5 Days
3 stars= 3 gems return and 3 Buzz for 5 Days
2 stars= 2 gems return and 2 Buzz for 5 Days
1 star= 1 gem return and 1 Buzz for 5 Days
The more you got stars the more you will have gems and buzz and the more you will earn. But everyone can not do quality blogging. It should be learnt first and then you can do quality blogging. Here now I will explain some features of quality blogging.
Language And Length:
Before writing your blog it must be clear that your blog should be in English. It does not have any spelling and grammatical mistakes. If there are grammatical mistakes or spelling error, it would have negative impact and the bitlanders team would easily find them and decrease your reward. It is better not to commit spelling errors and grammatical mistakes.
Similarly, your blog should be properly punctuated i.e. the use of commas, inverted commas, full stop etc.
The length of your blog should be from 800 to 1000 words or more so that it looks like a proper blog.
Images And Videos:
Images and videos are the main and essential part of your blog. Your blog must have 10 images and 2 videos related to your content which you have entered in the blog. If you upload images and videos which are not relevant to your blog's topic then it would have negative impact on your blog and the reviewing team will rate low stars to your blog.
How can you add image and add video in your blog? The whole process with precautions which are in the video below. Must watch it to understand about how to upload images and videos and from where to upload.
Video Credits: Video Taken From Tauseeq_Magsi Profile
NOTE:
The most important thing which you should keep in mind that do not copy any thing from the internet without telling the source. Source means the site from where you have taken the image or video. Even if it is your own captured image or video you have to mention the credits same as I have mentioned the credits in this blog.
Definitions and Qoutes:
If you want to include definitions and qoutes that are not your own and you have taken from the internet then use inverted commas option which is situated next to the paragraph option. Remember that, your copied definitions and qoutes should be smaller not more than 1 or 2 lines. Do not try to copy and paste the whole paragraphs. Your definitions or qoutes must look like this in the picture below.

Image Credits: Image Taken from Tauseeq_Magsi Profile edited by Tauseeq_Magsi
Links And Tags:
Inserting links is always a good idea in a blog as it makes the blog attractive and more informative. The terms which you want the readers to read but you do not want to include its definition in the blog then use the links option which is third last or simply right click in the blog where you want to insert the link. It will create attractive look of your blog.
Tags are very important at the end of your blog, video, gallery etc. You must have to select 10 tags for your blog, gallery or a video. Keep in mind that the tags should be those words which are in the blog or video or a gallery. In other words, tags should be related to the blog or video or a gallery.
Submitting For a Review:
At the end, you will submit your blog for a review to the bitlanders team. If you have not submit your blog before then you will have three free submissions and if you have already submitted three blogs and your free submissions are no more then it will cost you 10 gems per review. Your blog will be reviewed with in 4 to 8 days until, the blog status will remain offline.
NOTE:
After submitting your one blog for review do not wait for its approval. Start working on another blog and keep writing. You should have to write minimum 2 or 3 blogs per week to keep your buzz score high and your earnings stable. If you write more and more quality blogs then it will rewards you more.
Uploading Quality Videos
The next thing is uploading video and submitting it for a review. Making videos is more easy than writing blogs and it is more effective than writting blogs because most of the people prefer to watch videos instead of reading blogs. Uploading videos is pretty easy and less time consuming. But videos without submitting for a review are less rewarding. So if you upload videos then you must submit it for a review.
There are few things which should be kept in mind regarding videos.
Videos should be your own.
Videos should be in HD quality or high resolution.
The language of a video should be english.
There must be appropriate tags related to the video language.
You should have to choose best display image for the video which attract more people.
Submit it for a review.
Video will also take 4 to 8 days to be reviewed.
Image Credits: Image Taken from digitaleurope.org
Uploading HD Quality Gallery Images
The next thing is uploading HD quality images in your gallery and submitting it for a review. The images in your gallery must be your own captured or your own created using any kind of software. It should not be copied image with or without any source. Gallery images must be your own. When you upload a gallery, give its title and description. It is better to upload 1 gallery on one topic i.e. the images of a gallery should be related to each other.
The next thing is adding title to every image. You must have to add title in every image. At the end, you have to add tags. Again the tags must be appropriate according to the gallery title and description.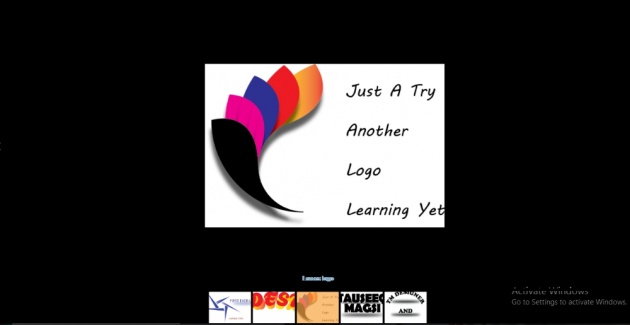 Image Credits: Image taken by Tauseeq_Magsi from my own Gallery
The above shown image is taken from my gallery. As you can see that all the images are related to one topic and that is logo designing.
The Buzz Score
The buzz score is the real game here. More you have the buzz score more you will get bitmiles. Beside this, the buzz you get on your blogs, videos, galleries, micro blogs is also counted. More you have subscribers more you will get the buzz score.
When people share your blogs, videos, microblogs, galleries on social media like google, facebook and twitter then you will also get much more buzz score. More the people share your blogs, videos etc more you will have the buzz score.
Image Credits: Image Taken from Ellyn
Besides this I would like to say that do not go for money. Go for your interest and your skills because skills are the basic things which rewards you
Image Credits: Image Taken from quotesideas.com
If you have got interest and you have skills then you can earn from not only this site but from every where you go. If you only run behind money and do not learn skills and do not develop interest then you will never be able to earn even a single penny. But if you have skills or learned skills and you find interest then no one can stop you from earning.
Image Credits: Image Taken from www.pinterest.com
Other Ways of Earning
There are several other ways of earning money online. If you have skills then you can earn money with the following choices:
Freelancing.
Setting up your own website.
Freelancing
What is freelancing or who is a freelancer?
Freelancer is a person who works as a writer, designer, performer, or the like, selling work or services by the hour, day, job, etc., rather than working on a regular salary basis for one employer.

Credits: www.dictionary.com
Freelancing can be done on various plateforms. There are many site where you can make your account and start selling your services at which you are best.
Image Credits: Image Taken from informationdairy
Freelancing will not provide you much money but it will provide you instant money. You can learn about free lancing from youtube. There are hundreds of tutorial videos there.
Setting Up Website
Setting your own website will make you earn much. The more you work on your site the more you will earn. You can set a blogging website or any thing in which you find your interest because interest really matters. As long as people visit your site you will earn money. There are many tutorials on the youtube regarding website building and bringing of traffic etc.
Image Credits: Image Taken from commons.wikimedia.org
Thanks for your time :)
Copy rights
Tauseeq Magsi