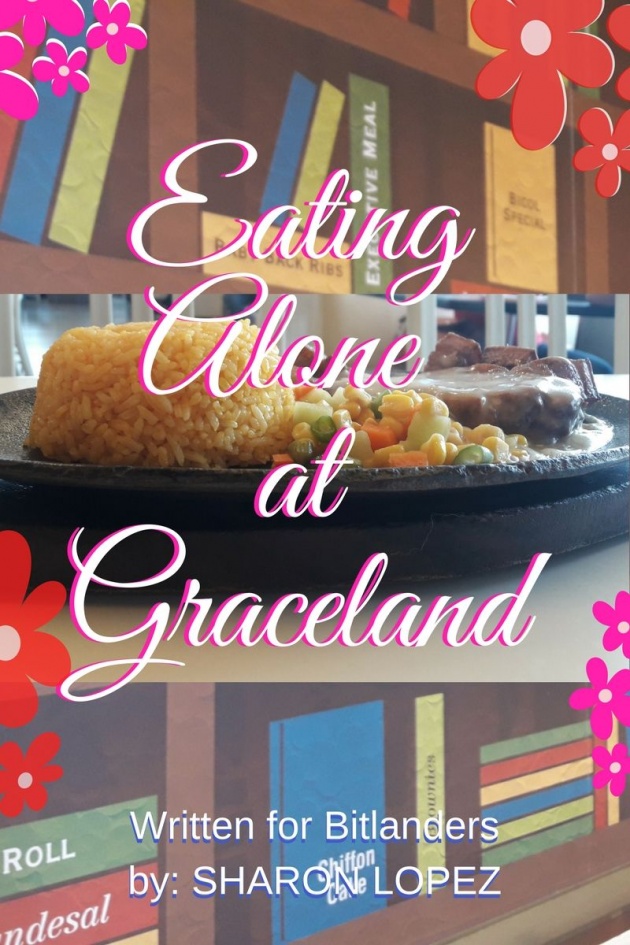 Image Credits: Sharon Lopez via Bitlanders
I was patiently waiting for the Commission on Audit (COA) Auditor that morning of Friday, January 5, 2018. I submitted a letter regarding the procurement process of the catering services and accommodation for the upcoming training that we need to conduct in our province. The training is scheduled on the 8th of the current month. Being the appointed head of the Bids and Awards Committee (BAC) Secretariat, it is my duty to submit all documents necessary for the procurement process to the COA office which is located at our Regional Office. The office staff accepted the document but told me that I have to wait for the Auditor because she is not allowed to receive it. So I prefer to wait outside the office.
Related Post: A Quick Lunch Break at Gahfea Cafe and Bistro
I saw the Auditor came in at 9:00 AM so I followed her into their office. She signed the received stamp on the document and handed it to me. That was the only time that I was able to leave the regional office. I went to the UV Express terminal and it took more than 30 minutes of waiting before the vehicle finally leave the place. I reached Sorsogon City at 11:00 in the morning so I decided to take an early lunch.
Sorsogon City has already improved a lot after it was converted to a city several years ago. Big Malls and other establishments started flourishing the area. There are different fast food chains around the city and this time I decided to have my lunch at Graceland.
Graceland, Bicol's Delight
Graceland is known for serving Bicol dishes most especially the "Bicolano Meal" which consists of rice, pinangat (a Bicolano recipe), pork chop and atchara (a pickle made from papaya) as a side dish. Graceland is also known as a fast food chain with bakeshop section inside the area.
Image credits: Graceland Facebook Page
Graceland is a restaurant originated in Naga City owned by Mr. and Mrs. Felipe and Felicidad Dy. It started out as a small eatery and due to hard work, commitment and dynamism, the small eatery is now one of the biggest restaurant chains int he Bicol with several branches all over the region. (Source: Graceland Legacy)
Related Post: Special Day at the Artisan's Specialty Coffee
Ordering My Food
There are few people inside the restaurant when I came in because it was still early. Some were ordering food while most are buying bread and cakes from the bakeshop section. Some of the staffs are familiar to me because they were the same people who were there during my previous visit. I went to the cashier and ordered sizzling pork chop for my lunch. I was given a number and the crew told me that the order will be served after a moment.
One of my observations is that having the bakeshop inside the restaurant area may sometimes create some disorder especially during lunch break wherein employees may opt to have their lunch in this place. There is no separate area for those who are buying bread and cakes and the long queue of customers makes the waiting time longer.
I went to the second floor and saw the eating area. It is surrounded by glass window overlooking the main city area. The lights ceiling lights added to the beauty of the place.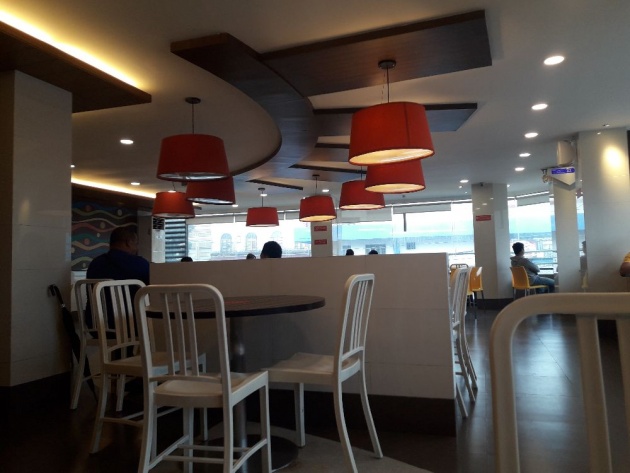 Image Credits: Sharon Lopez via Bitlanders
The restaurant has made a lot of improvement since I first came to the place way back in 2009. The atmosphere inside the area has become more relaxing compared to its previous design. They completely revamped the old model changing it to a more sophisticated and modernized design. The ambiance is good that you may want to bring friends for a get-together. No wonder, the business is still booming despite the rise of competitors.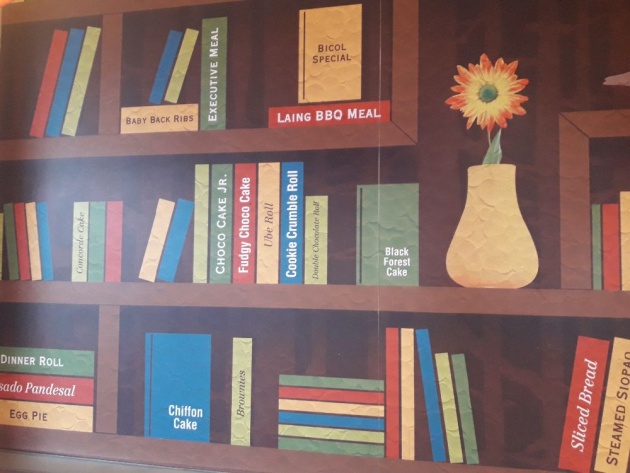 Image Credits: Sharon Lopez via Bitlanders
I love the wall painting. At the first glance, I thought these are bookshelves. but when I took a closer look, it was a wall painting. Such a creative design.
The Food
After a few minutes of waiting, my order has arrived. It was a combination of java rice, pork chop, and stir-fried veggies on the side served on a sizzling plate. It was really sizzling and hot! Since I was already hungry, I started eating right away.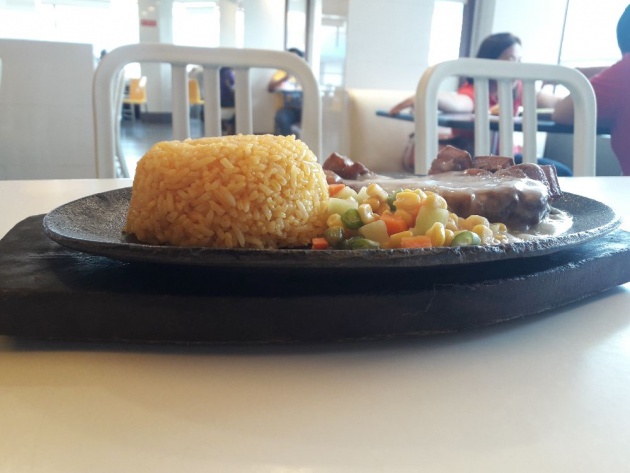 Image Credits: Sharon Lopez via Bitlanders
The meal was delicious and truly satisfying.
I have taken a short video of it... hope you like it.
Video Credits: Sharon Lopez via Bitlanders
Even when I am in Legazpi, my daughter and I would usually visit Graceland because the food is affordable and there is a wide variety that we could choose from. They are serving rice meals, pasta, snacks and other crave worth foods at a very affordable price.
Another favorite of mine is the Sizzling pork sisig with egg. The crispy pork with a bit of spicy taste is a truly delicious meal.
Image Credits: Graceland Facebook Page
Related Post: Bon AppeTEA: It's Sweeter the Second Time Around
During summer, we usually order halo-halo (mixed fruits with shaved ice on top). The sweetness and the cold and refreshing ice will make you fall in love with it at the first taste.
Image Credits: Graceland Facebook Page
I personally love the Graceland Crispy Fries. They are crispy yet tender you just can't stop eating once you started.
Image Credits: Graceland Facebook Page
Here is a photo of their bakeshop...
Image Credits: Graceland Facebook Page
On the final thought...
Graceland is a good place to eat whether alone, with someone special or with family and friends.
Here is the video I have taken while waiting for my food. Enjoy!
Video Credits: Sharon Lopez via Bitlanders
Thank you, friends, for dropping by. Have a great day!
Meanwhile, here is Querlo Chat for you...
DISCLAIMER: IMAGES USE IN THIS POST ARE FOR PRESENTATION PURPOSES ONLY
___oOo___oOo___oOo___
Written for Bitlanders:
by: Sharon Lopez
Thank you for reading.
Please visit my BLOGS for more useful blog posts.
Sharon Lopez is a graduate of Bachelor of Science in Commerce Major in Banking and Finance and currently working in the government handling programs on Business Friendly and Competitive LGUs.
You may visit me on Facebook.
-oOo-
Would you like to earn from sharing your ideas, videos, and photos? Join us in Bitlanders!
Disclaimer: The views and opinions expressed in this blog post are that of the author and does not in any way represent the agency or department she currently belongs.
Additional Note: The opinions presented in this review may be subjective but does not in any way influenced by compensation in any form. The author does not receive remuneration for this review and the opinions are based mainly on her experience.