Hello dear friends
How are you all?
I'm here today with you all and will tell you good news.
The good news is that my beloved city, Chakwal was ranked as number 1 among the best educational cities of the region Rawalpindi Pakistan.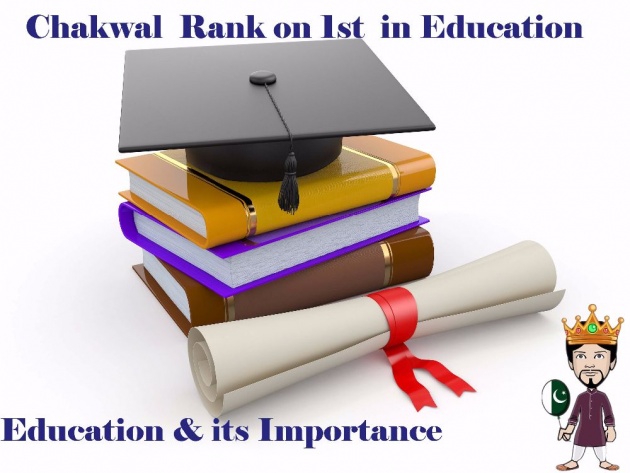 Image Credits: www.thisissierraleone.com (Edited by Asad Munib)
In my today's blog, I would like to tell you about education and its importance, further I will also tell you some major institutes of Chakwal which are providing education to the students and these institutes are proud of Chakwal because they are working great. So friends let's move further and I want to discuss a little about education.
Video Credits: Youtube via Qasim Ali Shah Channel
Image Credits: rummuser.com
Education term is well known for us. Education means to study and to learn something. We get the education from our childhood and we start to learn education from schools and continue our education till our job or starting work or business. Education is very important for every one of us because it tells us the right and wrong and we learn many things about our daily life and about spending life with other people. We are unable to learn all the things without getting the education. Education helps us to get jobs too. We also get moral values by getting the education.
Image Credits: www.rec.uk.com
We also get the education about our religion by visiting mosque daily or by going to the religious institutes.
Education is much more important for any nation to progress in the world. We have many examples of it. Those nations which worked hard were getting high rank in the world but those people or nations which were below the educational standards were destroyed. Education helps in understanding new technologies and techniques. We get the education to create weapons to defend against our enemies. Scientific inventions are also useless without proper education. We also cannot create or invent new things without proper education about them. Education is not only completed by going to school, learning new things are also a kind of education. We learn new things from our friends, colleagues, and parents. Only with education, we can work more efficiently for our country. If the education level decreases in a country then it goes down at world level too.
Image Credits: www.usa.canon.com
Dear friends, as I mentioned some words, you may have learned the importance of education thoroughly.
Now I want to tell you about the Teacher.
Image Credits: images.mentalfloss.com
A teacher is a person who teaches us education and helps us in learning many things which are important for us. Teacher gives us lessons to progress in our life. Education can only be completed by the help of a good teacher. A good teacher tries to teach his students the best knowledge. He gives them the lesson and helps them in learning it completely. The teacher wants his students to progress in their life. He becomes very happy when he knows the success of his students.
Image Credits: www.snagajob.com
The teacher wants only the success of his students. Teacher behaves with his students like his own sons. He tells them the truth of life and helps them in all manners.
Image Credits: https://cdlnws.a.ssl.fastly.net
A student is a boy, person or girl who wants to learn education. He wants only success. He knows that success is only gained by the help of education and teacher's kindness. He learns the lesson, works hard and finally gets succeeded. The student remains active during his educational career and his full attention is on education. He wants to progress in the world by education. A successful student is only who respects his teachers and knows that without them he is nothing. He can get success by respecting the teachers.
Dear friends, education is much important because it shows us the bright future. Education makes us a real man and successful person in our life. Now I will tell you about some leading institutes of my beloved city Chakwal which are providing the light of education.
Image Credits: www.bhjustice.org
These institutes are not for earning purpose. Their motto is to teach the students and to make the country successful.
Government Higher Secondary School Saigol Abad:
Image Credits: http://1.bp.blogspot.com
A marvelous and great school which was established as a private institute but later on it was undertaken by Government and now it is managed by the government of the Punjab. The school's performance is amazing and very great. The result of school is 100% always. I got the education from this institute too in 2004 and found it great. All the teachers were very loving and kind. They taught us great will full passion.
Wings Science College Chakwal:
Wings College was established in Chakwal to provide commerce education in the Chakwal area. The college faced many difficulties in starting but with successful teachers and brilliant students, college was ranked in top leading institutes of Chakwal. The college is located on Jhelum road and it is one of the best colleges of Chakwal.
Government Post-Graduate College Chakwal:
The postgraduate college of Chakwal is one of the best institutes of Chakwal as managed by the government. The building was rebuilt in 2015 and now it is more beautiful and attractive. College is located in Chakwal city near Tehsil chowk so it is very easy to search for it. Postgraduate college is also famous as Degree College and it is one of the leading institutes of Chakwal. The college has all facilities like library, Computer Lab, playground, and science laboratory. Its grounds and buildings are very beautiful and attractive.
Waleed Hira Montessori School Chakwal: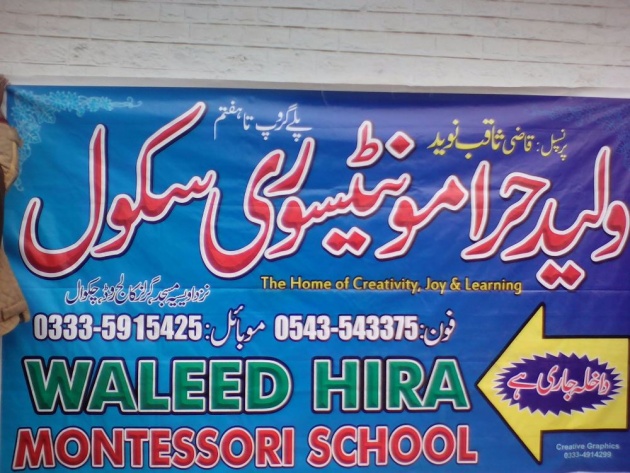 Image Credits: Facebook
The Waleed Hira School was built in 2016 to fulfill the needs of a good educational institute in Chakwal City. The school is managed by Qazi Saqib Naveed who has retired recently from government job as a teacher. His morale is very good so that he is managing this school with good techniques. The school has a little strength but soon it will be one of the main institutes of Chakwal. The school has brilliant and well-qualified teachers to ensure the best education.
Horizon Degree College of Commerce:
Horizon Degree College was also established after 2000 to ensure the best commerce education to Chakwal. The college has very good performance as declared by inter and post diploma results. There is very intelligent and brilliant teaching staff available to ensure the best education performance.
Video Credits: Youtube via Ameema Zubairi Channel
Dear friends, creating an institute is now very easy these days and I think many businessmen are moving towards it for earning purpose, but developing an institute for education is not so easy.
Thanks for reading my blog,
Regards
Asad Munib