Hello, friends,
How are you all?
I'm here today with an amazing blog which is about Eid ul Adha and sacrifice of an animal on this holy occasion.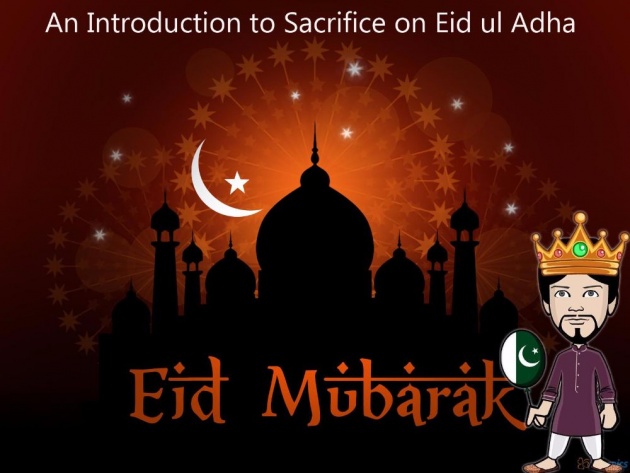 Image Credits: dailysmscollection.in (edited by myself with Adobe Photoshop)
In my today's blog, I will explain about this event and will tell you how Muslims do spend this event with the teachings of Islam.
So friends let's begin,
Islam
is our holy religion and in our religion, we Muslims believe that there is only one Allah and we have to worship only for Allah. We Muslims obey orders of Allah and we have strict belief on Allah.
Dear friends, Islam has told us orders and worships through messengers and Holy Quran. Hazrat Muhammad (PBUH) was the last messenger of Allah.
In my blog, I will explain about sacrifice order of Islam and will also briefly tell you that how and why this order was given to us.
Initial history of Sacrifice:
Image Credits: Youtube
In the ages of Allah's beloved prophet Hazrat Ibrahim, sacrifice order was given to the Muslims. That story was also told to the mankind through Holy Quran, here is a little translation is given below;
One day Hazrat Ibrahim saw a dream that Allah is asking him to sacrifice. He did sacrifice but again on another night he saw the same dream, he sacrificed again but at another night the same dream was seen by him.
He told his dream to his son Hazrat Ismael and his wife Hazrat Hajra. The son replied that may Allah wants you to sacrifice your beloved thing, and that is me, your son Hazrat Ismael.
Hazrat Ibrahim took his son with a knife to an open ground.
He laid down his son and placed knife over his neck. He moved knife while closing his eyes. He saw that a climb was laying down and he was placing knife over his head while Hazrat Ismael was smiling while watching this.
video credits: Youtube via MrDwigt
An angel appeared there and told that Allah has sent him with the climb. Hazrat Ibrahim thanked Allah and returned home happily.
Hazrat Ibrahim's sacrifice was not so simple, it had told the mankind that a person who really believes and loves Allah can do anything for the order of Allah.
Allah ordered mankind and Muslims to sacrifice on the same day in the memories of Hazrat Ibrahim. And so on Allah made that day memorial till judgment day.
Hazrat Ibrahim showed that he has strongly believed in Allah and there is no God except Allah. And Allah's orders are final and we have to complete them in every condition.
So, friends, this was a brief detail about the initial history of Sacrifice in Islam. Now let's move forward,
How and why sacrifice is given in Islam?
Image Credits: http://entertainmentmesh.com
Sacrifice is a holy worship and it is given on the holy occasion of Eid ul Adha. Muslims do sacrifice of animals such as cow, climb or goat. Sacrifice can be given in three days of Eid. Sacrifice is given in the holy memory of Hazrat Ibrahim.
Image Credits: Youtube
A Muslim having enough sources must do sacrifice of an animal. He may find an animal depending on his sources and then he will sacrifice it on the Eid day.
Here are some conditions for sacrifice which should be remembered by Muslims.
Sacrifice can be done only on 3 days of Eid.
A person who is willing to sacrifice should buy animal before Eid, he should take care of that animal before sacrificing it.
If a person is unable to buy an animal before Eid, then he can buy it in 3 days of Eid at any time.
If a person having sources still does not sacrifice an animal then he will be punished on Judgment day.
The person who is willing to sacrifice should do it by himself, if he does not know then he can take help from others.
The meat of sacrificed animal should be divided into 3 parts, one part is sent to the poor people of society, the second part should be sent to relatives and friends and the third part is placed on home for personal use. But it is better to divide as much as possible.
The meat should be divided into the poor people carefully.
It is not good to freeze meat for many days for personal use, it should be divided into poor people and relatives.
So friends do remember these things and have a great Eid.
Image Credits: http://www.techicy.com
Here are some advantages and blessings of Sacrifice on Eid occasion:
Advantages and Blessings of Sacrifice:
But first here is a video about it. Watch and know more about Eid blessings and sacrifice.
video credits: Youtube via Colleyville Masjid
Love with mankind:
Image Credits: Youtube
Due to sacrifice and Eid occasion, Muslim brothers get closed with each other and have more love and sympathy. They get closer due to delivering meat with each other and celebrating Eid.
Helping the poor Muslims:
Image Credits: Youtube
Because we know that our poor brothers are not able to eat meat in daily life, so due to sacrifice on Eid they are able to eat meat. Their help becomes easy and they can also enjoy Eid very well. It works and they can celebrate Eid even better. So we should care for them especially on Eid occasions. Helping them will also give us more happiness.
Special rewards from Allah:
Image Credits: https://adewonuola.files.wordpress.com
On Eid doing sacrifice of our beloved animals makes our God happy and He has promised to give us more benefits and special rewards on the judgment day.
In Holy Quran, it is stated,

"Your meat is nothing to Allah, but your passion and love for doing sacrifice will be rewarded on Judgment Day. The sacrificed animal will be there for your bale and will also help you in entering heaven".
So it is very clear that Allah will bless us on Judgment day with his blessings due to sacrificing of animals.
Remembering the great sacrifice of Hazrat Ibrahim:
Image Credits: Youtube
Sacrificing on Eid occasion will enrich your heart and will tell you the holy sacrifice of Hazrat Ibrahim. You will remember that great sacrifice of Hazrat Ibrahim and your heart will be shining.
Eid outfits and dresses by Bitlanders:
In the end of my blog, I would like to thank the bitlanders team for providing us these amazing outfits for Eid occasion. Bitlanders has always remembered our holy occasion. They told us that they are also with us while celebrating Eid occasion.
Here are some outfits provided for your avatars by bitlanders.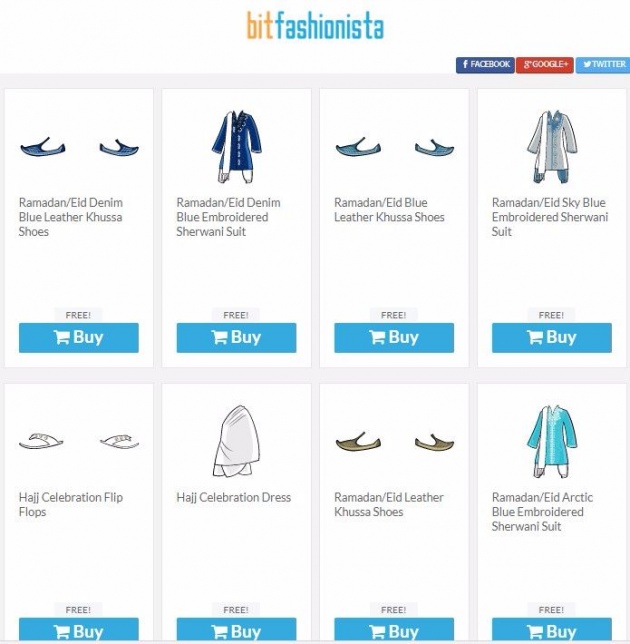 Eid ul Adha & Haj outfits by bitlanders (Image credits: Bitlanders (Screen shot)
Thanks to the bitlanders team again. You can find these outfits for free by clicking on the link below.
http://www.bitlanders.com/shop
Eid celebrations with Querlo Chat:
Querlo a chat bot with a human touch has created a special chat survey about Eid celebrations. Watch and answer the survey questions below to know more about Eid. Thanks to the Querlo team for providing this survey.
Here is the survey chat:
Chat survey credits: Querlo team via Querlo survey
So, friends, this is the end of my blog. Your comments and suggestions are always welcome. Thanks for reading my blog.
Regards
Asad Munib