Eleanor and Park
By: Rainbow Rowell
A Book Review
Video credits: thebookbasement via YouTube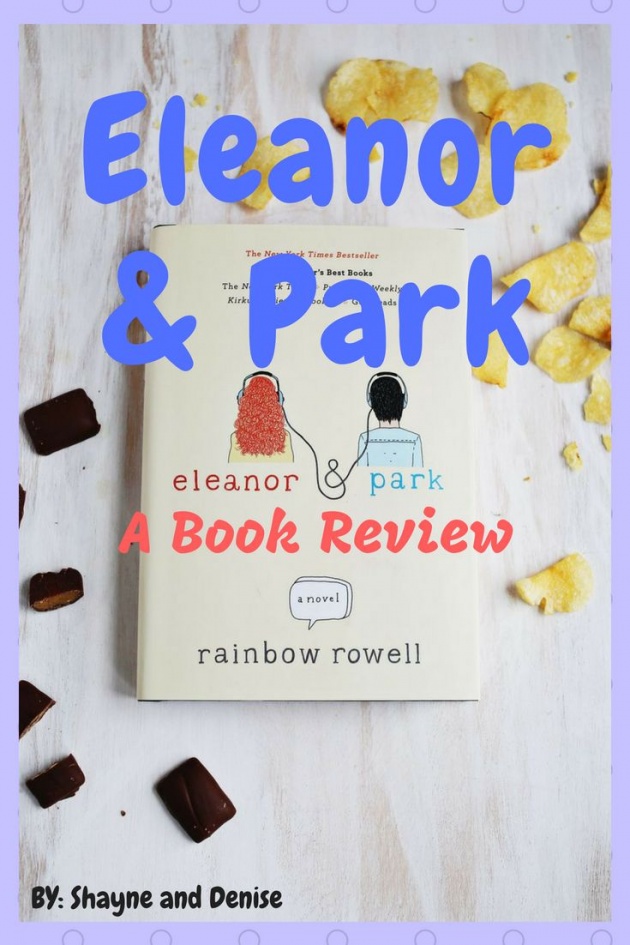 Image credits: Kahleezia via Bitlanders
"I don't like you, Park. Sometimes I think I live for you"

- Eleanor
Image credits: rebloggy.com
I have yet again written another book review, with my friend, of a book by Rainbow Rowell.
Eleanor & Park was the very first Young Adult novel that Rainbow Rowell made that was published in 2013. The story follows dual narratives by Eleanor and Park, two misfits living in Omaha, Nebraska from 1986 to 1987.
Image credits: Trickster via Amino
Do you guys ever keyboard smash like: gdkalabydkks and think no, it does not look right so you erase it and try again, asdgkdlwerjl, and then you're like "Ah yes that's what I'm feeling right now" that is what this book did to me.
It gave me feels left and right that now I don't know what I'm feeling because there is no word in the English language or any language for that matter that can accurately describe the feelings this book has brought me that I have resorted to made up words such as asdglwerjl and anyone who knows me can vouch for it cause I have made it known that I am a person with feelings and those feelings were undoubtedly quadrupled by the romance and adventure this book has led me on. It would be 4 in the afternoon and I would text my friends that I love this book and by 7, I would be like this book makes me want to die and by the end of it I died. Figuratively, of course, cause I've never been more alive.
Image credits: Kaitlyn Cubria via Clevver
The high that this book brought me has led me to experience a love that is heart-wringing, soul-squeezing, crush-the-air-out-of-your-lungs-type-of-love and even after all that, I can positively say that the high is worth the pain. I am addicted, if Rainbow Rowell is putting out more books like this then I will read until I overdosed. This book gave me feels, drama, family, love, quirks and laughs and adventure, it made my poor unsocial heart beat so fast that I thought it would burst into flames, yes my cold heart has been warmed and somewhat broken I don't know if it's more heartwarming or heartbreaking but I do know what's for certain is that I love it. But then again I'm just one soul with one heart and own opinions so who am I for you to believe but there's something you don't know about me is that I'm argumentative and always right and non believers must sit their ass down and listen as I list down the reasons why you're wrong and I'm right, that this book deserves all the praise and awes and be put on a pedestal and worshipped so let's start on what's the story about, and as the title hints at, it's about Eleanor and Park.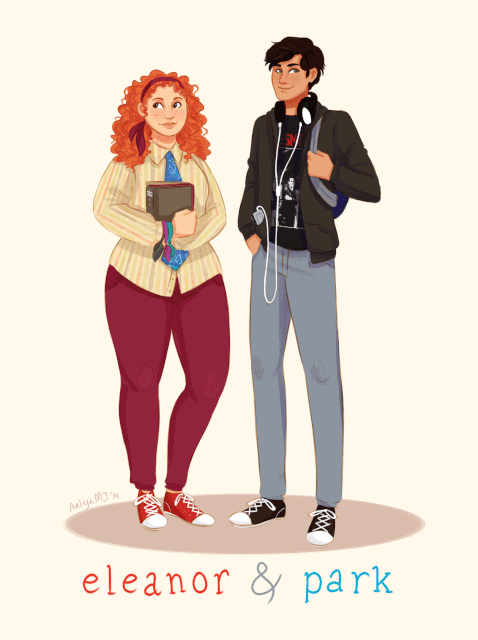 Image credits: Fangirl 801 via Amino
So Eleanor is describe as having red hair and wrong clothes, so she stands out, button-up shirts, blazers, and men's ties knotted in her hair or around her wrists which is very unique. And Park is Korean, jet black hair and green eyes; he is passionate about music and comic books. He likes to wear black, usually with a t-shirt advertising one of his favorite bands, plus he thinks the popular kids in his class are obnoxious. Park does not just use music to escape—he also uses it to drown out "The morons at the back of the bus" both outsiders in their own way still different in every way possible but because life is a cascade of random chances they ended up sitting next to each other on the bus where everything seem less drabber and flatter and actually good enough.
Eleanor and Park are two sixteen-year-olds forced to sit together on a school bus in 1980s Omaha, Nebraska. The two could not be more different. Eleanor, the new girl in town, is heavier than average and struggles with a bad home life. Park, a gloomy half-Korean comic book-lover, is just figuring his life and himself out. As they dive head on into an unplanned, unfathomable first love, their lives begin to crack and crumble. Soon, it is not their job to keep themselves together, but each other too.
Image credits: andiree via DeviantArt
Here are some specific points why I find this book truly captivating:
The words
Image Credits: Quote Master
Because when you think about it nothing ever lasts except words, words don't die and when everything is dead and gone, hey at least you still have these quotes and the quotes you find in this book is amazing. Like you can use any of it for that picture you wanted to post for a long time but can never string up a few words to accurately describe and can be entertaining at the same time, then just use one of the stunning quotes you can find in this book. You'll never run out of Instagram captions I mean you will, but it won't be for a while. They're just sweet and witty that I just want to break them all to pieces and love them to death. Don't believe me? Exhibit A: "You can be Han solo," he said, kissing her throat. "And I'll be Boba Fett I'll cross the sky for you." Want an exhibit B? Read the book.
The characters
Image credits: thegirlwhobreatheswords via p-i-quote-book.blogspot.com
Because both our main characters are…different. A good different, an inspiring different. Firstly, we have this girl and she's not the traditional pretty. With wild red hair, freckles and a chubby figure she described as someone who would run a medieval pub, and yet she still got the guy without going through those scenes in the movies where a girl must go through an extensive make over and change everything about their being so that they may have the specific to have a chance at love. But she didn't do anything like that so all the girls reading who has always been told that they would have been prettier without this or with that. All those girls who have always been insecure, who never felt they had a chance have now been inspired that they can still be Cinderella without the bippity boppity boo. Then we have Park, to put it simply he's Asian. And how many leading characters in books or movies been Asian and/or chubby and they are together, and their story is actually good? This book, just this book. A large part on why Eleanor and Park is so iconic is Park. Park is a Kung Fu fighting eye liner wearing music and comic book loving nerd and if that doesn't scream awesome I don't know what will. Even his personality is great, Park mastered blending in and then a new, probably weird if her style has any indication to it, and there she is sauntering through the bus catching everyone's attention and instead of burying his head, he stuck his neck for the new girl despite having the knowledge that he'll be tormented for it and ruin the solitude that he carefully created. And so, they sat by each other and somehow fell in love. Want to know how? Read the book.
Image credits: Goodreads
So there you have it, this is indeed one of the best books that I have read so far and I am sure plenty of you would like it too.
The first part of this novel, Park's teacher asks him "Why Romeo&Juliet has survived 400 years" and he answered "Because people want to remember what it's like to be young? And In love?" and he followed it with "Isn't that right?". And I can't help but answer him that it is, it is true. This novel not only made me see how it is like to be young and in love, but also made me see how it is to be young and to be in love with a book.
Image credits: Matthew Wills via daily.jstor.org
Do you also want to know how it feels to be young and in love? Read the book.
Here is another book review for you!
Video credits: polandbabanasBOOKS via YouTube
Happy reading!~