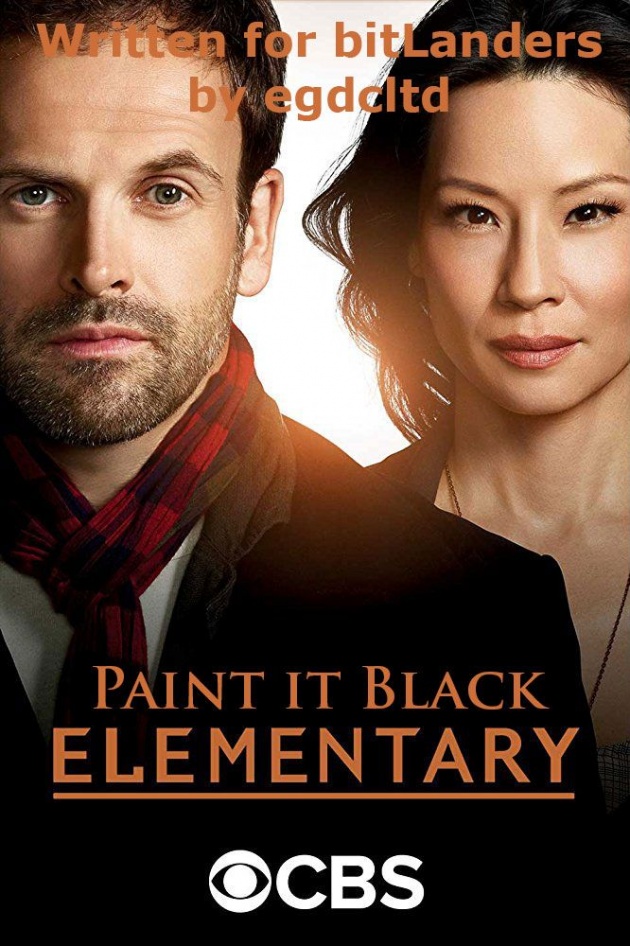 "Paint It Black" is episode twenty-two of season two of Elementary, the modern crime drama based on Sir Arthur Conan Doyle's fictional detective Sherlock Holmes. In this episode, Sherlock and Mycroft have to find a man selling a list of names in order to save Watson.
Previously on Elementary...
In the previous episode, "The Man with the Twisted Lip", Watson was investigating a French crime syndicate that appeared to be operating from Mycroft's restaurant in New York. The man Watson was watching, Marchef, was also watching her, and at the end of the episode chloroformed and kidnapped her.
Mycroft Gets a Call
Mycroft is heading to his car with what looks like a case of wine. He puts it in the boot and answers a call to his mobile that he thinks is from Watson, but is actually from Guillaume de Soto.
Mycroft Arrives; Sherlock Knows Something is Wrong
At the brownstone, Sherlock is trying to leave a rather long message ion Watson's phone when Mycroft arrives at the door. Sherlock immediately realises that something is wrong.
Cop, Consultant; What's the Difference?
Watson herself comes to, tied to a chair. Marchef says that she is a cop, but Watson says that she is simply a consultant. He doesn't really see a difference. Marchef also says that Mycroft has agreed to help his boss, de Soto, with a problem.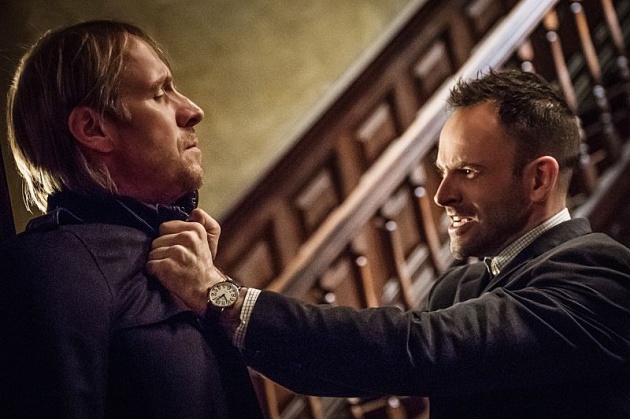 Image Credit: IMDb
Mycroft Made Some Poor Choices of Business Partners
Sherlock is really not happy about the situation. It seems that, when the economy took a downturn, Mycroft had problems making payroll. And so he entered into a business arrangement with the criminals in exchange for money. Sherlock asks why he didn't simply ask their father for help - Mycroft inquires whether Sherlock would ask their father for anything. The help Mycroft provided was small to start with, but the requests got bigger. Opening the New York branch was their idea. At this point Sherlock states that he wishes the leukaemia had killed Mycroft, and Mycroft agrees.
A List of Names for Sale
It seems that a Swiss banker in New York, Pierce Norman, has downloaded a list of names of thousands of his bank's wealthiest customers, and has since gone into hiding. Not before offering the list to the highest bidder - and there are governments who would like the list too.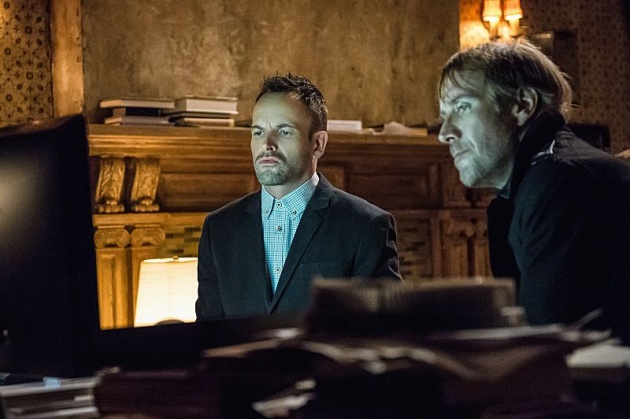 Image Credit: IMDb
Find the Man with the List to Save Watson
De Soto thinks that Sherlock could help find Norman, but Sherlock doesn't see how he would even know of him. It seems that Mycroft suggested the idea himself. They have 48 hours to find Norman and the list. Without Watson, Mycroft says that he will provide help and focus for Sherlock. After Watson is freed, Sherlock asks Mycroft to go to the police, tell them everything he knows, and then leave Sherlock and Watson forever.
Enter the NSA
The NSA are also interested in the list, and stop the Holmes brothers after they got into the bank by using their father's name.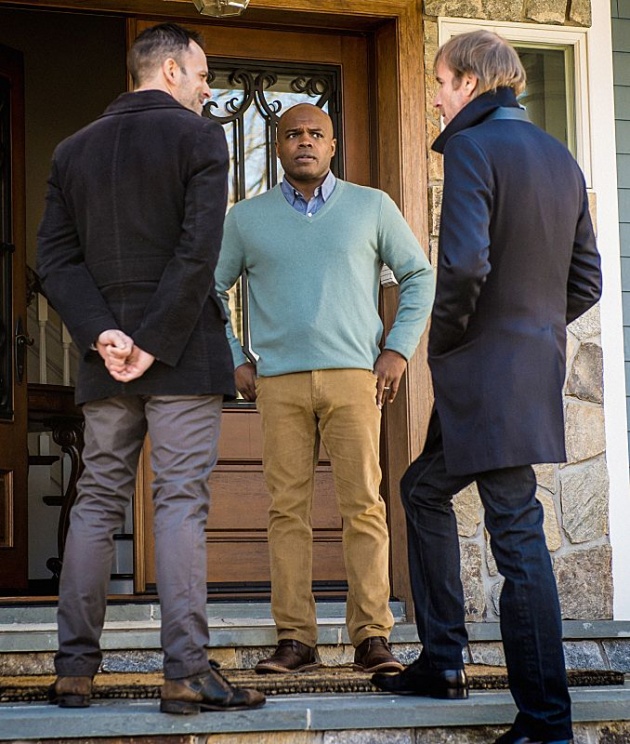 Image Credit: IMDb
Matters Are More Complex
Watson is helping her kidnappers with a shot man and Mycroft... is perhaps not what he seems. It looks like whoever he spoke to on the phone at the end of "Blood is Thicker" was not connected to the crime syndicate, but a different player entirely.
Lots of New Questions
Not exactly a cliff-hanger ending, but certainly a whole lot of questions to answer in the next episode, "Art in the Blood".
Elementary Season Two Trailer
Video Credit: AEGTV via YouTube

More Blogs from this Television Series:
Want to earn from blogging on bitLanders? CLICK HERE to sign up and get a reward.