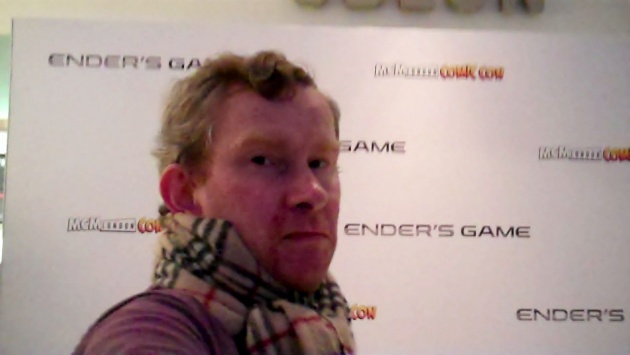 Call me an old fuddy duddy but I never wanted to go to Comic Con. All those movie fans in costumes – it's not for me. Admittedly, I look like a Doctor Who reject with my uninspired scarf but I'm not bitter.
Fortunately, Comic Con came to me. A tweet from the film company Entertainment One prompted me to register for a ticket for a panel discussion of the film ENDER'S GAME and before you know it I was at the back of a queue with several hundred lucky souls waiting to get into the Odeon Leicester Square – maybe they should have called Enters Game.
But enter I did and we were given free water and potato chips as we waited. Harrison Ford, Sir Ben Kingsley, Asa Butterfield, Hailee Steinfeld, Gigi Pritzker, Bob Orci and director Gavin Hood were just minutes away. Let's have an exclusive look at the trailer for ENDER'S GAME. Wait, haven't I seen this before – and I'm still not excited. Isn't it just THE LAST STARFIGHTER with BATTLESTAR GALACTICA spaceships? Never mind - Ford, Hood, Pritzker et al were just minutes away. Let's have another clip. The titular kid has a problem with authority. Yes, I understand. Still, Kingsley, Orci and Steinfeld were just minutes away. Let's have another exclusive clip. The kid is in Battle School. Apparently there is some great kid they should emulate; he got the high score on Galaxian. I'm not sure I cared. Nevertheless, Butterfield and Steinfeld were just minutes away. Or maybe not! Maybe they're finishing a meal in Chiquito's down the road. Those tacos can fall apart. I can hear Ford say, 'hear me baby, hold together!' Oh, that's a quote from STAR WARS.
Finally they troupe on stage ready to answer questions tweeted by the audience. I don't remember being asked to tweet a question. They were asked why it took so long to acquire the rights – I'm not sure they fully answered it. They mentioned that the film was not funded by a Hollywood studio – the money came from Britain, France and a bunch of other countries. Why did director Gavin Hood not hire a screenwriter? Not sure about that one, but he chose to adapt it himself. What did Hood think of compressing seven years of action into one year? In order to keep the same actor as the hero throughout the movie; Hood acknowledged this might upset the fans.
There was no barracking abuse from the audience, not even when Sir Ben Kingsley described his character as a flying spear, which on another day might have inspired a snigger. Ford described keeping up his aloof gruffness of set – 'It's called acting,' he said, impersonating some British actor or other who appeared in MARATHON MAN.
Kingsley did the film not because he read the book or the script but because he liked Hood's presentation – the man does great PowerPoint. When he had his facial tattoo applied he went into a zen-like state, running his lines whilst thinking about tea with the Queen. With Ford speaking slowly, deliberately but not entirely convincingly – was this same man who mocked George Lucas' dialogue – Butterfield being starstruck and Steinfeld unable to recall the number of times she ended up upside down in a harness ('it was lots') – Kingsley actually injected some energy into the discussion.
You got the feeling that ENDER'S GAME did not deserve to be taken that seriously. No one at any point explained the plot – and that I felt was the point. Once again, I say, THE LAST STARFIGHTER. End of.
ENDER'S GAME opens on 25 October; panel discussion Monday 7 October, Odeon Leicester Square, Central London 19:10-20:00