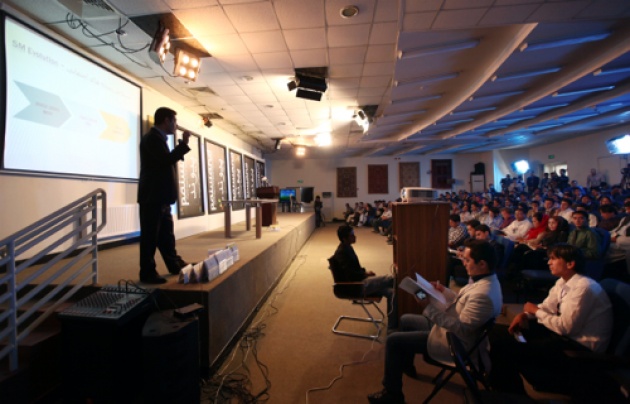 With the embrace of social media across the world, the number of different social networks has increased highly as well, five years from now Facebook lead the social network charts having the highest numbers of social media users, it still does but now the users based on their interest and needs also use other social networks such as Google+, YouTube, Twitter, LinkedIn, Tumblr, Skype, Pinterest, Instagram. Each with their different USPs such as Facebook is all about "sharing" with friends and family, Twitter known for its short messages or mini blogging features particularly the exceptionally cool (#) hash tags idea, LinkedIn becoming the network of choice for professionals and knowledge workers, Instagram for sharing special moments in pictures, the rise of visual web made Pinterest and Tumblr as the fastest growing social media networks. According to a survey,
"Social media has grown rapidly – today nearly 4 in 5 active Internet users visit social networks and blogs".
Having more than 65% of the population under the age of 25, the demographics have somehow clicked for the youth such as the number of Afghan social media users have increased tremendously. Sharing their views in short films, documentaries and blogs have grown very common in main cities of the country indicating a remarkable change in a war-torn country such as Afghanistan. Access to these networks has enabled the think tanks as we see some amazing ideas implemented by the Afghans nowadays such as
1. "Paywast", becoming the country's first mobile-based social media networking outlet beating Facebook and winning awards both nationally and internationally.
2. "Wadsam", Afghanistan's first online business news portal.
3. "Afghan Webhosting" a free service website development for Afghan students and educational institutes.
Though there are great numbers of obstacles for the people such as the internet being highly expensive, family barriers, social barriers, electricity and security issues. With the support of international community and World Bank the idea of fibre-optics around 34 provinces is seen to be completed by 65% which will bear fruitful results.
One particular event that has been able to attract numbers of social media users across the country was "Paiwand Summit, organized by the members of Impassion with huge funding from US Embassy Kabul, British Embassy Kabul, UNDP and others. More than 200 participants and representatives from across 25 provinces were selected and invited for a 2 day event in Kabul at American University of Afghanistan. Many high profile members of the country, journalists, speakers, deputy speakers, trainers were invited to speak about the revolutionary changes and benefits of social media.
This sudden change clearly shows how Afghans have overcome all the obstacles, how much they welcome technology such as 3 to 4 years from now Afghans only used Facebook, Google and YouTube nowadays the numbers are pouring in other social networks as well such as they use professional sites such as LinkedIn, they blog as well such as Wordpress, Film Annex, Worldpolicy.org/blog, Instagram for pictures sharing etc. They really want to share, they want to be heard, it really seems to me like its the beginning of the era of social media…
Reference:
http://www.jeffbullas.com/2013/09/20/12-awesome-social-media-facts-and-statistics-for-2013/
http://www.theguardian.com/global-development/poverty-matters/2013/sep/26/afghan-twitter-facebook-youth
http://afghanwebhosting.com/blog/free-website-development-for-afghan-students-and-educational-institutes/