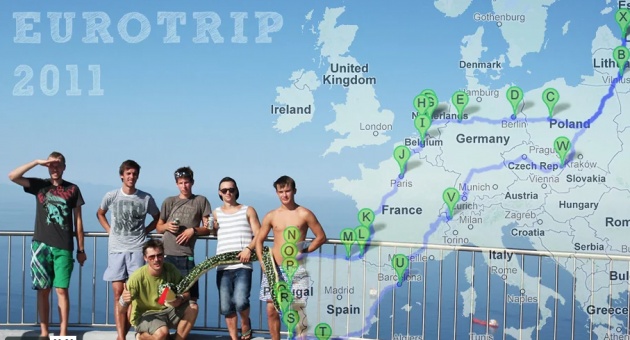 Please watch this incredible video. This is a story about 6 friends who came up with a spontaneous idea to travel around Europe. They left their casual everyday things and troubles behind, jumped into a van and left for the road ahead. They took their MTB and BMX bikes with them as the bikes are good company and make the journey so much interesting. Almost 12000km, 36 days, 12 countries and so many cities and places we've been to, and experienced as much as this life offers. Met their friends, got new ones and came across all those amazing people on their way. This is the video of their adventure.
The Riders
Gusts Osmucnieks
Edgars Berzins
Janis Melnis
Kristaps Reimanis
Janis Zalitis
Juris Luscenoks
Countries
Latvia
Lithuania
Poland
Germany
Netherlands
Belgium
France
Spain
Portugal
Gibraltar
Switzerland
Czech Republic
Places
Riga, Kaunas, Warszawa, Berlin, Neuenkirchen, Amsterdam, Menso Palace, Den Haag, Rotterdam, Brussel, Paris, Pyla sur Mer, Biarritz, Bilbao, A Coruna, Vigo, Porto, Aveiro, Peniche, Lisboa, Portimao, Gibraltar, Malaga, Valencia, Barcelona, La Poma bikepark, Geneve, Verbier, Zubri, Krakow and many more.
All credits goes to the owners of the video Edgars Berzins, Gusts Osmucnieks, Edgars Berzins, Janis Melnis, Kristaps Reimanis, Janis Zalitis and Juris Luscenoks.