Part two of my A Day in Bluewater Sumilon Island Resort was all about EXPLORING BLUEWATER SUMILON ISLAND RESORT where the first exploration was at the Lagoon. I shared a panoramic view of the lagoon and had a brief description and the list of activities that guests can enjoy. These activities were patterned after my first-hand experience in the resort.
For this blog, the activities that I will be sharing is not mainly for the lagoon but for other activities and other spots to see as well. Refer down below and be with me in exploring Bluewater Island Resort.
Lagoon Activities

This is a panoramic view of the lagoon. You can see two pedal boats (yellow) and two kayaking boats (blue). You just need to approach the assigned staff who often spotted sitting on the tree and show your wristband to him for checking. Once checking is done you get to choose either of the two as you preferred. Lagoon activities are pleasant ways to start your day at the resort because of the peaceful ambiance even just by sitting on the floating hut. It is also a great way to start burning up those unwanted calories. So go and sweat it out!

This is an activity that was not mentioned during the orientation but I would like to include this on the list since I experienced it myself and I thought it would be best shared since it's quite fun. When I checked the water I found a large number of fishes, don't know the type though but it was bountiful. You just need to sit on the flooring of the hut, dip your feet into the water and wait for the fishes to come and peck your feet. It's tickly when there are a lot of fishes pecking your feet. Got a little scared though when my friend quips "You don't have your toes", that's when I quickly lift my feet from the water.
We opted not to do the fish feeding thing since we only have less than 8 hours to enjoy and explore Bluewater Sumilon Island Resort. If you want to go fishing you may ask for the fish foods at the reception or you can approach any of the resort staffs roving in the vicinity. Lagoon fish feeding is part of the complimentary island adventure activities so basically, it's for free.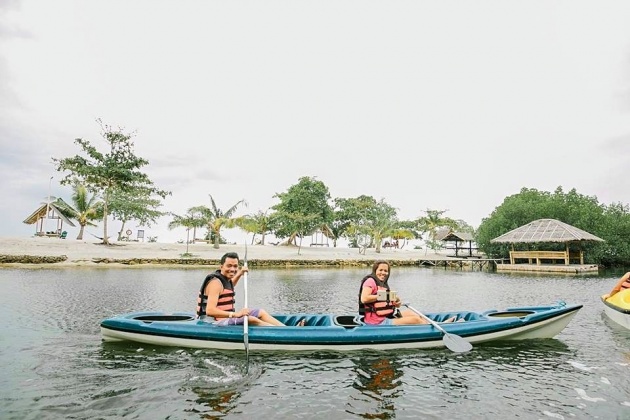 Lagoon Kayaking is one of the complimentary island adventure activities that you can enjoy. For the peach band, we pay P100 each for the lagoon kayaking since we are not on a walk-in day tour package. Ours was a complimentary coupon for the bliss member that only allows us to have a free entrance to the resort. For the food and for the complimentary island adventure activities it wasn't free of charge. We opted to pay for this activity since it was our first time to do kayaking.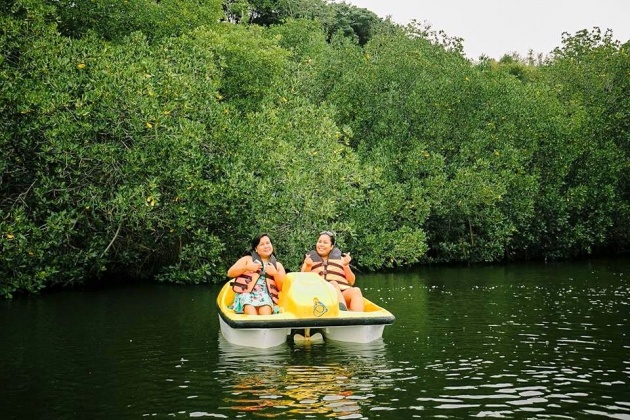 For firmer leg muscles, this pedal boating is the best toning exercise for your legs. Pedal Boating is part of the complimentary island adventure activities that are free of charge for guests wearing a blue wristband or the walk-in guests. I guess this is harder to control than kayaking because these two get their boat crashed on the bushy side of the lake that it made us burst into laughter that it echoed to the entire lagoon.
WHAT TO DO AND SEE?
After having a fun adventure at the lagoon Neil and I went on trekking with no idea of how we can get there. The only thing that we knew is that there's an old lighthouse that you need to trek. We didn't know how and where to start so we just follow the directional signs leading to the trek area.

According to Lao Tzu -- "A journey of a thousand miles begins with a single step" but for us, it began without a map. Our only guide during our trek to the old lighthouse was the directional signs and the colored flags. This is where we began our journey, from here we walked on a paralleled pavement until we reached another directional signs "bike trail entrance" pointing to the continued pavement and the other one is pointing to our left that states "Parola (a lighthouse) Baluarte (a bulwark)". If you can see in the video that I will be attaching you can see a pathway that is straight and a bit steep and on the side are footpath stairs -- that is the starting point of the trek.
Here is a video during our trek to the Lighthouse and the Baluarte. In my estimation, the trek was about half an hour based on our walking pace. If you can notice there are colored flags as you go along the way. The colors of the flags are indications of trek level. We presume the colors red and yellow is an easy level so we head on. Other colors I've seen are violet and yellow, and there's red. We were a bit scared because we're the only ones who did the trekking it was on the later part as we head back to the resort when we bumped into some Korean guests.
What is a Lighthouse?

► a lighthouse is a navigational tower structure with a light on the top situated in an unsafe place that serves as an aid for water navigation and serves as a traffic sign on the sea for dangerous areas.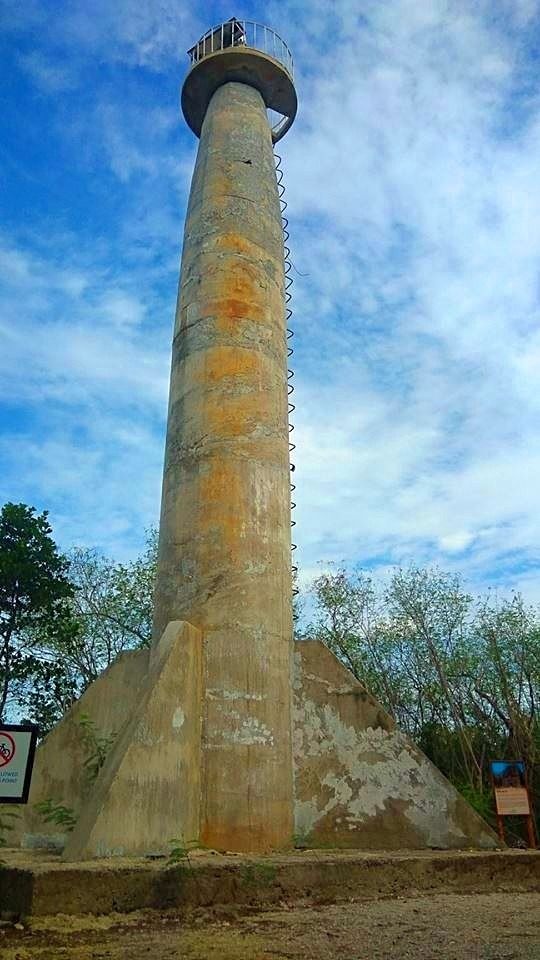 During the brief orientation, it was stated that guests are not allowed to climb up the lighthouse for safety purposes. I was quite tempted to climb up to check for myself the 360-degree view of the island from above but my girly instinct hesitated so it ended up of just staring at the lighthouse. Just by looking at the lighthouse you can really tell that it was centuries old that stood the test of time.
What is Baluarte?

► Baluarte is also called as a bulwark which is a strong defensive structure that provides temporary shield or shelter from bad weather or something harmful like in a battle.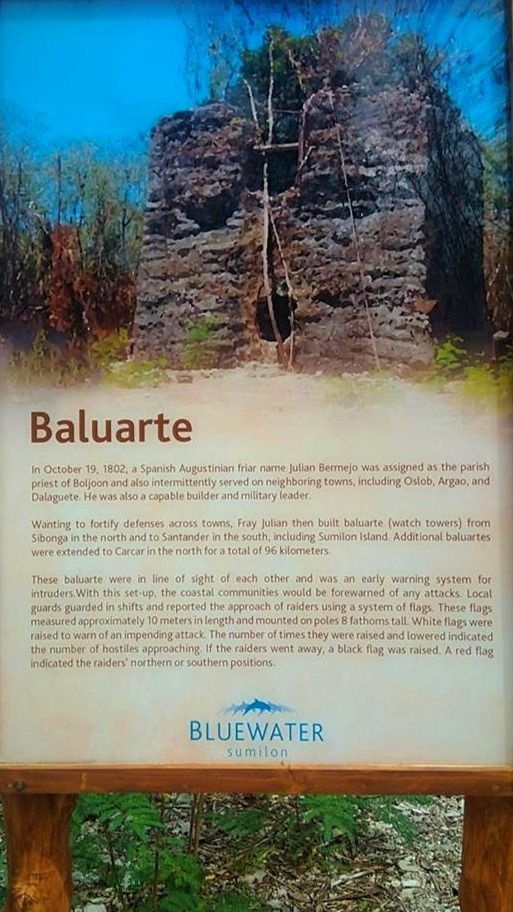 Just beside the lighthouse, you can find the 19th-century historical watchtower that served as an early warning system to prevent intruders and so the coastal communities will be warned for any attacks. I choose to attach this photo instead of the actual Baluarte shot because of the historical details that would give the readers a knowledgeable information rather than paraphrasing its context. You can see the Baluarte in the video above during our trek to the lighthouse.
Did you know?

► that Yamashita is named after the Military Governor of Japan to the Philippines General Tomoyuki Yamashita who conquered Malaysia and Singapore during the World War II invasion and was then called as "The Tiger of Malaya".

Yamashita Cave

► is said to be the place where Yamashita's gold or Yamashita's treasure are hidden.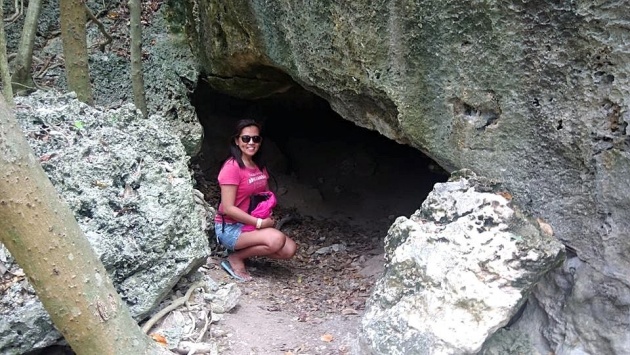 As we follow through the pavement way we came across a sign that says "Yamashita Cave". The photo above is the entrance to the cave itself and we're hesitant to go inside so we just had our photo opp. I find it creepy to go inside the cave and besides it's just the two of us so we decided not to go through. Maybe if a tour guide is available, we might give a reconsideration of exploring the cave.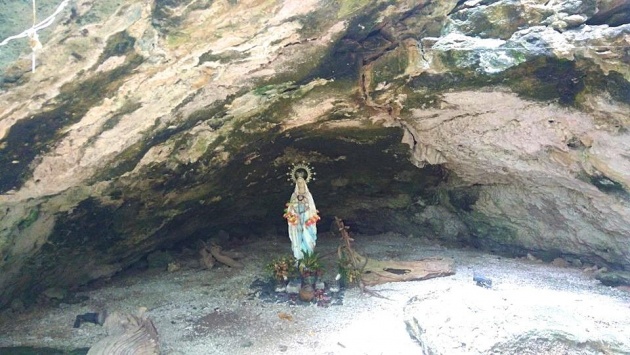 Not so far away from the Yamashita Cave is a Grotto situated on top of a cave rock. We checked it out and climb up on the rock and what we found is a Blessed Virgin Mary particularly Our Lady of Fatima statue. Remnants of lighted candles and dried flower leaves were seen in the vicinity of the Grotto as well as cobwebs on the ceiling of the Grotto.

Panoramic View of Sandbar / Credit: Erlinyenyu via Facebook
One of the best highlights in exploring Bluewater Sumilon Island Resort is the sandbar. The sandbar of this island keeps on changing. The last time I was here it was on the other side of the mountain rock just below the coconut tree that you can see in the photo. This time it was on this side. Previously, the sandbar was a long stretch white sand while on this one it is in a circular shape. Just make sure to check on the low tide before going to the island to make sure you get to enjoy the sandbar.
Exploring Bluewater Sumilon Island / Credit: YenYoh via Youtube
I made a video compilation of all the activities we did on the island. This is to showcase the beauty of the island and my exploration as well. I've been to many islands and Sumilon Island is one of the best for me and it shows since it's my third time to be here. There are still some spots on the island that I wasn't able to explore. I will definitely be back here for that matter and continue exploring Bluewater Sumilon Island Resort.
If you want to know more about Bluewater Sumilon Island Resort you can refer to the links provided below:
Official Website: www.bluewatersumilon.com.ph
Resort Activities: Adventures Page
Contact Persons of Bluewater Bluewater Sumilon
Ms. Brylin Galve
032 517 1600 loc. 7201
0919 320 9430 or 0917 655 2356
csr.bliss@bluewater.com.ph
Customer Service Concerns
Ms. Jessa Monton
032 517 1600 loc. 7203
0919 320 9368 or 0917 830 5549
csr2.bliss@bluewater.com.ph
Admin Related Concerns
Ms. Josephine Arligue
032 517 1600 loc. 7200
bliss@bluewater.com.ph
END OF EXPLORING BLUEWATER SUMILON ISLAND RESORT
There you go that sums up my day in exploring Bluewater Sumilon Island Resort. It was short but fun and memorable. Firsthand kayaking is one of the best and funniest parts of the trip. I will never get tired of being on this island. I just love it here! Exploring Bluewater Sumilon Island Resort is a one fine day island adventure that I truly treasure.
* * * ♥ ♥ ♥ * * * * * * ♥ ♥ ♥ * * * * * * ♥ ♥ ♥ * * *
Thank you so much for reading my blog.
* * * ♥ ♥ ♥ * * * *
For more travel blogs you can visit my page Dimpsy.
* * * ♥ ♥ ♥ * * * * * * ♥ ♥ ♥ * * * * * * ♥ ♥ ♥ * * *
You can also check out other related Bluewater Sumilon Island blogs below:
A Day in Bluewater Sumilon Island Resort
EXPLORING BLUEWATER SUMILON ISLAND RESORT (Part I)