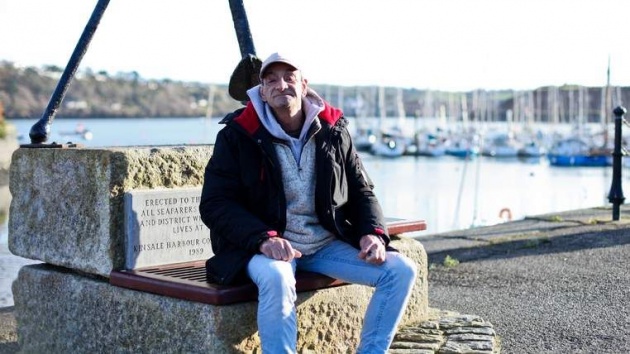 A homeless man will have his Christmas wish come true when he sits down for dinner with his family for the first time in 12 years after being reunited with them through Facebook.

George Cunningham told a photographer from the Humans of Ireland page that his main concern over the holidays would simply be finding somewhere he could sit down and have a Christmas dinner.

"I'm homeless and travelling around to any town that has shelter for the homeless so I can get a bed for the night as a lot of places are full. If I had to sleep out in this cold I'd be dead already," he was quoted as telling the photographer, Lee, in the original post on 8 December.

"The only thing I care about at the moment is finding a place to have a Christmas dinner, if I could find a B&B that included a Christmas dinner I'd pay the money. I'd even pay €100 for a hotel if I have to, I just want to have a Christmas dinner."

Lee told Sky News that he thought the man's simple Christmas wish was "pretty amazing" given the vast amounts many people spend on food and presents at this time of year.

And when George's photograph was put on the Facebook page, which posts images of ordinary Irish men and women, the response was incredible with dozens of people offering to pay for his meal or even host him themselves.

As interest in George's story grew, Lee was contacted by his sister, who had not spoken with her brother for 12 years.

She wanted to invite him home for the holidays, but Lee had no way to contact him in Kinsale, a small fishing port in County Cork.

"I had to ring around the town and get someone to find him," he told Sky News.

"I called around a few places and told them what I was doing. Finally someone got a hold of him and he rang me up."

George has now spoken on the phone to his sister and his mother, who is sick but had not been able to contact her son to tell him.

And next Wednesday he will be going home to spend Christmas with them.

But the offers of help haven't ended there.

Lee said that a hotel near the family home has said he can spend a night there if he wants and a clothes store has offered him a new suit for the big reunion.

George told the Irish Independent he found it "all hard to believe".

"I kind of lost contact with my family and then, after my photo was put on the internet, I suddenly started getting offers of meals and stuff," he said.