Published on the 30th of October 2012, Lawrence Lenihan, Founder and Managing Director of FirstMark Capital wrote an op-ed article in the Business of Fashion, titled, "The Problem with Most Fashion Start-ups." The article dictated the rampant issues found in the fashion-tech industry, which made many brands that might sound good on paper, turn out to be unsuccessful. Given the vibrant start-up scene spearhead by young entrepreneurs in cities like San Francisco and New York in this bleak economy, combined with the ever-growing interest in starting fashion sites, and visiting fashion sites, I thought this was an important issue to address in the fashion industry.
Today, the digital space to shop for fashion is more than just another channel of distribution. As stated by Mr. Lenihan, "every brand must figure out how to connect directly with its customers and they must structure their business around the relationships they want to have with their customer rather let their distribution channels define them." Fashion e-commerce stores do not just sell merchandise anymore. Instead, they are selling a brand identity, which incorporates content (in the form of blogs, visuals and videos), curation and community engagement, on top of being a retailer.
Taking things a step further, Mr. Lenihan added, "now brands can aggregate customers themselves, not based on where the customer lives, but on the values, interests and aspirations the brand and its customers share and use technology to create incredibly unique, intimate, personal, interesting and fun relationships." Unlike the 'old' days before such technological advances, the extent of a store's customer base was limited to their location. For those wishing to venture outside of their geographic capabilities, catalogs via snail-mail were sent out. However, in today's digital world, this is not the case—anything that is published online has the opportunity to be seen by the world. Fashion brands now have to sell a branded and relatable identity that extends across nations and translates globally; a tough but exciting and interesting feat to accomplish.
So, how does one create such a brand identity in a digital space?
"Fashion makes you feel. It is about emotion. The web can create amazing experiences using video and images to convey a story," stated Mr. Lenihan. Unlike physical retailers, where a brand identity can be constructed (literally) through transporting the shopper into another environment, brands online become storytellers. The physical experience is transformed into a projection—a projection of the brand of what it is and how it relates to you, or in some cases, what you aspire to be.
Instead of guiding the customers through the different sections of clothing racks or merchandise walls, our customer is now given a digital and interactive catalog shopping experience. Styling tips are displayed in fashion videos and blogposts instead of mannequins and customer interaction is heightened, giving every consumer an outlet to interact with other customers (usually not done in a normal physical space), the brand themselves, and if one is lucky, moguls from the fashion industry that happened to chance upon the forum and decides to actively participate. Even the replication of a brand's atmosphere and that sense of discovery when one walks into a physical shop can also be achieved, through the design of the website's user experience and user journey, where every step made by the consumer is carefully mapped out to further their customer's interaction with the brand, and ultimately, convince them to purchase something.
It is said that many who venture into fashion e-commerce start-ups either understand one or the other (fashion or technology) very well, but never both. As stated by Mr. Lenihan, "the entrepreneurs who master both and understand the subtleties of each will be triumphant and realize all the potential that lies in this combination of technology and fashion." It is up to these potential companies to understand that it takes both industries to work very closely together to build a lasting fashion site, and brand. It is also up to current major retailers, to acknowledge the shift caused by the digital world in the Fashion industry, and to use it to their best advantage in order to stay ahead of the curve. Kate Spade, Michael Kors, DKNY, Bergdorf Goodman and Giorgio Armani are great examples of companies who have been commended for doing just that. ~NICOLE TAN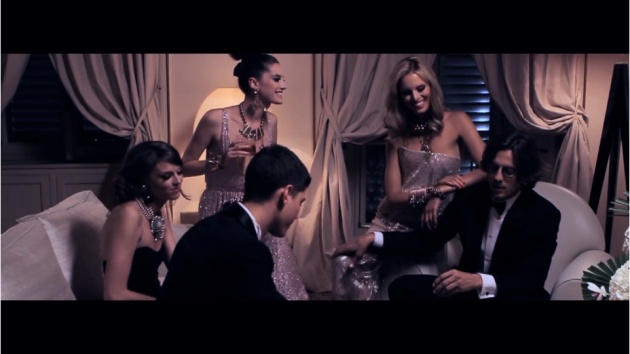 'Back Damon' a Giorgio Armani Fashion Film