Gadgets For the Fidgets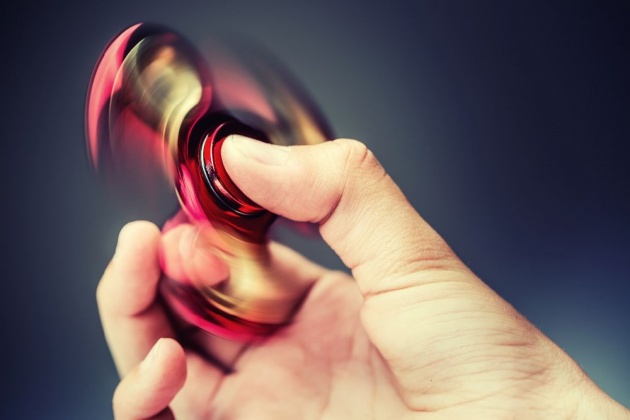 -[ Image by AdobeStock ]
In 2017, the use of fidget toys became a widespread trend.
Office toys, stress balls, and tiny colorful hand held devices have been around for a long time. You might know the Rubik's Cube from the 80's. Stress balls were common business convention gifts in the 90's. And there have always been gadgets to play with at the office. Now there is a new generation of things to keep the hands busy. Many new types are popular right now. Fidget spinners, handheld toys that spin and twirl (like the one pictured below) have been around for awhile...but this year they are on fire!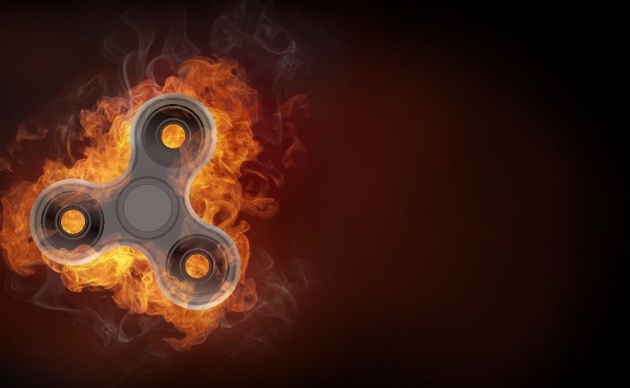 -[Image by AdobeStock ]
Fidget spinners are hand-held toys that have a central bearing. The bearing is similar to that in a roller skate or skate board, in many cases. A flick of the finger and a fidget spinner can spin for minutes. The better the spinner, the longer the spin. Spinners can be made of wood, plastic, metal, and just about anything which can hold a bearing and be shaped into a toy by a creative craftsman or engineer. They can cost less than $1 US or be quite expensive and made of titanium or plated with gold. Used by businessmen and displayed in offices, high-end spinners are being sold with high-end price tags. The upper limit for extravagant spinners is still on the rise as materials and workmanship improve and are demanded by customers.
"Fidget spinners became popular toys in 2017, although similar devices had already been invented in 1993."-en.wikipedia.org
Okay, But What Other Fidget Gadgets Are There?
The Cube
In 2016, the

Fidget Cube

first appeared on Kickstarter with a campaign to get the invention funded with the intention of helping people with who have problems paying attention. With an original goal of raising $15,000 to make the Fidget Cube, the campaign got outrageous support and became one of the most successful Kickstarters ever, with a funding of $6,465,690 at this writing. Here's how the Fidget Cube was introduced:
-[Video Credit-https://www.kickstarter.com/projects/antsylabs/fidget-cube-a-vinyl-desk-toy/description]
As of 2017, the Fidget Cube, first invented by two brothers and has now been sold all over the world and copied by many companies and individuals. New tweaks and versions of of the cube are showing up constantly on vendor sites everywhere, including Amazon, eBay, and online toy stores for kids and adults.
Here's what DailyMail.com has to say about the Fidget Cube:
"WHAT IS FIDGET CUBE?
Fidget Cube was created by Matthew and Mark McLachlan, two brothers who designed the Apple Watch accessory Duet.

The duo, who are fidgeters themselves, created this toy to change the way society views these small movements.

The Fidget Cube weighs 4.1 ounces and measures 1.3 inches.

There are eight colour schemes to choose from: die, graphite, midnight, aqua, sunset, berry, fresh and retro.

And each side has a different mechanism: clickable buttons, movable joystick, spinning dial, rolling gears, a rubbing surface and a flickable switch."
How far does this craze go???
Creative people have been crafting and selling unique versions of fidget toys. Made from key chains and bike chains and beads are fidget gadgets on etsy.com like these by Rockin' Fidgets
3D Printers Have been put to use as people craft their own designs and add packed bearings and ball bearings to fidget spinners. It is hard to believe they are not made in the factory. This one from macphee on Glowforce is one of several he made with his 3D printer:
New Designs: This Paracord Monkey Fist Begleri, a fidget toy with a different feel, is a creation of NinjaCord
-[Image by Paracord Monkey Fist Begleri on Etsy.com]
If you haven't seen these little devices yet, someone will try to sell you one soon. How many are for sale? One search on Amazon lists: 50,010 results for Toys & Games :"Fidget toy" such as this one showing 27 designs!: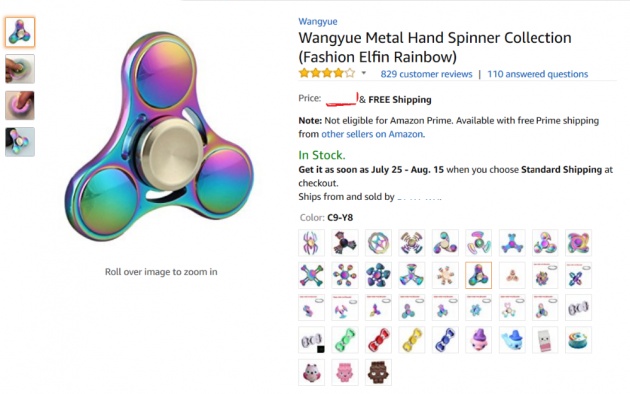 Spinners, Cubes and Beyond. What can they do?
Sure they are fun, but they are also being used as tools for health.
Hours on a computer keyboard can be tough on the hands and wrists. Fidget gadgets are great exercise and useful reminders to take a break from typing.
There are endless types of fidget gadgets available for every tactile sense you can imagine. And they are being utilized by people who are fighting the effects of Autism. The senses, including the sense of touch are very significant in the treatment of Autism. National Autism Resources offers a large assortment of fidget toys and stress balls to help fill the demands for new tools from families affected by autism. To learn more about autism, go to Autism Speaks by clicking here.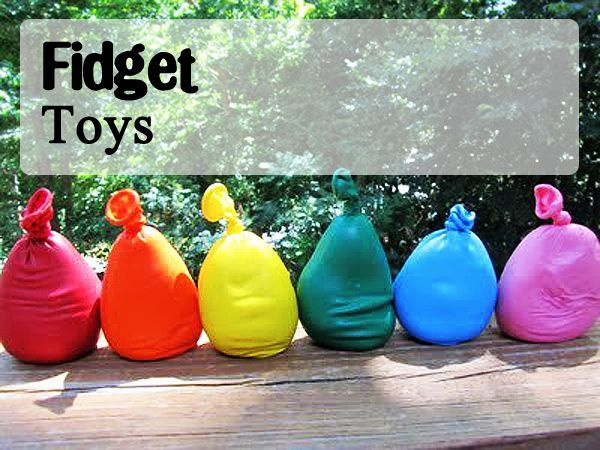 -[Image by OurStarsInc.org via DuckDuckGo.com ]
The image above shows squishy balloon-style bags holding sand-sized beads that shift and feel pleasant to the touch or when squeezed.
ADHD, Attention-Deficit Hyperactivity Disorder, is a big concern among school children. The Center For Disease Control says,
...approximately 11% of children 4-17 years of age (6.4 million) have ever been diagnosed with ADHD as of 2011..." - https://www.cdc.gov/ncbddd/adhd/data.html
Children and adults with ADHD may have trouble paying attention, may act without thinking about what the result will be, or be overly active. ADHD is common. While it can't be cured, it can be treated. Managing stress and distractions is part of the treatment for ADHD, and that is where fidget toys can help.
So can fidget toys benefit all kinds of people? DailyMail.co.uk reports "Fidget toys are NOT just a fad: Expert reveals the popular gadgets can have several positive effects on users". The University of Missouri published a study about the positive health impact of the action fidgeting which appears in another article by DailyMail.co.uk
RECENT STUDY FINDS FIDGETING CAN SAVE YOUR LIFE


According to a new study, even mild toe-tapping and thumb-twiddling can dramatically reduce your risk of cardiovascular disease.

And a research team at the University of Missouri believe it could be the answer to boosting heart health in an age when so many people spend most of their time sat at an office desk.

Researchers compared the leg muscle function of 11 healthy men and women.

They then tested them again after they had been sat down for three hours.

During that period, each one was asked to fidget one leg - tapping their foot for a minute then resting it for four. The other leg remained stationary.

Measuring their blood flow afterwards, the researchers found the moving leg had a much higher blood flow than the other.

In fact blood flow slowed dramatically in the stationary leg.

The researchers concluded that this minuscule movement could help stimulate vascular health.

In a real-world scenario they recommend tapping both legs to boost blood movement."

-DailyMail.co.uk
Not everyone is convinced about the advantages of fidget toys. Some schools don't allow them because they can be a distraction when they become the center of attention. Still a matter of some dispute, there is evidence fidget toys help with concentration. In Scientific American, the article "Fidget Toys Aren't Just Hype" tells of some ways they really do help (click here to read more from the article).
People use them for lots of reasons. But most of all, fidget gadgets are for fun!
At least that's my take on it. I just learned about them during the last month. I bought my first spinner and shared my new toy in a Bitlanders video. I may try a few more styles, as long as I don't have to invest too much. Here's the red triangle spinner that got me started: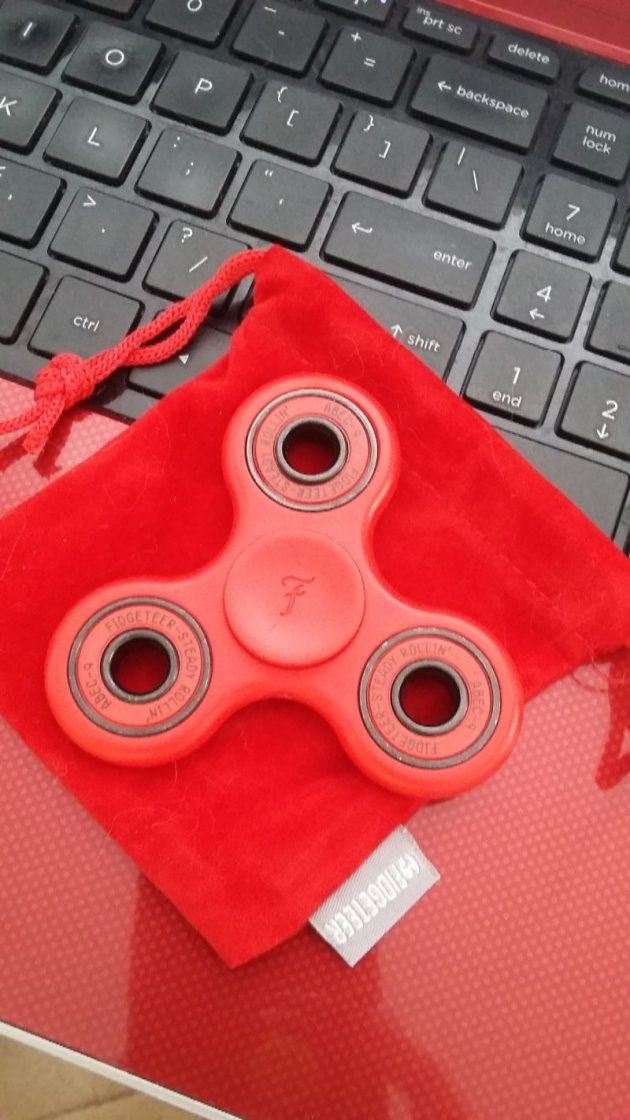 If you might be interested in fidget spinners there is certainly one made in your favorite color. Give it a try. Here are some tricks to you could do with yours!



Have a focused, stress-free, fun time with fidget gadgets!