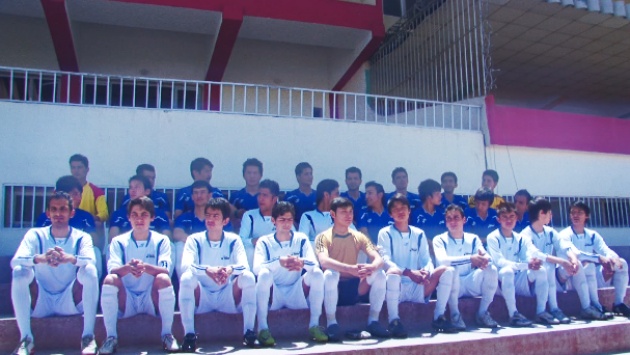 New York, NY, October 18, 2012 – Film Annex announced that its portfolio company, Citadel of New York, has acquired a ten percent equity position in Afghanistan's Esteqlal Football Club. In March of 2012, Film Annex launched The Afghan Development Project to build Internet classrooms in high schools in Afghanistan. This empowered Afghan students, both male and female. Now Film Annex is entering the sports marketing industry to enhance the image and broaden the following of Esteqlal FC in Herat, Afghanistan. Film Annex continues on its journey of changing the face of Afghanistan, now through the world's most popular sport, soccer.
Esteqlal FC is ranked number two in the Premier League in Kabul, Afghanistan. Established in 2002, the team trains at the Ghazi stadium and is coached by Zaher Hasani, a trainer for the national team and a committee member of Tolo TV. According to the agreement, the club will give full access to Citadel of New York to film the matches, training sessions, and pre-game events, all of which will be broadcast on the Film Annex Sports Network and the Esteqlal FC Web TV channel. The Web TV will display videos, blogs, and photos about the team.
With this partnership, Citadel of New York intends to grow the social media presence of Esteqlal FC. Citadel of New York will create a following for the club on Facebook and Twitter and guide athletes in establishing and managing their own social media campaigns. In addition to social media promotion, Citadel of New York will explore the possibility of having Esteqlal FC play exhibition matches in Ital and give the team wider international recognition. According to the agreement, Citadel of New York will also license rights to the team's merchandise and produce a new line of clothing for the team, combining Italian and Afghani fashion styles. The official team uniform will have the name of its sole official sponsor, Film Annex.
When asked about the reason behind his involvement in sponsoring Esteqlal FC, Film Annex's President, Francesco Rulli said, "Film Annex's mission is to introduce Afghan youth to the global community of sports through soccer. The partnership with Esteqlal FC is a step towards accomplishing this mission. Afghan athletes are great role models for the youth in Afghanistan, and our goal is to extend this recognition around the world through the web." Citadel of New York Partner, Roya Mahboob added, "Sports like soccer are the future of a healthy and equal Afghanistan, where young men and women from different cultural backgrounds can enjoy the competitive spirit of sports."
About Film Annex
For corporate information, please visit
www.FilmAnnexCapitalPartners.com
. Film Annex was founded with the idea to give filmmakers and artists a free platform for self-distribution, interaction, and funding. Our mission is to sponsor content creators through our ad-supported video platform so they can keep creating, contributing, educating, and entertaining.
About Citadel of New York, LLC
Citadel of New York, LLC (CNY) was formed in July 2012 as a joint venture company owned by Roya Mahboob and Film Annex Capital Partners. The Company is a full-service information technology (IT) solutions provider focused on education and serving the emerging markets of Central Asia. Citadel is an Afghan, Italian, and American owned business with offices in Afghanistan and New York City.
CONTACT:
Eren Gulfidan
Film Annex
eg@filmannex.com
Skype: erengulfi
###