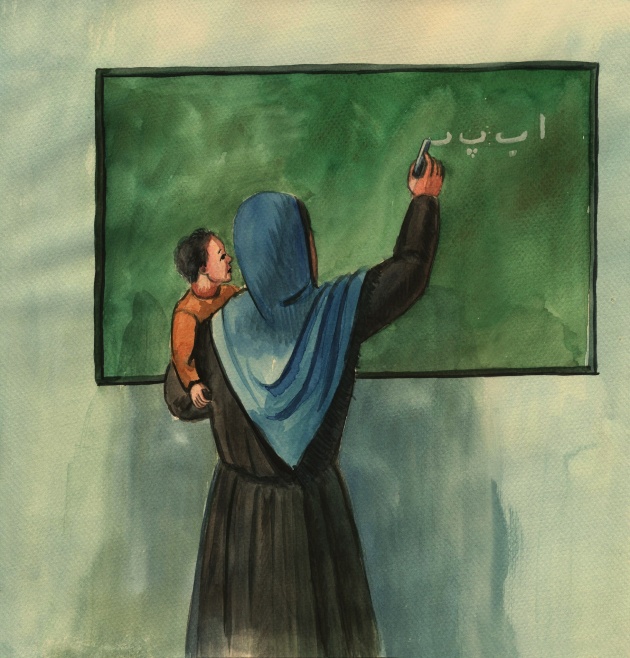 Illustration from Zarbul Masalha: 151 Afghan Dari Proverbs by Edward Zellem
New York, NY, December 14, 2012 – Continuing its efforts to improve the education system in Afghanistan, Film Annex recently partnered with Edward Zellem to use his books, Zarbul Masalha: 151 Afghan Dari Proverbs in high school curriculums in Afghanistan and soon Central and South Asia. In collaboration with Citadel of New York, Film Annex developed Examer, an Interactive and Educational Social Networking platform with a Micro Scholarship Payment System. Examer allows students to use Social Media platforms such as Facebook, take academic tests, do homework, and publish essays, films, and blogs on Film Annex. Now, part of the essay and multiple question tests will be about the meaning and usage of the Afghan Proverbs. Three exceptional Afghan women, Roya Mahboob, Fereshteh Forough, and Elaha Mahboob developed Examer for the education of Afghan children. Additional development on Examer was architected by Francesco Rulli and was done in collaboration with European and American software engineers.
"Afghan proverbs are uniquely useful for Examer and social media training. They provide an excellent springboard for discussion between students from different languages and cultures, because the messages are universally understood," said Edward Zellem of the collaboration. "A relevant Afghan proverb can connect students emotionally and intellectually with any educational subject - environmental, women's issues, health, social media, anti-discrimination, science, math, writing, and language studies, amongst others," he continued. Francesco Rulli, Film Annex's Founder/President, added, "With his work on Afghan Proverbs, Captain Edward Zellem is the ideal mentor and educator. He uses his military experience in Central and South Asia to educate the world about wisdom and history. He is an ideal role model for the future generations of American and international military personnel, as well as a powerful point of reference for millions of young people around the world."
Examer enables students to learn social networking while they are mastering other subjects. Instead of being rewarded for a "Like" or a "Tweet", Examer students are rewarded for good grades with payments made by Examer mobile payment systems. Better performance means more money that is paid directly to students and their families. Examer's mobile payment system will help implement USAID's vision for education in developing countries. The highest achievers will be paid by Citadel of New York and/or win educational scholarships with Citadel partners.
In the New Year, Captain Zellem and Citadel of New York expect to create an Afghan Proverbs Mobile App with the help of Cupcake Digital. In June of 2012, Cupcake Digital was created to build digital apps that would not only make kids smile, but also make parents happy. Cupcake's first success was Wubbzy's Pirate Treasure, based on the Emmy Award-winning Nick Jr. ® series, Wow! Wow! Wubbzy! ®. Cupcake Digital has since produced a whole (and growing) series of digital stories and games inspired by Wubbzy and his friends. Currently, Cupcake Digital is partnering with other major entertainment companies to develop story experiences and game apps based on their brands and properties, such as the Discovery Channel's Animal Planet.
Recognizing the power and potential influence of the Afghan proverbs, Film Annex, Citadel of New York, and Edward Zellem have decided to leverage the books and the concept behind them into a worldwide educational and business use for the global good. With Examer, students will quickly learn about the Afghan proverbs and use them to connect with each other.
About Film Annex
Film Annex is an online film distribution platform and Web Television Network with 220,000 registered users and over 40 million unique visitors. The company supports content providers financially through an ad-revenue sharing model. A meeting point for filmmakers, film festivals, film enthusiasts, companies, and organizations, Film Annex educates and entertains audiences by making meaningful, diverse, and high-quality films available to a global audience. For more information, visit www.filmannex.com. For corporate information and videos, visit http://capitalpartners.filmannex.com.
About Citadel Software Company
Citadel designs and develops commodity software in an expeditious fashion, using talented in-house designers. The objectives of Citadel are to generate profit, grow at a challenging and manageable rate, and to be good citizens. The keys to success for Citadel is marketing and networking, as well as responsiveness, quality, and having a loyal customer base. The local market for software business in Afghanistan, while not new, is wide open for fresh and expanding consulting firms. Citadel customizes software for the individual needs of each client while providing training and a follow-up service. For more information, visit http://acitasoft.com.
About Edward Zellem
Edward Zellem is a U.S. Navy Captain. He is known for his work embedded with Afghans inside the Presidential Palace of Afghanistan and for authoring two collections of Afghan proverbs, "Zarbul Masalha: 151 Afghan Dari Proverbs" and "Afghan Proverbs Illustrated." Zellem wrote the books to "show how Afghan proverbs demonstrate our common humanity and the humanity of Afghans, and to share the proverbs' lyricism, richness and deep meanings with the rest of the world".
###
Contact
Eren Gulfidan
Film Annex