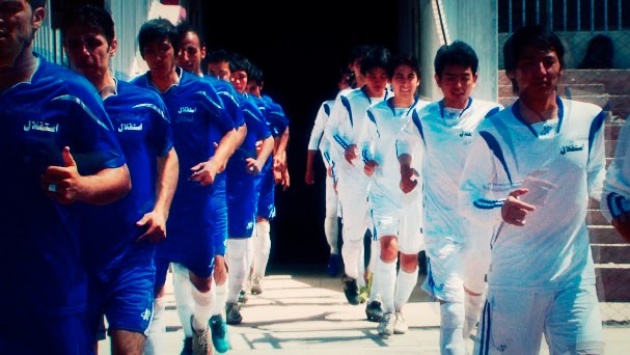 Film Annex and the Afghan Citadel Software Company are currently building Internet classrooms in 40 schools in Herat – the third largest city in Afghanistan - with the mission to improve the Afghan education system and the economy of Afghanistan. They joined forces to found and implement the Afghan Development Project, which intends to provide logistics and educational tools to connect 160,000 Afghan students to the World Wide Web within 3 years. It's an amazing opportunity for these young adults, who will see their professional credentials and opportunities multiply by the time they are done with school. This also represents a profitable possibility for anybody who is interested and willing to invest in this country. It's all about walking through the door while it's open.
In addition, Film Annex is embarking on another ambitious project. Its portfolio company, Citadel of New York, just became 10% owner of Esteqlal Football Club, the number 2 team in the Premier League in Kabul. Film Annex is also the official sponsor of the team and appears on the team's jerseys. Football – the American equivalent of soccer - is one of the national sports of Afghanistan, and Filmannex is hoping to give the team additional motivation to emerge as the leading team in the capital. The Premier League in Afghanistan consists of 19 teams, and this represents Filmannex's first step into the Afghanistan national sport system. The team - which was established over 10 years ago - was recently filmed during one of their training sessions, which always take place at the Ghazi stadium in Kabul. After having a strong impact on the Afghan education system, Film Annex is now also committed to make an impression for what concerns sports in Afghanistan.
The coach, Zaher Hasani, is a trainer for the national team and a committee member of Tolo TV, which is currently Afghanistan's most popular television channel. Owned by Moby GROUP, Tolo TV was launched in October 2004, becoming one of the first commercial television stations to operate in Afghanistan and laying the foundations for an accessible media outlet offering local and international news, sports, a current affair, movies, comedy, serials, documentaries, music, children's programming, lifestyle and entertainment shows. First launched in Kabul in November 2007, Tolo TV broadcasts in 14 cities in Afghanistan on free-to-air and throughout the region by satellite. They are ultimately responsible for selecting the best 10 players from Esteqlal to play for the Premier League.
In an interview, Francesco Rulli - president and CEO of Film Annex - explained the reason he decided to make this move: "Film Annex's mission is to introduce Afghan youth to the global community of sports through soccer. The partnership with Esteqlal FC is a step towards accomplishing this mission. Afghan athletes are great role models for the youth in Afghanistan, and our goal is to extend this recognition around the world through the web."
Giacomo Cresti
http://www.filmannex.com/webtv/giacomo
follow me @ @giacomocresti76