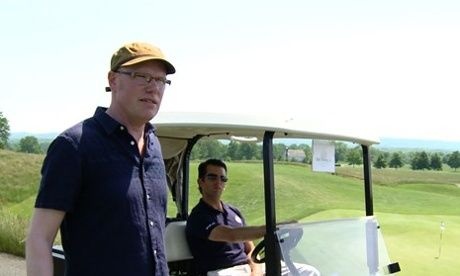 Next month, 2012's Top Scot Michael Forbes is back in cinemas. Who is he? Well, he does not play for Celtic. Nor did he win a Gold medal for cycling or tennis at the London Olympics. Nor did he appear in SALMON FISHING IN THE YEMEN. Forbes came to prominence standing up to Donald Trump in Anthony Baxter's 2012 documentary, YOU'VE BEEN TRUMPED. Now, Baxter has completed a sequel, A DANGEROUS GAME, which sounds like a straight-to-DVD sequel starring Steven Seagal, filmed as ever from the waist up.
What's Donald Trump got against a 62 year old farmer? Well, when Trump was developing a state-of-the-art golf course in Aberdeenshire, Forbes wouldn't sell him his land. Trump slammed Forbes in the press, calling his farm a slum. The reality was that Trump simply built around it, enclosing part of Forbes' land and turning it into an eye sore. Works also cut off the water supply to Forbes' elderly mother, who has to collect water from a well, living essentially like a woman in a developing nation.
You'd think that Scottish Nationalist Party leader, Alex Salmond, who is campaigning to give more powers to the Scottish Parliament through full independence – the referendum is also this September - would stand up for Mr Forbes and his mother and doesn't advocate third world living conditions in his own country. Not a bit of it. He remained conspicuously quiet (according to the film), making clear that he values inward investment from one of the world's most famous billionaires more than the living conditions of one of his constituents. Clearly, LOCAL HERO is not one of his favourite films.
In A DANGEROUS GAME, Baxter widens his focus to document resistance against another luxury golf development, in Dubrovnik, Slovenia, designed in consultation with celebrated golfer Greg Norman. The whole city has been designated a world heritage site. But what is world heritage when we are talking golf? Beautiful links, tranquil water features, luxury hotel and spa.
Dubrovnik is uniquely perched high on the knuckle of the Slovenian coast and it looks a visitor attraction in itself. Yet the city's mayor is keen to give up land for the building of a resort that the locals won't be able to access. The membership of such a course would be something like $150,000 (when compared with its counterpart in the United States). Moreover, to keep the greens suitably smooth and resplendent would take a substantial amount of water, making it less available to the locals at time of drought.
While Baxter's film is strong on the cost of water for Mr Forbes' mother, he doesn't illustrate his case that golf resorts really do drain the resources from the local community, driving them out. The film would have been more powerful if he had shown this having occurred in other countries. Alec Baldwin, an East Hampton resident who made exactly this case against a luxury golf course in his area, describes in the film how companies building golf courses get water fourteen times cheaper than the local residents. How is that fair? Admittedly, his logic is twisted. Don't members of CostCo get goods cheaper than the local store? Does not a volume discount apply?
The film is rather better on big business riding rough-shod over local opinion. The citizens of Dubrovnik campaign for and successfully force a referendum on the issue. They win. Still, the Mayor wants to build the golf course. What is democracy?
Meanwhile, Donald Trump is planning a second golf course in Aberdeenshire, much to the local's opposition. He extols the virtues of his existing course. In front of the press he is given an award from a company essentially owned by the Trump Organisation. This is public relations at its most desperate. Having refused to be interviewed for YOU'VE BEEN TRUMPED and calling Baxter a poor filmmaker, Trump is now keen to put his points across in an interview, insisting that he make his own copy himself. Trump, a phenomenally successful businessman, cannot help but seem arrogant and dismissive.
Elsewhere, in the United Arab Emirates, Tiger Woods acts as a consultant for another luxury golf course. The argument about water is more powerfully made here. Moreover, Baxter makes the point that golf courses are less likely to last than the natural features and communities that they displace.
Does Trump succeed in Aberdeenshire? Is a course built in the UAE, Woods justifying his reported $55 million fee? For this, I'll let you discover from watching the documentary, which gets a one-day only screening on 12 September 2014 in Cineworld and Picturehouse cinemas in the UK, currently still including Scotland.
Reviewed at Soho Screening Rooms, D'Arblay Street, Monday 28 July, 18:30 media screening