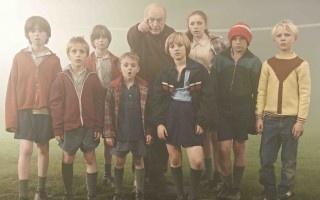 At the time of writing, Arsenal has just won the Football Association Cup grasping victory 3 goals to 2 in extra time against a dogged Hull side ranked one division lower in the football league. You might expect Hull to be underdogs but in fact Arsenal has had so many near misses in league and cup competitions, they have a tendency of being blown away by dogged opposition four or six goals without reply. This time, it was the red and white North Londoners who triumphed, in fact from errant refereeing that awarded their side a corner rather than the opposition a goal kick. If whilst reading these first hundred words you are stifling a yawn, then you probably won't want to hear about BELIEVE, a fictional 'family film' about an eleven year old boy, Georgie Gallagher (newcomer Jack Smith) who receives unlikely football tuition in the form of Sir Matt Busby (Brian Cox).
I know, Hannibal Lector as a football coach. It sounds... vaguely plausible. Cox is transformed by some incredible make-up that makes the creatures in MONSTERS look like digital effects. So not quite Lector then!
Our story begins with Sir Matt Busby and his friend, Bob (Philip Jackson) chasing a young boy – whoa, not like that! The film is set in 1984, when adults weren't routinely cleared to look after children – police checks were not routine – a more innocent time, during a miners' strike, when the industrial intestines of so called Great Britain were being surgically removed by the Conservative Government.
So, BELIEVE is a political film? Not at all! Though it alludes to the miners' strike, it does not go all BILLY ELIOT on us, which is just as well as I think one Elton John stage musical is quite enough. Wait – THE LION KING makes two.
Georgie just wants to play football. His mother (Natascha McElhone) just wants to send him to the local grammar school so he can get a proper education – dissecting frogs rather than the English language and studying Latin. In the real 1984, most of us did not have access to the internet or use mobile phones. We listened to the radio and spoke for hours on the telephone about nothing in particular where now we use our fingers. The one thing we had in common with our fathers was football, the same leather ball (well, nearly) being kicked about by two teams wearing studs paid ten shillings a week - no, wait that was the 1960s - who just wanted to have something called 'bragging rights' over the other local team (sounds like squatters' rights, more like) and win the league. Whenever you explain a sport it sounds silly, it might just as well be Whackbat from FANTASTIC MR. FOX, which is a modern classic in my book.
So, it's a period piece, then, like those English costume dramas, a comedy of manners in which truth triumphs over the inauthentic. No, it does not have the pleasure of corsets (I wonder why Corsetshire isn't an English county) and posh frocks, rather the anachronism of dropped 'H's, though it was set before H was dropped from the group Steps.
At the grammar school open day, Georgie discovers that there is a seven-a-side competition. Only he needs £21 to enter and he does not have it. So he swipes Sir Matt Busby's wallet; hence the chase over the opening credits.
So, it's the story of a boy whose morals are corrected by the fair-play principles of sport? Have you watched team sport recently? If the players aren't taking bribes then they are conning referees and manufacturing winning positions. Victories are frequently described as 'ground out' but in truth they are achieving through deception which we prefer to ignore. Managers will tell you: 'we are in the results business' not the 'fair play, the best team/player won' business.
We wonder why we love it so much. Answer: it's our tribe!
So Sir Matt gets his wallet back and coerces the boy and his friends into being their coach. An adult blackmailing children – what sort of 'family film' is this? They agree because it's 1984, and adults were allowed to do that sort of stuff. There was no such thing as child pornography internet rings, which was a good thing. Hurrah for 1984!
Now Georgie does not know that Matt is in fact a legendary former manager who coached one of the best Manchester United teams that never got to win. The young footballers were killed in the Munich air disaster in 1958. Sir Matt survived and continued coaching, but by 1984 he is out of the game, a reckless gambler kept on the straight and narrow by his wife (Anne Reid).
So, it's one of those adult redemption stories, the coach reinvigorated by finding a young talent? Not exactly! This is a British movie and far less ambitious. Georgie still has to raise the £21 and tries to rob the tutor (Toby Stephens) coaching him to pass his grammar school entrance exam. He fails, but Matt sorts it. 'Why didn't you ask me?' he asks with a twinkle.
Meanwhile, Georgie does not tell his mother that he is training with Matt – he deceives her, by sneaking off from the church hall where she leaves him to study. But the training is an open secret.
By now, you will have gathered that there is some behaviour in the movie that should not be encouraged in a modern context. Trusting children to a stranger, deceiving your parent? In 1984, it all seems so innocent.
BELIEVE is an underdog story in which Georgie proves his credentials as a star player and his football-hating tutor has a role to play. Toby Stephens has, of course, great football credentials; his mother Dame Maggie Smith once played for Gosford Park – at least according to a defaced Wikipedia page.
The problem with the movie, quite apart from it being not so many things, is that the children are football players first and actors second, which is to say the characters aren't finely drawn. So while director David Scheinmann's film Is good-natured, it is not at all emotionally engaging; the whole 'grammar school verses love of football' plot is confusingly developed.
One of my favourite actresses, Kate Ashfield, has a supporting role as a barmaid. You might remember her from SHAUN OF THE DEAD (as Simon Pegg's girlfriend) and THE LOW DOWN, which you probably haven't seen. I wish she had been cast in the mother's role in place of Natascha McElhone who is way too glamorous for the part. McElhone has to put on a regional accent and why she has many gifts, she is not a convincing Mancunian. Her character – a widow -is immensely sympathetic but also underdeveloped.
It's hard to imagine BELIEVE lasting 90 minutes in cinemas let alone a week. It isn't a classic British film, being too slapdash in the plotting department. Just because you have a climactic sports moment doesn't make for a satisfying film. It has to be an affirmation of something.
Reviewed in a small Central London Preview Theatre at 18:30 on Tuesday 6 May 2014. It opens in the UK on 18 July.