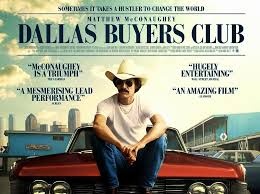 DALLAS BUYERS CLUB should come with a warning to actors: you cannot starve yourself for an Academy Award. Matthew McConaughey goes the Christian Bale-MACHINIST route of taking his body down to an unhealthy weight, as if trapped on a desert island. He is, of course, only in Texas, where a normal body weight is over eighteen stone.
If he follows the trajectory of his REIGN OF FIRE co-star Bale, I would expect McConaughey to next have a meltdown on the set of an action movie. However, by his own admission, he is looking for more interesting projects, so don't expect to see him in a superhero suit any time soon.
DALLAS BUYERS CLUB is a story inspired by the life of Ron Woodruff, an electrician (like his father before him) and part time rodeo man who attempts to buck the odds. When his sure thing rider is thrown from a steer, Ron attempts to escape a gang of men who unwisely bought his tip. He is not a good card player either. When he contracted AIDS through unprotected sex with a woman and is given 30 days to live, he first tries to have a damn good time mixing experimental drug AZT with cocaine, but then when his supply dries up, he goes to Mexico and finds a whole other world. A disgraced American doctor (Griffin Dunne) gives a whole new set of meds, which get him past his deadline. The AZT and cocaine ate into his immunity systems. With new meds, he reduces his susceptibility to illness. He comes up with a great idea to make money: selling new unapproved drugs to the suckers taking AZT, smuggling them in to the United States dressed as a priest.
There are some films where you don't notice or particularly care about the creative licence taken with a subject. So Sandra Bullock should wear a nappy in space in GRAVITY like a real astronaut; I'm not bothered. In DALLAS BUYERS CLUB, creative licence was parked right in front of me. Ron is portrayed as addicted to casual sex, but I could not believe that none of his ex-girlfriends would turn up to either pity him or gloat. Similarly, Ron's bar buddies give him the cold shoulder after discovering he is HIV positive. Yet after he starts making serious money, I cannot believe at least one of them would not have wanted in. Only a cop (Steve Zahn) shows him any sympathy. His father has Alzheimer's and benefits from Ron's unapproved medication.
Ron's route into a customer base is facilitated by a transvestite, Rayon (Jared Leto) who is on an AZT programme but splitting his real drugs with a friend. Ron goes into business with him – Rayon gets a 25% referral fee – and they set up in a pair of adjoining hotel rooms selling membership to the so-called Dallas Buyers Club - you can't get arrested for selling memberships, only selling drugs. It's a neat way of getting round the law; Ron took the idea from another group – he does a lot of reading from surprisingly well-stocked libraries. There's a positive message right there.
Ron and Rayon's relationship is professional, with Ron relaxing his instinctive homophobia. Yet Rayon is addicted to drugs. Ron disapproves but doesn't try to wean his business partner off them; I wasn't convinced by this benign neglect either.
There is another wheel in this sexless triangle. Ron charms a doctor (Jennifer Garner) who administers the AZT programme for those not in the final stages. She turns against her programme after being convinced by an article in The Lancet. Her hospital, Dallas Mercy, doesn't stock it but Ron is able to get hold of a copy from his doctor buddy in Mexico.
The film is structured around the legal obstacles that Ron has to overcome to stay in business and get the medication he needs. It's all about living one more year. The process by which he does this consumes him, taking business trips to Amsterdam and Japan. His nemesis is the FDA, the Food and Drug Association, whose goal is to protect the public from unlicensed and unapproved products for ingestion. Ron accuses them of being in cahoots with Big Pharma (not his term). His drugs save lives; why should they be denied licences?
A caption tells us that Ron was indirectly responsible for saving scores of lives, after the dosage of AZT was lowered to prevent patients having their immune system depleted. I don't think he was necessarily responsible for that. His heroism is in prolonging his own life. The film is a tribute to drive, hard work and market exploitation. Director Jean-Marc Vallée does not go for the obvious period soundtrack and big emotional scenes. He also doesn't coherently show Ron's bodily disintegration. Ron looks the same thin weight throughout. The film would have gained more by pointedly charting his physical changes.
Why won't McConaughey win Best Actor at the Academy Awards? He does not give us a nuanced portrayal of a redneck. He also is let down by a script which should at least acknowledge Ron exploited others for his financial gain; he is treated as a med god in the movie. Jared Leto gives the more subtle performance, notably in a scene where he comes to his father for money. His performance is more likely to find favour with Academy voters.
Reviewed at Cineworld West India Quay, Screen 4, Friday 7 February 2014, 18:00 performance, before failing to get a ticket to see Suzanne Vega at the Barbican Centre afterwards; I did however see her blurred form on a TV monitor singing songs from her new album – not so much a 'Small Blue Thing', but a woman with her features effaced by light