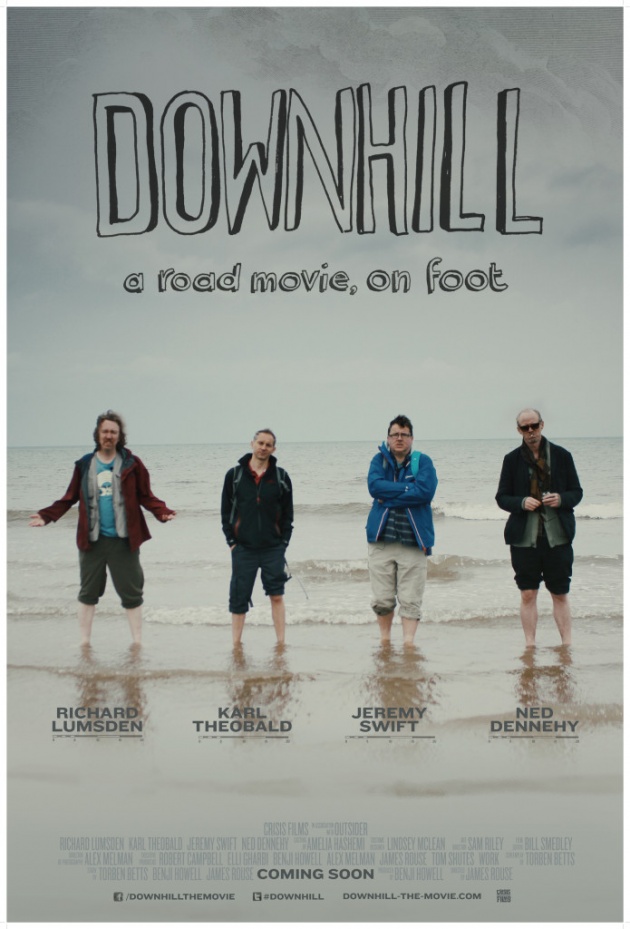 When someone first told me the title DOWNHILL, I thought they were talking about the movie of Hitler's last days in the bunker. 'No, it's about four middle aged men going for a 192 mile walk from St. Bees in Cumbria to Robin Hood's Bay in the North Yorkshire.' 'I didn't know Hitler was a walker, I thought he just used tanks.' The debut feature of commercials director James Rouse from a script by Torben Betts is a four star charmer, though actually it follows five men if you count the off-screen son of one of the characters holding the camera.
Most British films about middle-aged men tend to be about gangsters or monarchs with wife problems. So it is something of a joy for a film to focus on a group of regular blokes strolling about the countryside, drinking, cursing, stealing a golf buggy, paying for the damage, swimming in their underpants and passing wind. How could you not identify with that lot? It's rather like LAST OF THE SUMMER WINE, but much younger and with money, self-esteem, virility and sexuality issues.
The great thing about making a film about middle aged men from a copyright clearance point of view is that you don't have to worry about filling it with banging tunes. Admittedly, with a slightly larger budget, Rouse could have turned it into one of those karaoke musicals, 'I could walk 192 miles' to paraphrase the Proclaimers song, but I think that's been done. So after a rousing chorus of 'Enjoy yourself – it's later than you think', the Ska version, it's on with the twee incidental music.
Why should you see it? Because, in one way, it's about your Dad (it's a perfect Father's Day movie) the disappointed provider of lifts home, new shoes, twenty quid for a trip to the flicks (that doesn't buy much); the bloke who gets you up for important exams, or just gets you up after you have binge-watched episodes of MARVEL'S AGENTS OF SHIELD (happens in my house). Dads, as they say, are people too. Our four 'quadratic equations' (I could not think of the forty-something equivalent of septuagenarians) are not all parents – well, three out of four are married. Gordon Young (Richard Lumsden), pot-bellied, handlebar moustache, receding hairline, Gregor Fisher crossed with Bill Bailey, is a freelance nature cameraman waiting for his next gig. He is invited on the walking trip by Keith (Karl Theobald), a greying owner of a slate company, who has something to tell him about his marriage. Gordon invites Stephen (Jeremy Swift), a teacher of ungrateful students, who in turn invites tormented Londoner, a self-confessed 'patron of the arts', Julian (Ned Dennehy), the sort who would lead the Famous Five to the pub and then do unspeakable things to Timmy the dog (by which I mean, give him pints of Guinness). Julian supports 'a sculptor and two painters.' If they could do the repairs in his house, that would be fabulous. The stage is set for a British HANGOVER style comedy without the annoying Mr Chow or Mike Tyson cameos.
Now I know what you're thinking: middle-aged malaise, well-trodden path. What gives the film it's edge is the mock-documentary look, that Gordon gives his son Luke (Rupert Simonian) the opportunity make a movie about his old man and his foolish old school friends who have not seen each other for thirty years. The format, made popular by Ricky Gervais in THE OFFICE TV series, is now a bit of a cliché but here it is driven not by vanity of the participants but that Gordon wants to pass something down to his son. (Like I said, it's a perfect Father's Day movie.)
I don't want to say too much about what happens except that humour emerges from the everyday, jolly japes, sore feet, hangovers and a desire to be young again. On their way, they are joined by two young hikers, American Jen (Emma Pierson) and Brit Caroline (Katie Lyons), both would-be actresses (one starred in a Wonder Milk commercial, which I take to be the lactations that leak from Wonderbras worn by new mothers) causing much flirtation and a little bet.
I am glad to report that at no point do the characters get pursued by a bull – the budget wouldn't stretch to it. Rouse's film was made in locations that weren't locked off to members of the public, explaining the smudged face of a passer-by in one scene who had not signed a release form.
The revelations are real enough and there are plenty of chuckles. Dennehy gives a real star turn: he spits out his lines with acerbic bite. It is a perverse choice for a debut feature in that it is not youth-orientated but finally a good one. It deserves a visit to the big screen, perhaps after a 192 yard walk from the bus stop to the multiplex.
Reviewed at Soho Hotel, London, Wednesday 28 May 2014, 19:00.