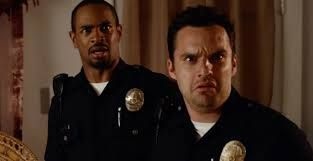 In movies, people who pretend to be policemen are actually murderous psychopaths who try to gain their victims' trust before slaughtering them in a graphic fashion. In real life, there are not many cities where pretending to be a cop is a good idea. Not only can you not legitimately arrest someone, you cannot even call for back up. It is bad enough being disliked for your own personality. Even worse to be resented for the uniform that you wear. It is however the premise for the tiresomely unfunny comedy, LET'S BE COPS, which pairs NEW GIRL small-screen stars Jake Johnson and Damon Wayans, Jr.
They play friends from Ohio who find it hard to make it big in Los Angeles. Johnson plays O'Malley, a former college football player who was forced out of the game through injury, reduced to appearing in a STD awareness commercial and teaching kids in the park his old game. (That's a red flag right there.) Wayans, Jr plays Justin, a video games designer whose 'Patrolman' game is overlooked in favour of 'Firefighters Verses Zombies'. (The film isn't even rooted in video game reality.) Amazingly, this pair gets invited to parties, though O'Malley confuses a masquerade ball with a costume party. They dress up as cops in realistic uniforms used for Justin's videogame. Discovering the power, respect and access that the uniform gives them and surprisingly (mostly) unchallenged by real cops, they keep the masquerade going, falling foul of a gang that might be Eastern European, possibly Latino, who smuggle guns and stuff. As O'Malley gets deeper into his role, so he keeps promoting himself.
Johnson is a charismatic comedy actor adept at playing guys who get carried away with bad ideas. The fun is in watching him pull off something outrageous when he doesn't have the skills to do so. O'Malley hasn't worked for several months, but he finds $2,000 to buy a mint condition police car on eBay and ride around the city unchallenged. I suppose the sub-textual joke is that they get away with it for so long because there aren't many cops on L.A. streets, especially in the nicer parts. The police are called to emergencies rather than patrol precincts, looking out for misdemeanours. The film's best joke contrasts fake cops with real ones; real cops (illustrated by one played by Rob Riggle) don't get on with their partners so well.
This August is a bad time to release a cop-themed comedy, given the police-shooting inspired unrest in Ferguson. Race is less of an issue here, though one character is criticised for attempting a Latino accent. This comedy, directed by Luke Greenfield, features such familiar ideas as: Justin falling for a girl he is unable to talk to until he puts on the uniform as 'Officer Chang'; the curly haired, overweight outsider kid who gives O'Malley moral support; and the comedy criminal who becomes a police informant.
The second point of the movie is that people become cops because of the dysfunctional inadequacies that they possess. This explains the 'happy' ending. The bad guys are strictly cardboard and include Andy Garcia wearing a neatly-trimmed white beard, who has form in the genre (as a good cop in INTERNAL AFFAIRS and JENNIFER EIGHT). Most of the 'fun' bits, in which O'Malley puts his internet knowledge to use, breaking up a fight between sorority sisters, are in the trailer, though the end credits also suggest the 'fun' ways fake cops can affect psychological damage on an unsuspecting public. I see a JACKASS spin-off: BAD POLICEMAN.
Reviewed at Cineworld Shaftesbury Avenue, Screen Two, Friday 29 August, 2014, 21:30 screening