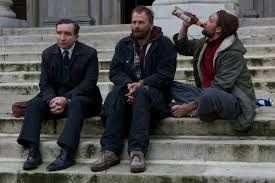 Still Life, the second directorial effort of former producer Uberto Pasolini (The Full Monty) is a study of a London council employee, John (Eddie Marsan) who buries the forgotten. He takes care of the corpses in his borough (a thinly disguised Southwark) who die without next of kin. He arranges the funeral and then internment appropriate to the assumed faith of the deceased. This bespoke, unspoken service costs the borough big money. John, set in his ways, is told he is being made redundant. However, he is told he can finish up his casework, in particular tracking down those who knew a drunken neighbour. He tracks down friends and family members inviting them to a funeral that they are not obliged to attend. For their part, they have mixed unsettled memories. Do they want to admit that his death matters when he abandoned them in his life?
The title refers explicitly to Marsan's character, obsessive and a loner. Without the job he has nothing. So John is more determined than ever to give this unknown man, this reprobate, a proper send off.
A heavy cloud of pathos hangs over Pasolini's film (he also wrote the screenplay). Yet we root for John and feel for him as the people he meets reject his mission. The film has an element of a modern Canterbury Tale, a Camberwell tale, if you will, with John assuming the role of a pardoner. In attending the man's funeral, the deceased is forgiven.
It helps for John's cause that the dead man was not guilty of monumental transgressions – he wasn't a rapist or murderer. John even falls into some of his behaviour – drinking with two homeless men – in his quest for the truth about the deceased. John's intrusions are enacted with feeling; he doesn't arrogantly assume that they need to see him.
The ending – pathos in extremis – is heavily signposted. The drama is eminently watchable through Marsan's performance. He does small men really well, men knotted by frustration, but in John's case finding calm in making arrangements. Ritual is a sedative and also his saving grace.
Still Life won't trouble Jupiter Ascending or The Interview at the box office, but it has its own appeal. You remember Marsan's vivid sketch of a man. He stays with you.
Reviewed at the Soho Hotel, Wednesday 1 October 2014, 18:30 screening