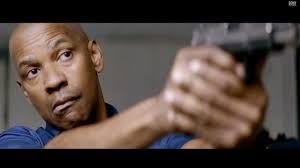 In THE EQUALIZER, Denzel Washington proves that you're never too old for a franchise. This is his DIRTY HARRY, DEATH WISH and RAMBO all rolled into one. He's not a cop, outraged citizen or a disaffected army veteran in this, rather a retired Special Ops guy, Bob McCall, who witnesses a call girl, Teri (Chloe Grace Moretz) being mistreated by her escort agency and decides to do something about it. Before you complain, 'that doesn't sound like much', the girl is being pimped by the Boston arm of the Russian mafia, guys with skull heads for paper weights, a surplus of tattoos and an upward scale of , 'I don't give a spit, you pay me.' We learn in a skewed example of 'freaking heck-onomics' that if the pimping business goes sideways these Russians can't move their stuff. I could only conclude on behalf of screenwriter Richard Wenk, who has a masters in 'skip it, it doesn't matter' that money from one activity pays lackeys in another, though as we see later, that doesn't add up.
THE EQUALIZER is the big screen version of the 1980s TV series of the same name, in which Bob (Edward Woodward) answered calls for help from 'those who couldn't help themselves' (description courtesy of the film's director Antoine Fuqua). Whereas Woodward's Bob droves a Jaguar and wore an overcoat, looking like a hitman with nicer manners, Washington's McCall brings his own tea bag to his local diner to sit in the corner ploughing through the hundred books you should read before you die. (I don't think 'War and Peace' is among them, but 'The Old Man and the Sea' is.) He can't sleep and lives his life by his stop watch. Wenk conceived the character as an obsessive-compulsive but this isn't explicit. Besides, if a character has a flaw, the villains usually exploit it. There is a version of that here, but it is not OCD-related.
You couldn't imagine Woodward working in a home depot-type store as Washington's McCall does here. He is a popular employee, teased as 'gramps' by younger staff who wondered what he did previously. 'I was a Pip', McCall explains. 'A pimp?' 'No, Gladys Knight and the Pips'. The kids check out 'Soul Train' on their Sony mobile devices to check. (There is a lot of product placement in this, including for Dasani Water.) McCall coaches Ralphie (Johnny Skourtis) an overweight Hispanic employee to get into shape in order that he can make security guard, which is apparently better than moving heavy pallets around all day. (I imagine security guards get donuts). McCall gets involved when Ralphie's mother's restaurant has suffered fire damage, the lady having been unable to pay corrupt beat cops on the take. After a brief exchange to show off his Special Ops skills, McCall gives them the opportunity to make amends for their action.
McCall is all about the offer, a chance for the villain to extricate themselves from bad stuff. His offers don't add up economically, but that is hardly the point. I wonder if one of the subtexts in the film is that if you are involved in making bad stuff, you deserve a crappy settlement for your efforts. This seems an indictment of staff who work on production lines making defective goods. I would say, 'hey, it's not their fault the goods are badly designed and use toxic materials – take it out on the bosses'. I don't think Fuqua and Wenk want us to think too much about McCall's style of business negotiation. (Evidently one of the '100 books you should read before you die' doesn't include literature that promotes the rights of the working person.)
At any rate, after the girl is badly beaten up, McCall offers Russian hoodlums $9,800 for to set her free. They tell him to take his money and walk away, grandpa. Like a Clint Eastwood character before him (there are elements of GRAN TORINO here), McCall walks away, makes some mental calculations (the camera zooms in to his eye and we get fish-eye close ups of stuff in the room and exposed weak points) before, roughly thirty minutes into the film, he swings into action.
McCall's nemesis here is a Russian cleaner (Marton Csorkas) sent by the boss, Pushkin, after McCall leaves five men dead in what the media call a gangland hit. I know Wenk is making a literary reference in naming his Mr Big Pushkin, but he clearly doesn't appreciate the Russian author's work; I'd rather skip his literary recommendations, thank you. The cleaner expects everybody to do his bidding and has the certainty of his physical prowess to follow through if they don't. He doesn't mind offending local minorities, well, the Irish, even though they weren't involved in no Little Odessa whacking. If he is lied to, he shows no mercy, as is evidenced by his treatment of a call girl. Weirdly, he never visits the hospital to see Teri.
Once McCall knows someone is on to him, he seeks help and it is only here that we are certain that he wasn't a backing vocalist. There can't be many examples of thankless Bill Pullman and Melissa Leo cameos in a movie, but there's one here.
In Fuqua's film, McCall doesn't carry a gun but tackles the bad guys using a variety of instruments, stuff as the info-mercial might say you can find in your own home: corkscrews, fire extinguishers, chicken wire, nail guns, even a microwave oven and some oxygen tanks. (How do you get oxygen tanks into a microwave?) It does make for some gruesome death sequences (the corkscrew through the chin) but I'm not sure what the point is except to remind us of James Glickenhaus' seminal 1980s exploitationer, THE EXTERMINATOR. (McCall doesn't read 'The Anarchists' Cookbook', though – it's not on the list.)
With bad cops who 'disrespect the badge' and nasty Russians acting out of thuggish (and inhuman) self interest, THE EQUALIZER couldn't be more timely. Yet, I felt that the arrogance of one man taking down a Russian criminal infrastructure, and blowing up a cargo ship and pipelines in the process, couldn't be further removed from reality, particularly in the light of President Obama's response to events in Ukraine. Obama is engaged but is adamant 'Europe should address this problem'. In other words, you try to get Ukraine to cement trade links with the EU instead of with Russia, you pay the consequences. Similarly, President Obama's response to events in Ferguson, with cops 'disrespecting the badge', couldn't be less firm. Are Washington and Fuqua presenting a version of an African American President, a true Equalizer, not just on healthcare, that they would like to see? 'This is not a political film,' says Fuqua, 'Sure people can read stuff into it.' At any rate, when Washington walks towards the camera, with the explosion of Russian-owned assets taking place behind him, I had to suppress a massive snort of derision.
THE EQUALIZER looks set to do really well; I call it THE SEQUELIZER. Washington hasn't been this action-bad-ass since MAN ON FIRE. One senses that Tony Scott would have got this directing gig if he were still alive. (Fuqua confirmed that Washington came to him, causing him to put his project SOUTHPAW, subsequently completed, on hold.) If it is a hit, it won't be an honest one. I didn't believe in Washington's fantasy role model – it is too far removed from reality. Also, you notice that McCall takes too long between shots when using the nail gun. There should have been an almost dead bad guy to exploit this.
Reviewed at the Mayfair Hotel, London, Thursday 18 September 2014, 18:30, with director Antoine Fuqua in attendance; with thanks to denofgeek.com and Sony Pictures UK