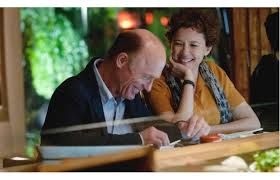 In a parallel universe, Annette Bening would be in serious award contention for her performance in The Face of Love, co-written (with Matthew McDuffie) and directed by Arie Posen. As Nikki, a widowed house dresser whose husband, Garrett (Ed Harris) died on holiday in Mexico, she is a mesh of tightened face muscles. Nikki has no desire to experience romance again. The attentions of her equally widowed neighbour, Roger (the late Robin Williams) do nothing for her. She is a woman who, like a character in a science fiction drama, doesn't want to make new memories. She's in a state of drift, saying goodbye to her adult daughter, Summer (Jess Weixler) who is in some form of decaying relationship herself and moving out of the family's Los Angeles house. Bening commands your sympathy in a way that is surprising. You take the leap of faith with her character when Nikki encounters an art tutor, Tom Young, who is the spitting image of her late husband (and also played by Harris).
The Face of Love differs from Enemy and The Double, two other recent films about doppelgangers, because the 'double' never meets the man he resembles. Tom reacts to Nikki like he has been given the gift of a beautiful, compatible, easy-going woman, his previous relationship having deteriorated. Tom is stalked by Nikki, agrees to teach her to paint – she doesn't have the talent – and accompanies her to art galleries. He falls for her not knowing that she only sees him as her husband; she does all but ask him to remember stuff. But then he starts to notice things aren't right. He is greeted in Nikki's favourite restaurant like he has been there before, and Nikki hides him from Roger.
Ostensibly, The Face of Love is about necrophilia. Tom didn't have to be played by the same actor; after all, Nikki is projecting the image of her husband onto him. Before the restaurant scene, I wished Posen (whose previous film The Chumscrubber starred Jamie Bell and Ralph Fiennes) had actually made the choice that Tom didn't really look like Garrett, or sound like him for that matter. (They have the same voice, how is that even possible?) He takes what would be a naturalistic response to grief and situates it in an improbable setting.
Throughout, Nikki pretends that her husband left her. This does rather heavy-handedly underscore that she is living a lie. The drama develops into a double ticking time bomb, especially when we learn something about Tom that could exacerbate Nikki's grief.
I – and audiences – might have wanted a more naturalistic film but The Face of Love does explore the delusions of traumatic love with understanding. Bening makes the premise fly. Her Nikki fights for Tom like a wild animal. For her, Tom is like a drug that can give her peace. Nobody else matters.
Throughout the film, Tom is working on a painting and when we see it, it doesn't disappoint. It is a sophisticated portrait that reflects back the themes of the film.
The Los Angeles of the film is one that might not be familiar to moviegoers. It's not Hollywood, Beverly Hills, Santa Monica or Inglewood, rather a quiet suburb (I placed it near Westwood), with LACMA, the Los Angeles County Museum of Art, not far away. It is a good advertisement for that museum, but also for Bening, who plays a strong woman battling for her heart's desire at the same time as downplaying her joy of being allowed a continuation. Ed Harris is in charming mode and, as he proved in Pollock, can wield a paint brush convincingly. Williams dials down as Roger, a man who has known defeat and has a sense of his own absurdity, especially when wanting to use Nikki's swimming pool.
The reason that The Face of Love isn't in award contention is that it did not receive a wide release in the US last March (and went almost immediately to Video on Demand). But who knows. With a, er, Facebook (of Face-of-Love-Book) campaign, things could change.
Reviewed at Fox Preview Theatre, Soho Square, London, 10:30am, Thursday 4 December 2014; opening in the UK on Friday 12 December
https://www.youtube.com/watch?v=mr1T86uU5vE&feature=youtu.be