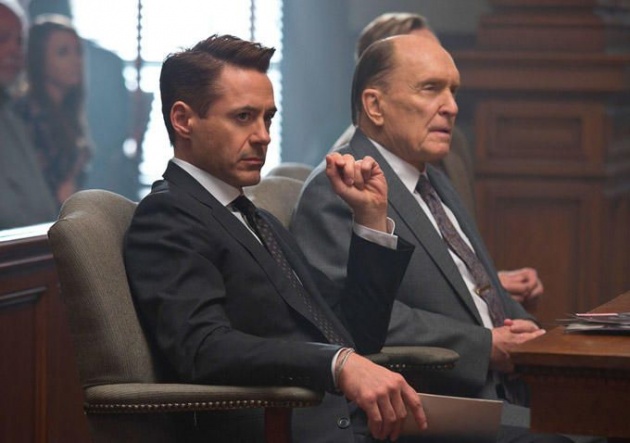 An actor becomes a star when they find the right register. In Robert Downey Jr's case, it's fast-talking, smart-ass, dismissive, intense yet charismatic. As Tony Stark in IRON MAN, he truly grasped his mettle. Stark warns you not to trust him. Then he becomes a self-fulfilling prophesy. What he doesn't verbalise is his desire to make amends. He is never going to try to convince us that he is a good guy; he is too proud to do that. Instead, he treats heroism as an unintended consequence. Outwardly, he is still having fun, meeting the public on his terms. Inwardly, he is saving the world without asking for favours.
Now Downey Jr has taken his millionaire industrialist Stark persona and clothed it in lawyer's threads. Like Stark, Hank Palmer in director David Dobkin's THE JUDGE is an unapologetic bad boy, a defender of corporate frauds. Hank's clients are guilty but rich – 'the innocent can't afford me'. Hank mocks the prosecution for being weak and ill-prepared. He treats justice as a game he can win. He knows the rules, can deduce players' hands and doesn't pretend that righteousness has anything to do with it.
As in IRON MAN, Hank reaches a heroic turning point. Returning to his mid western home town to attend the funeral of his mother, he finds his father Judge Joseph Palmer (Robert Duvall) is accused of murder.
Naturally, Hank has to defend him, but he and the Judge don't see eye to eye. The Judge would rather hire a local lawyer (Dax Shepard) than use his services. But the prosecution is a slick ol' cobra (Billy Bob Thornton) who has form with Hank.
THE JUDGE is a courtroom drama about the mistakes one makes as a parent, in particular when you see your child in others. Judge Joseph is accused of running down a convicted killer. However, he has no recollection of the event. The story twists agreeably. What is most commendable is that you can see the logic of Joseph's behaviour.
Outside the central testy father-son dynamic – wild boy Hank was something of a disappointment to the old man - Nick Schenk and Bill Dubuque's screenplay suffers in the sub-plots. Hank reconnects with his high school sweetheart (Vera Farmiga with blonde hair) and negotiates the tricky question of the young woman, Carla (Leighton Meester) with whom he got intimate in a bar. Also, there is tension between Hank and his older brother, Glen (Vincent D'Onofrio) that doesn't quite come to the surface. Because of Hank's driving, Glen's promising baseball career is cut short, yet the older brother does not express resentment. There is a later plot development involving Carla when you think 'what the –'. It makes you wonder why at least one person in the Judge's family doesn't know 'the secret'.
The writers' worst idea is Hank's possibly autistic younger brother (Jeremy Strong) who records everything with an old Super 8 camera. Or rather he pretends to use it; it's a comforter. This gives the makers an opportunity to weave in some archive footage of the Palmer family in 1980s attire, though in my experience, the footage wouldn't look as pristine as it does here. And have you tried to buy a bulb for a Super 8 projector? Not easy.
Of course, Hank finally represents his father in court – the local lawyer conveniently is a vomiter – and Joseph has a secret to spill.
Downey Jr and Duvall make good sparring partners and when you see Hank arguing with his father, you recall that Downey Jr's off-screen relationship with his filmmaker father had its moments.
At 141 minutes, THE JUDGE is too long. But it does fulfil its brief. I baulked a little at the occasional dissolve and the camera craning up at an emotional moment on a lake when it really needed to stay still. There is an obligatory cute kid, Lauren (Emma Tremblay), Hank's daughter from a collapsed marriage, who reveals characters in a kindly light, and a discussion about whether you would stop for road kill. (The answer is: only if you are feeling peckish.)
THE JUDGE creaks to its climax. It is somewhat better than a guilty pleasure – I didn't feel that guilty I enjoyed some of it – but it doesn't elicit the intended emotional response. Your reaction to it depends on whether you buy Downey Jr as the lawyer doing his thing. I did. Verdict: likely to be dismissed by Oscar voters, but definitely not a trial.
Reviewed at Cineworld Haymarket, Central London, Monday 13 October 2014; 18:30 press screening