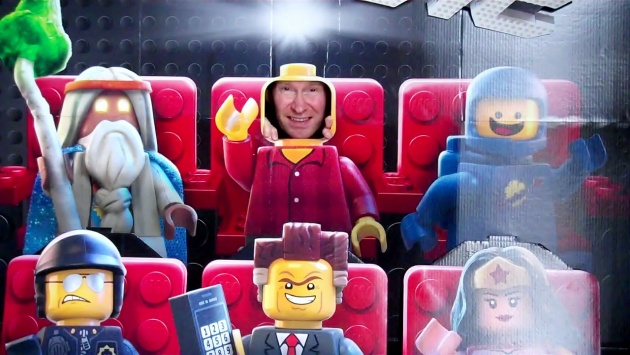 I hadn't built up many expectations for THE LEGO MOVIE, the first film to be inspired by a child's toy since MEC-CARNAGE, Roman Polanski's construction toy spin-off - don't look it up on imdb, really. However, it is a genuine blockbuster with wit, franchise characters and a half-way decent STAR WARS joke. Yes, it had me with that bit with the Millennium Falcon; cruel, but it's only Lego. It has been acclaimed by Michael Moore as an anti-corporate blockbuster. I don't see it myself. For the meaning of the animated feature, directed by Phil Lord and Chris Miller (CLOUDY WITH A CHANCE OF MEATBALLS, 21 JUMP STREET) changes in the last twenty minutes. There are some animated films that can make the leap from cartoon to live action work – THE SPONGEBOB SQUAREPANTS movie, for instance, or OSMOSIS JONES, the latter was in reverse. There are some that don't. Don't tell me I didn't warn you.
THE LEGO MOVIE is set in a world where every character is made of Lego. I know, right! I was expecting a random reference to THE SEVENTH SEAL, but that happens in another forthcoming children's feature. (Not saying!) Our hero is Emmet (voiced by Chris Pratt). He is a construction worker. He does what the manual tells him to do in order to fit in. But he's a Lego figure. He fits in until he gets knocked over. I always found Lego figures really frustrating. You can only move their limbs so far. Plus when you made something, there was an anti-climax. I followed the instructions and made a perfectly functioning X-Wing Fighter. Now I have to put it on a shelf.
That's quite enough of my thirties. Emmet accidentally discovers the 'piece of resistance' which gets stuck to his back. If I had something like that on my back, I'd pretend I was wearing a jet pack. But that's enough of my forties. Anyway, the piece of resistance is sought by evil President Business (voiced by Will Ferrell) who considers it the only thing that can stop his secret weapon.
Pursued by Good Cop-Bad Cop (Liam Neeson), Emmet leaves the city with the adventurous Wyldstyle (Elizabeth Banks). They hide out in Wild West Land, though I thought it would resemble a girl's bedroom. Emmet is thought of as a Master Builder and a saviour of Lego, but he lacks creativity and is totally unmemorable, agreeing with everyone else and having no distinguishing features.
The film has the veneer of a corporate satire but I didn't understand how President Business could turn a profit by destroying stuff, as he plans here. He surely needs a buyer. The film nominally celebrates the imaginative, who take a Space Station and turn it into a random arrangement of bricks – yay! I always thought you built other things out of a Lego set because you couldn't follow the instructions or lost a small piece, so I don't know how this is supposed to constitute Free Will, which is of course another Warner Bros franchise; surely one due for a re-boot but I would not to wear footwear made out of whale skin.
There are cameos from numerous Warner Bros franchise characters like Batman (Will Arnett), Superman (Channing Tatum), Green Lantern (Jonah Hill) and of course Martin Riggs (Mel Gibson) – well, maybe not Martin Riggs, but wouldn't it be great if Gibson renounced anti-semitism. There is even a yet-to-be franchise figure, Wonder Woman (Cobie Smulders). Some of the characters from STAR WARS turn up because Lego had been good to George Lucas' franchise keeping it in the public's affections in the lean years of THE PHANTOM MENACE (1999), ATTACK OF THE CLONES (2002) and REVENGE OF THE SITH (2005).
By the end of the film, Emmet goes to the 'other' other side and that means sentimentality. If you have something stuck in your throat, watch this film; it'll make you want to sick it up.
I did laugh a few times, but I watched a 3D version with 3D glasses over my actual glasses and that never works (I should claim a discount). Arnett has a funny Batman song though.
As kids' movies go, it seems to appeal more to adults. The last part of the film is about adults playing with the toy; they take it super seriously and that's just wrong. This has nothing to do with a corporate satire; rather it is about acknowledging that engineering to a plan isn't for everyone.
There is another kids' movie coming up where the villain says 'do what you like'. This makes an interesting point of contrast. One studio, who makes Warner Bros cartoons, proposes anarchy, the other proposes the well-rehearsed routine from A CHORUS LINE ('I hope I get it' – the pop culture reference, that is). Who's right?
I never thought of Lego as inspiring my imagination. I used it to make a crude replica gun because such toys were banned in my house – we were supposed to play with rolled-up newspapers as swords instead. The Lego replica gun was no substitute for a real plastic gun with a working trigger. THE LEGO MOVIE is no substitute for a film like MONSTERS INC with a really imaginative premise and a better laugh rate. It also has the best end shot of any Pixar movie – 'kitty!' I'm happy for Messrs Lord and Miller but I would welcome a remake – something with a better plot.
Reviewed at Cineworld O2, North Greenwich, Wednesday 19 February 2014