Still from First Day

Anderson West joined the Film Annex platform less than 2 years ago with First Day, a very promising short film that made us want to know more about him. Through his other movies and blogs, we discovered a passionate filmmaker who hopes one day to dream for a living. We chose his Web TV to be featured in June 2012 and it generated almost $9,000 in one week. Here is an interview about his work and how he promotes it, his projects and views on social media and film promotion.
Film Annex: When did you join our platform and what or who brought you to us?
Anderson West: I joined Film Annex about a year and half ago. The reason I came to this site was because a good friend of mine and fellow filmmaker (Mark Kuczewski) told me about the War of Films contest in which you could win money if your films had enough votes/likes. So I thought why not, we spend enough money making these films, so why not have a pop and see if we could at least recoup the budgets. Anyway long story short, I entered the contest for March 2011 and finished 2nd. It was a bit disappointing not to win, but at the same time getting that exposure was great.
FA: Your Web TV was featured on the homepage for one week last June. How much money did you earn during this period and how are you planning to use this money?
AW: That week was a bit surreal. It was great to be featured and even better having my films watched by that many people. I made according to the stats, over eight and a half thousand dollars, which is pretty awesome for a week's work I'd say. How I plan to use to the money? A new edit suite and if all goes to plan, on my next film.
FA: How do you use the Internet and social media to promote your work? How important do you think it is in promoting and distributing your movies?
AW: Personally, I try to put my work on my Facebook and Twitter. The line between being a show off and promoting is a fine one, but the line between being humble and a recluse is also even finer. So I think Twitter is a great platform. It cuts out having to write a paragraph description of what it's about. It's almost like you can say "Hey check out this interesting film I made about a kid in detention". Obviously, the catchier the short premise the better. I think we live in a skim read and one click generation, which is sad I suppose, but you have to give people content without any barriers of entry, which is why the Internet is so great for distributing content. For promotion, it's cheap and easy. I do still think festivals are important however, as because the barrier of entry is so low on the Internet, there is a lot of rubbish circulating out there. So I feel a good festival screening or two is almost like a "seal of quality". And the audience is more focused at a festival, so why not do the festival run first, then get your films out there. Seems to make sense to me. As for distribution, I think everything is digital, although people still love a DVD. I think in 5 years time, almost every film will be available digitally in a streaming-like service. Because Netflix is still pretty bare at the moment. So if everything is moving this way, why shouldn't the filmmakers get a slice of that.
FA: What directing and film promotion tips would you give to aspiring filmmakers?
AW: All I can say from what I've seen, heard from more experienced filmmakers/directors, is to just do it. People put so many barriers of entry into filmmaking, whether it's the camera they use, whether the script has been seen and approved by experienced screenwriters, whether you use Final Cut, Premiere or Avid, or even if your film satisfies everyone (which it won't, unless you're Christopher Nolan). Just go out an do it, because if you have talent, no barrier of entry will stop you. Only you can stop yourself. As for promoting, personally I don't like to be constantly plugging myself and telling people to look at my work every single day, but if you are comfortable doing that, then do it. But tell everyone you know about your films at least twice. And then, as my University lecturer Dan Hopkins would say, send it to as many film festivals as possible. Once that's exhausted, unleash your magnum opus to the World Wide Web. Or do that all in reverse, which ever you are comfortable with.
FA: Do you think that festivals, word of mouth, or networking are as efficient as online and social media promotion?
AW: In all honesty, festivals aren't as "efficient" as online promotion (and by efficient I mean cheap). However, what it does give you is a more focused audience. The Web sometimes can be hit and hope because everyone is uploading their stuff online and there is so much content for the audience to sift through. Festivals (if your film is good enough to get in) give you an audience of film enthusiasts and a screening, and seeing your film on a big screen is like no other experience. It's important to remember that before the Web, people were making their reputation around the film festival circuits and doing great. For me, winning an award at a film festival means your film is worth watching, simply for the fact that the judges would have had to sift through content to choose your work, so in a sense already doing an audience's work for them. So why not put a trailer of your film online and then send your films around to do different festivals for 6-12 months, then release it online. You never know what could happen.
FA: Would you recommend Film Annex to other filmmakers? Why?
AW: Yes I would recommend it to almost any filmmaker. Film Annex for me is doing a great job with the content and featuring of filmmakers. It puts the emphasis on the filmmaker and their collection of films, as opposed to the film and then "oh here's the guy who made it", which is an interesting approach.
FA: What is your next or current projects?
AW: At the moment I have two projects upcoming, Rest a Short visual haiku (I guess that's the best way to describe it). Here is a little synopsis: On the journey of life we all have our baggage, our problems, our burdens. Five souls walk with their baggage weighing them down on their journey. As the road gets rockier and more unpredictable, these 5 souls will realize they need to let go of all their baggage and rest. But who is going to help them? We have already cast and will be shooting that in mid to late August. The big one that I am still fine tuning (you can never stop fine tuning really) is a film called 7x7x7. It's a short drama about 3 people who are stranded on a bus in the middle of nowhere. We discover that these 3 people are actually connected and that this "journey" was always meant to happen. I'm getting inspiration from films like Babel and Syriana in terms of their interconnected characters. These are my two next projects. I look forward to making them, but more importantly, making something that will help people feel better.
And I just wanted to put a shout out to some of my fellow filmmakers and old friends. Check out their Web TVs: Mark Kuczewski, Tim Orchard, Jack Tew, Andy Parker, Sorcha Anglim and Amy Hill.
And also if there are talented crew and actors based in the Northwest of England or in Florida who are interested in collaborating on some upcoming films this late summer and fall or next year, don't hesitate to send me an email at hello@andersonwest.co.uk.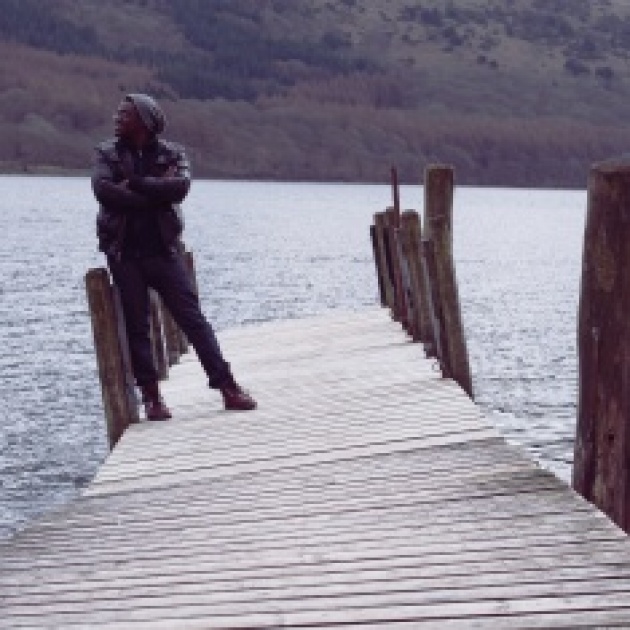 More about Anderson West: West is an award winning Florida based filmmaker who likes to shoot what he knows. He has directed, produced, and shot several short films and music videos, directed corporate films, and is now working in camera department in advertising.

- Interview by Jennifer Bourne