Last December 2, 2017, we attended the wedding of my best friend as well as the Ninang of my daughter named Cynthia to tie-the-know to his husband Troy.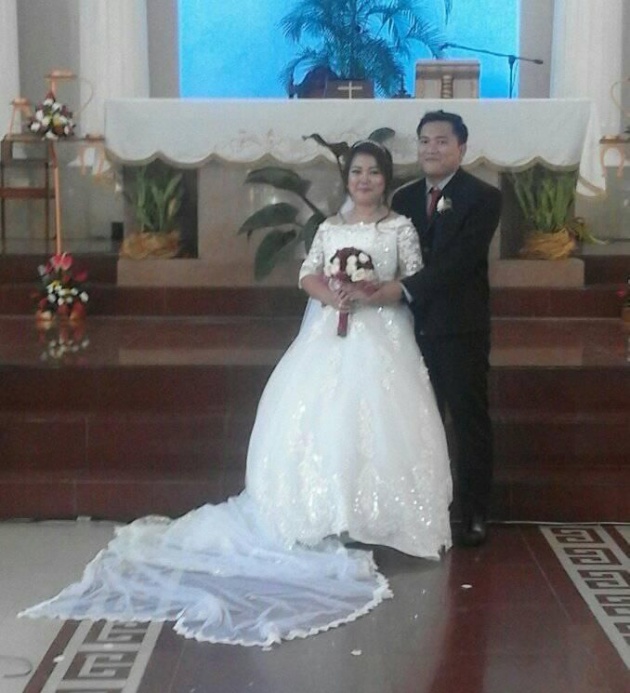 The newlywed Cynthia and Troy
THE COUPLE
Cynthia and Troy are both teachers of Lanton Central Elementary School. Cynthia teaches the kindergarten and Troy teaches as Grade 4 Teacher. Cynthia is from General Santos City and Troy is from Davao Occidental. Are they destined? I think they were. They met during the first day of duty of Troy in the current school mentioned. Cynthia has been teaching there for two years already before Troy came to that school. It is because of a broomstick, they have been friends. Yes! Broomstick (walis tingting in Tagalog)! During Troy's first day, he is assigned in the back of the covered court, the only room there so as new and no other friends yet and due to lack of materials especially cleaning materials to be used, he asked one of the teachers and it was Cynthia. To cut the story short, they become friends and during those times, they got struggles too. Problems, troubles but they both present in those times when someone needs. And now, they were officially Mr. and Mrs. Butaya.
THE FLOWER GIRLS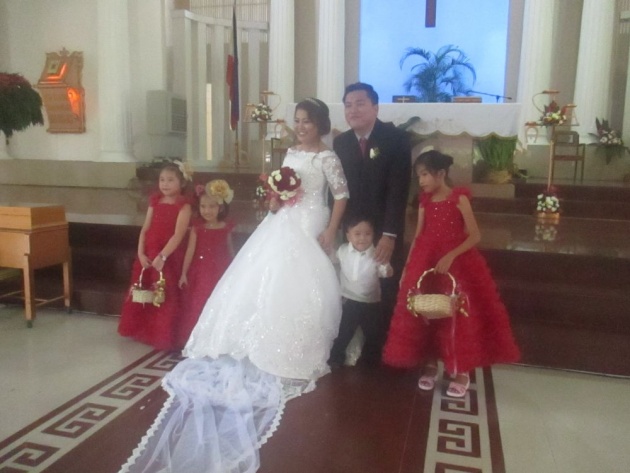 The Newly Wed, The Flower Girls, and Mackie - The Ring Bearer
Yes! The Cynthia & Troy Wedding is so special. They wanted to let their witnesses see how they give importance to a matrimonial ceremony. They got the whole entourage too. And my little princess had been chosen as being part of their flower girls. Honestly, I don't know the feeling of being part of a wedding and I don't experience to be the bride too so it is really a great opportunity for my daughter to experience this kind of event. They got three flower girls and my daughter is the youngest of the three little girls. It is really a great day for my daughter since she experienced new things plus she found new friends.
THE EYES OF THE LITTLE PRINCESS SHUN LEANNE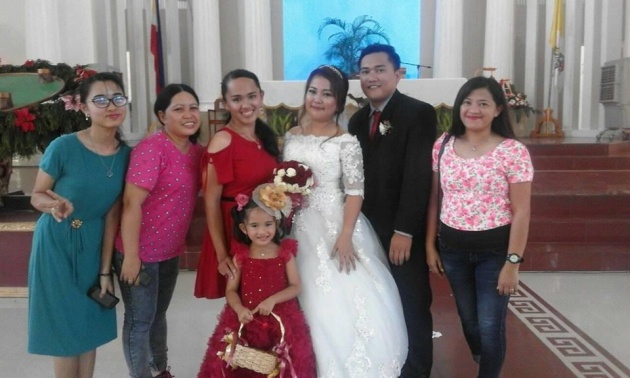 LJ, Ate Nalyn, Me, Shun Leanne, Cynthia & Troy and Margie - Cynthia's Childhood Friend and Our Classmate
Shun Leanne can't go alone in the said wedding so she got three eyes. Yes, three of us since I don't want to waste all of my time looking after her and we all want to feel the moment too so we planned that the three of us is shifting in looking after in our little princess. The 4-year old kid is really difficult to take care since it is the time of being curious about everything around her, she roamed around, she played and went anywhere she wants without listening to someone calling her. I, LJ and Ate Nalyn witnessed the whole celebration and we are glad of giving us the opportunity to witness it too. Thank you for the couple!
SHUN LEANNE IN THE AISLE
Sorry for the noise... (stage mother mode)