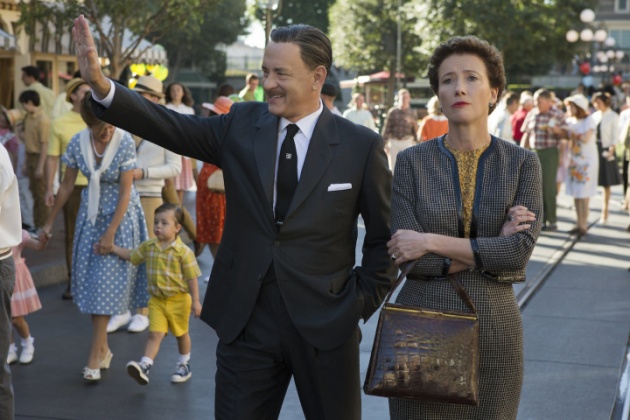 This picture speaks volumes! Thanks to Time.com, we have our first look at Tom Hanks as Walt Disney and Emma Thompson as author P.L. Travers in "Saving Mr. Banks."

Travers wrote the novel "Mary Poppins" and "Saving Mr. Banks" focuses on Disney's twenty-year pursuit of the film rights to the novel about a magical nanny. We loved the ultimate film product but behind the flying umbrellas lies a rocky relationship between Disney and Travers.

Walt Disney Studios is releasing the film this coming holiday season just in time for the Oscars.

Thompson told Time that Travers is the most difficult person she has ever played. The actress said, "Often I play people who are controlled by some very clear guiding moral principles. Like Margaret Schlegel [in Howards End], guided by the early principles of feminism and equal rights, and Elinor Dashwood [in Sense and Sensibility], guided by the principles of decency and honor. There are very clear moral prisms these women pour life through, and I understand that very well. And [Travers] was not like that at all. She was far more chaotic and confused and morally various."

In the picture provided by Time, Travers travels to Disney in 1961 to meet the man behind the studio. Just look at her sullen face!