First Pakistani Film-The birth of Pakistani Cinema
The long exciting, colorful and musical journey of the Pakistani film industry started with the release of first Pakistani film named "Teri Yaad". This film was released on the "Eid" in August 1948. According to many this was a flop and very substandard film but it still holds the honor of being the first film in the history of Pakistan. It was first shown in cinema now called "Empire Cinema", at that time the cinema was known as "Parbhat Cinema".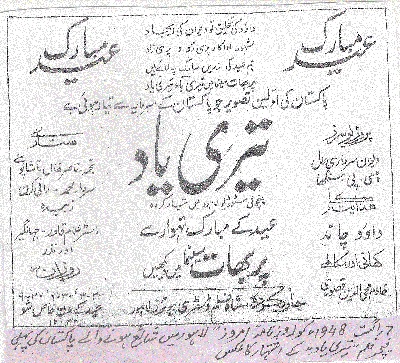 It is very unfortunate that no one knows what was the story line of the film except till the interval because this movie was not saved on records and the people who actually witnessed it are no more alive to tell the story. The story before the interval was not much enchanting. This film was about a woman whose daughter was brutally gang raped by some people. To get rid of this shame she murdered her own daughter and buried her, but after that this sin of murder did not leave her in comfort. She became a mental patient. Then a doctor suggested to her that she should adopt a child and raise the baby as if it was hers. She did the same and adopted a child but unfortunately the baby girl she adopted turned out to be a mess for her. How the orphan child proved so disturbing and what happened after this in the story, is a mystery.
The cast of this film was also not good. The heroine of this movie was "Asha Posley" whose actual name was Sabira Begum. She was not a popular actress and was not seen much as a leading heroine in solo role after this movie. The hero also was a quite unknown figure to the public, his name was "Nasir Khan". His film career also proved to be practically ended at this film. The financer of this movie were non-Muslims named "Dewan DP Singha" and "Dewan Sardari lal". The director of this film was "Dawood Chand" who was surprisingly the father of the heroine Asha Posley. His another daughter "Rani Kiran" was also a part of this film in a side role.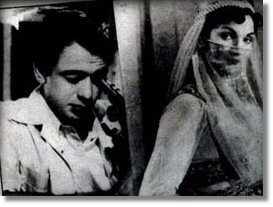 Another unfortunate thing about this film is that its music not available anywhere and no has ever heard any song of this song. It has a total of ten songs.
Although it was a flop film but its importance cannot be denied because it proved to be a motivation for the film makers to continue their film business in Pakistan which ended due to the Indo-Pak subcontinent separation.
Following video shows some of the known photos of the heroine and the hero. It also shows some posters of the film that were released for publicity.