Five Best Udemy Courses For Startups And Business Ideas In 2017 and 2018
We all know that the Internet is full of resources. With internet, we can learn anything, anytime we want. The best thing about the Internet these days is that there is a course for almost everything you need to know, and at whatever level you're standing to learn at, you can be a beginner or a pro. There are plenty of websites out there that intends to provide quality education by both- Free as well as Paid courses regarding every single possible thing, from hacking and coding skills to cooking, from entrepreneurship to personal development, you can learn absolutely anything you want from these sites!
Source: John Green Via YouTube
Have you got an idea about starting your own business but you don't know from where to begin? If yes, then why don't you try an online course that is going to guide you about setting up your very own enterprise from scratch and help you transform your idea into reality?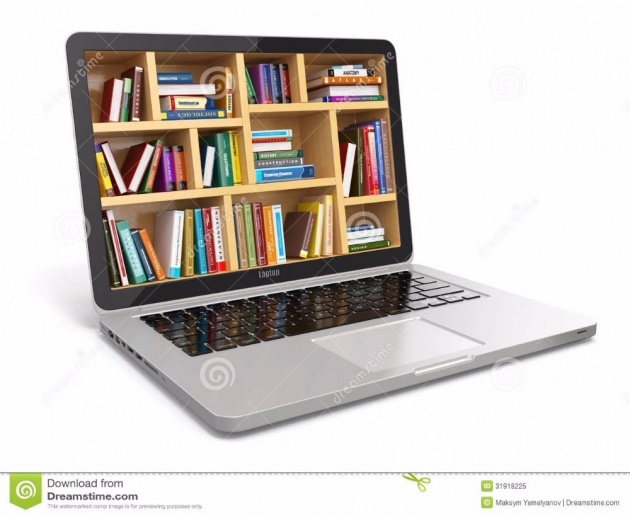 Source: Maksym Yemelyanov from DreamsTime
So here in this article, I am going to share with you Five of the very best courses offered by one of the biggest online education providing site - Udemy.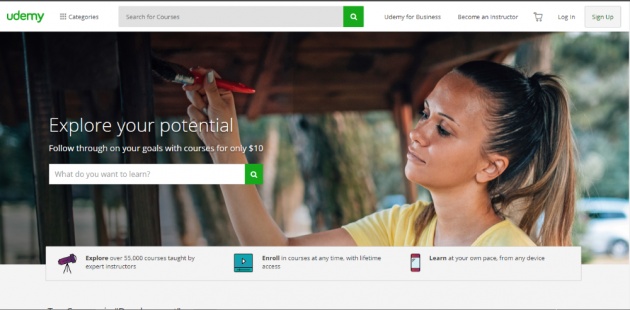 Source: Screenshot captured by Hunaa from Udemy
If you're just about to begin your voyage towards enterpreneurship, but have no idea where to begin with, these courses are THE WAY TO GO for you.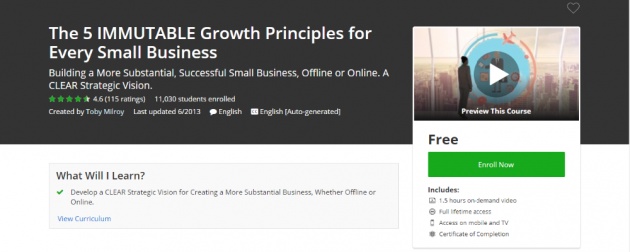 Source: Screenshot captured by Hunaa from Udemy
Average Rating: 4.6 out of 5
Instructed By: Toby Milroy
Number Of Students Enrolled In The Course: 11,030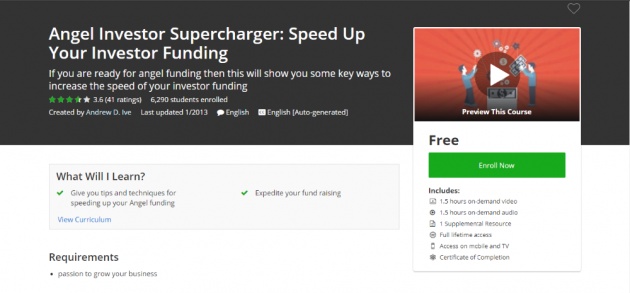 Source: Screenshot captured by Hunaa from Udemy
Average Rating: 3.6 out of 5

Instructed By: Andrew D. Ive

Offered For: FREE

Number Of Students Enrolled In The Course: 6, 290

3. Entrepreneurs How to Pick the Right Startup Business in 2017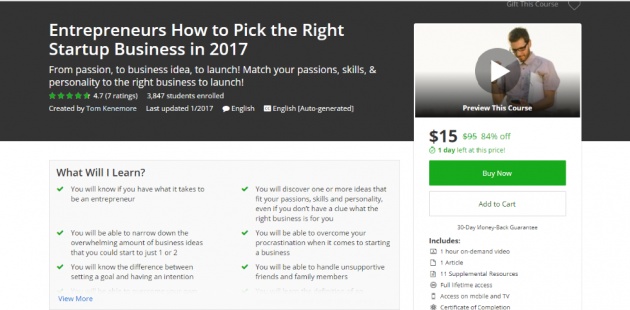 Source: Screenshot captured by Hunaa from Udemy
Average Rating: 4.7 out of 5
Instructed By: Tom Kenemore
Offered For: $15 **On sale these days- For original pricing check out the screenshot or site (: )
Number Of Students Enrolled In The Course: 3, 847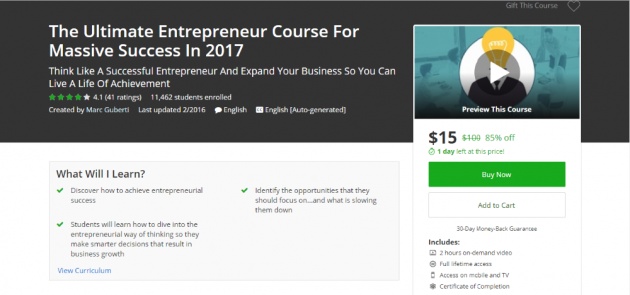 Source: Screenshot captured by Hunaa from Udemy
Average Rating: 4.1 out of 5

Instructed By: Marc Guberti

Offered For: $15 **On sale these days- For original pricing check out the screenshot or site (: )

Number Of Students Enrolled In The Course: 11, 462

Source: Screenshot captured by Hunaa from Udemy
Average Rating: 4.4 out of 5

Instructed By: Mr Daniel Boehm

Offered For: $15 ** On sale these days- For original pricing check out the screenshot or site (:

Number Of Students Enrolled In The Course: 10, 684

Source: Balazs Holczer from YouTube