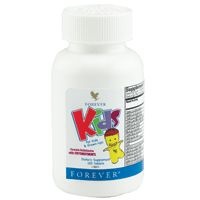 Give your kids the nutrients they need each day with Forever Kids chewable multivitamins.
Phytonutrients are beneficial plant nutrients found in vegetable and fruit. New processing techniques allow us to emulsify, dehydrate and flash-dry raw fruit and vegetable to protect the valuable phytonutrients, vitamins, minerals and enzymes that our bodies need. The result is a multivitamin that tastes great, is fun to eat and complements the range of other supplements that Forever offers.
Formulated without sugar, aspartame, artificial colours or preservatives, the phytonutrients base is taken from such nutritious foods as carrots, acerola, broccoli, spinach, cabbage, apples, cranberries, tomatoes and citrus fruit. Kids will love the natural orange and grape flavours.
Phytonutrients - these are highly-desirable plant nutrients found in fruit and vegetable.
Certifications
KL Kosher, Halal
Ingredients: Vitamins - A, C, D3, e, B1, Niacin, B6, Folic acid, B12, Biotin, d-calcium pantothenate, Calcium, iron, Magnesium, Zinc, Copper, Propietary Blend (many fruit and vegetables)
Contents: 120 tablets
Directions
1 tablets daily for age 2 to 4
2 tablets daily for age 4+
E-shop https://www.foreverliving.com/retail/entry/Shop.do?store=GBR&language=en&distribID=440500021760
You can use this e-shop if you are from following countries:
Australia. Belgium, Canada Czech Republic, Great Britain, Greece, Luxembourg, Malaysia, Netherlands, New Zealand, Philippines, Portugal, Slovak Republic, South Africa, Spain, United States.
Your country is not on the list? Or do you want save up to 30%? Contact me.