If you're a fan of noir and police procedurals, then you can't miss this almost forgotten gem. He Walked By Night (1948), directed by Alfred Werker (and an uncredited Anthony Mann), is a marvel of 1940's noir/suspense.
From the no-nonsense opening narration, to the tight screenplay, to the moody cinematography by John Alton, this is a fast-paced, brilliant piece of minimalist yet superbly atmospheric filmmaking.
But what truly sets this movie apart is the central performance by Richard Basehart as Roy Martin, the elusive sociopath and cop-killer who is always one step ahead of the police force. Basehart takes the character of Martin and imbues it with a subdued sense of cunning evil that is fascinating to watch.
He Walked By Night also served as a sort of backdoor pilot for the classic TV series Dragnet (1951), as co-star Jack Webb met technical advisor Marty Wynn on the set of He Walked By Night, and was inspired to create the radio series Dragnet, which was later turned into the TV series. Both the film and the TV series share the same semi-documentary style and attention to detail.
He Walked By Night fell into the public domain a long time ago, and now you can view it online for free here. A must-see forgotten classic.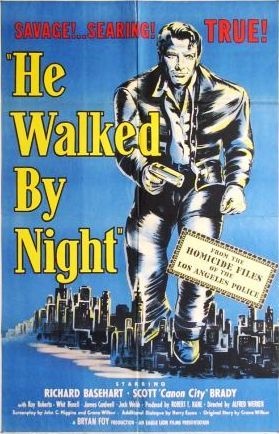 About The Author: Ahmed Khalifa is a filmmaker and writer. He is the author of Beware The Stranger, a horror novel, and Egyptian Gothic: Stories. Both books are available on Amazon here. He is also the writer/director of The Weapon, Egypt's first action/supernatural Web Series, which centers on a vigilante called "The Hunter". You can watch the complete first season, for free, here.