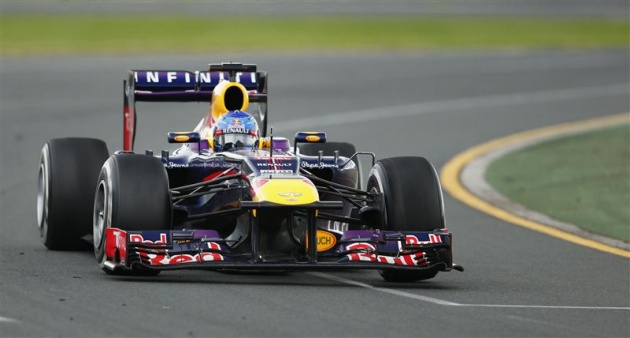 One-two by Red Bull in Malaysian GP, which appeared without history for most of the time. Once again, the Red Bull has done a perfect strategy for both drivers, leaving little hope to the opponents. Podium completed by the Mercedes of Lewis Hamilton, who has been saved by his team's orders to Rosberg, fourth, to maintain the positions.
But most of the GP "ended" at the start, taking away one of the main contenders for victory: Fernando Alonso, who damaged his front wing in a collision with Vettel and crashed the lap after (why he didn't go to the pit-lane, because he had the chance). His teammate Massa basically disappeared from the scenes after a while, only to reappear at the end hitting an anonymous fifth place.
Race influenced by a lot of mistakes in the pits,mainly influencing the Force India duo and Jenson Button, all three retired. There has also been a very curious incident with Hamilton who, when he came into the pit lane, stopped in the Mclaren box before realizing the mistake made and reaching the Mercedes one. I wonder if the englishman has nostalgia for his old team...
The results:
| | | | |
| --- | --- | --- | --- |
| 1 | Sebastian Vettel | Red Bull Racing-Renault | |
| 2 | Mark Webber | Red Bull Racing-Renault | +4.2 secs |
| 3 | Lewis Hamilton | Mercedes | +12.1 secs |
| 4 | Nico Rosberg | Mercedes | +12.6 secs |
| 5 | Felipe Massa | Ferrari | +25.6 secs |
| 6 | Romain Grosjean | Lotus-Renault | +35.5 secs |
| 7 | Kimi Räikkönen | Lotus-Renault | +48.4 secs |
| 8 | Nico Hulkenberg | Sauber-Ferrari | +53.0 secs |
| 9 | Sergio Perez | McLaren-Mercedes | +72.3 secs |
| 10 | Jean-Eric Vergne | STR-Ferrari | +87.1 secs |
| 11 | Valtteri Bottas | Williams-Renault | +88.6 secs |
| 12 | Esteban Gutierrez | Sauber-Ferrari | +1 Lap |
| 13 | Jules Bianchi | Marussia-Cosworth | +1 Lap |
| 14 | Charles Pic | Caterham-Renault | +1 Lap |
| 15 | Giedo van der Garde | Caterham-Renault | +1 Lap |
| 16 | Max Chilton | Marussia-Cosworth | +2 Laps |
| 17 | Jenson Button | McLaren-Mercedes | +3 Laps |
| 18 | Daniel Ricciardo | STR-Ferrari | +5 Laps |