I mostly write on different science topics related to physics, chemistry and biology ,but in this series of my blogs I going to write about fraud about jobs especially about foreign jobs.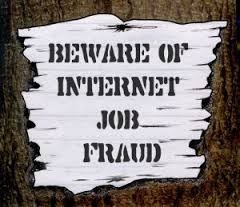 This is also happened with me also but I was not really interested in job just seeing what is it
Now I am describing my story below. I saw a post of someone on Face book offering jobs of accountant, house keeping etc .There was no specific demand pf education or experience. Salary was 2500 pound approximately equal to 3 Lac Pakistani Rupees. It really surprised me so I decided to contact him on given email address. So I sent email to that email.
Which is: Hello i saw your post on Face book. i want to do job for you.
.I sent this short message .They replied me and asked some questions about me and sent me this email;
Hello...
Thanks for the interest in the job. Your Resume as been viewed and i really like that hope you understand.Firstly,i will like to ask you do you have a valid international passport because that is required for traveling?. If yes!how many years validity? How soon will you be available for the job because we need someone in our home as soon as possible? We kindly appreciate your interested in Our job offer,Below are the questions with the following back ground needed for the Employee.
INTERVIEW QUESTION FOR EMPLOYEE:
1)What is Your full name..........
2)Country...........
3)What is Your Mobile number........
4)Do you have a UK visa or work permit or have you ever been to UK?.......... 5)Did you have any crime record?...........
6)What is Your passport Number........................
7) what kind of job are you applying for.........................
If you satisfy with the above criteria, kindly get back to us with your answers okay. Thanks. Also i will like you to add me to your yahoo messenger contact list so that we can discuss more better about the job offered. My yahoo id is ( @yahoo.com) or you contact me on my mobile number +447087691951 Awaiting your soonest message?? Thanks
This was first email to me by them. How I feel and what I replied and how story goes further please wait for my next blog.