MP4 is a digital multimedia format most commonly used to store video and audio, but can also be used to store other data such as subtitles and still images. It is popular on the Internet and supported on a range of consumer electronics devices, including digital cameras, mobile phones, iPhone, iPod, and more. MP4 provides high-quality and highly compressed digital video, but we usually experienced the corruption of our favorite or important MP4 videos, for example:
"I recorded a video by my mobile phone. It was saved in .mp4 in right way but doesn't play in my phone even in my computer. The audio is OK but the video is in green. Can I repair it? The video clip is very important and memorable for me. Thanks!"
Actually, this often happens if the MP4 file gets corrupted. You will find that its audio & video are not synchronized or sometimes you are able to hear the audio but the video is not visible. In such case, you will need MP4 Repair to fix corrupted MP4 video. In this article, we will introduce two free tools to repair MP4 file and make it playable again.
File Repair
File Repair is a powerful corrupted MP4 File Repair tool. It is able to extract the data from the corrupted MP4 file to a new document. Besides MP4, File Repair supports different file formats, such as, AVI, MOV, MP3, WAV, JPEG, GIF, BMP, PNG, DOC, XLS, ZIP, RAR, etc.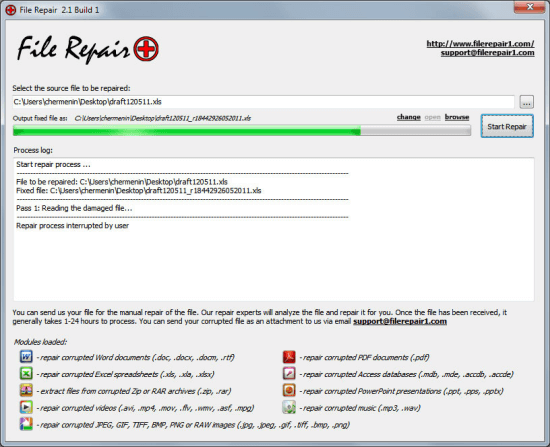 1. Browse through your computer to add the corrupt MP4 file you want to fix.
2. Click "change" to select a location for the repaired MP4 file.
3. Click "Start Repair" to begin repairing the corrupted MP4 file on your PC.
Digital Video Repair
Digital Video Repair is capable of fixing the broken parts of MP4 files. This MP4 Video Repair tool can help you repair MP4 files damaged by virus infection, application failures, system crashed, network errors, and many other reasons.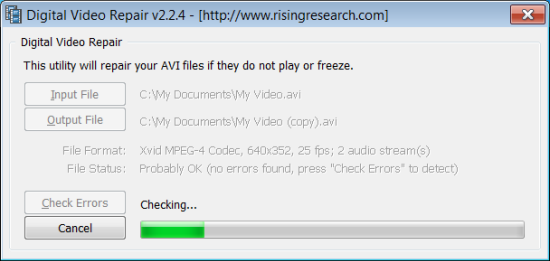 1. Click "Input" to locate the corrupt MP4 file on your computer and then click "Open".
2. Click "Output" and select a place to save the repaired MP4 video file.
3. Click "Check Errors" to begin the repair process and fix the corrupt MP4 video.