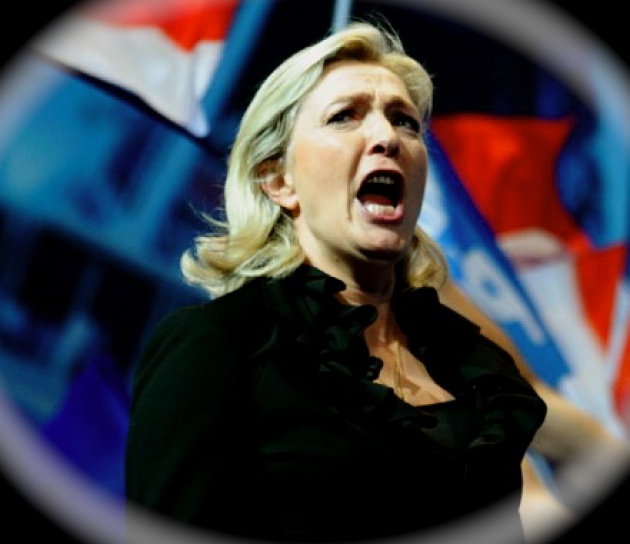 Marine Le Pen (Photo) did her best Joan of Arc imitation spewing nationalist manure, but the real fertilizer for both left and right was a rebellion against austerity that had become fashion in the last year. Nicolas Sarkozy was perceived as one of the alchemists in devising the European response to the international financial crisis – only to get sucked into an even more damaging Eurozone crisis that threatens to be deeper, longer and potentially damage the very architecture of the European plan.
Germany's Angela Merkel and Sarkozy were often seen arm to arm in defending Europe's response to the escalating debt crisis. However, it has been the European worker, middle classes and welfare state that have shouldered most of the impact. This spurred an evident rise in not only the Socialist candidate Francois Hollande but also the far left, Jean Luc Melenchon.
The far right's rise was similarly driven by disillusionment with the pan-European project as well as the usual venom delivered toward "the other" (from Jews and Arabs born as French citizens to immigrants). The drive for French "purity" though was fueled by fear that the country is losing economic status and control over its future. Globalization and the EU had eroded traditionally protectionist policies for farm and related industry, which austerity had exacerbated.  See Our Blog for Film – "Risks High-Global Economic Prospects Slowly Improve"
In the end, Sarkozy's austerity fix and close relationship with Merkel will probably prove his election demise. Merkel had offered to come to France to effectively campaign for Sarkozy, but he politely refused recognizing the kiss of death. As much as Germany has had to write the checks, it has also benefited from a decade of a stable Euro. On the other hand, not only Greece, Portugal, Spain and Italy but also France have been hamstrung by a Euro overvalued for their economic circumstances. Thus Merkel's support for Sarkozy is not purely collegial. Germany  and Merkel have much to lose if Sarkozy goes down.
The election comes down to a run-off between the top two vote-getters, Hollande and Sarkozy, in today's (April 22, 2012) first-round. Sarkozy's defeat would not necessarily bring an end to either the Euro or austerity. However, the current course has catalyzed politics of identity and disenfranchisement among the right and left respectively. The course is not just damaging France's economic standing but also unraveling a decades long integration of various elements of France's Republic. Thus, a fundamental rethink of the current course is already underway, probably one that even Sarkozy could not ignore if still reelected.    
Ambassador Muhamed Sacirbey - FOLOW mo @MuhamedSacirbey

Facebook-Become a Fan at "Diplomatically Incorrect"







Twitter – Follow us @DiplomaticallyX







For many further current news event articles related to Libya, see our popular video blogs at "International Financial Crisis" Channel